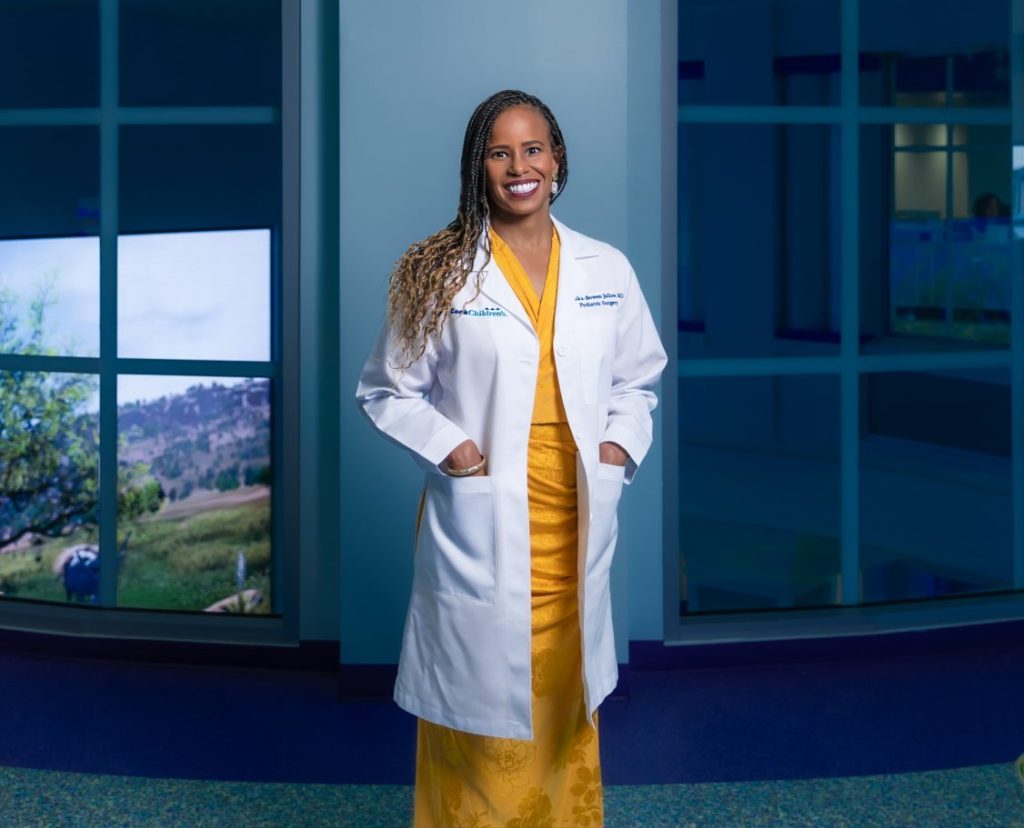 Keeping your child healthy is paramount for their growth and development. But when they're sick, nothing is more important than seeking quality care from excellent physicians who excel in their specialized fields. Cook Children's Medical Center Prosper has all the services you and your child need under one roof, delivered by highly trained physicians with caring, compassionate hearts.

Meet Dr. Kanika Bowen-Jallow
Kanika Bowen – Jallow, MD, is a surgeon and medical director of pediatric surgery at Cook Children's Medical Center Prosper. She is board certified in surgery and pediatric surgery and has been in clinical practice for nine years. She aims to provide state-of-the-art surgical care for children in Prosper and surrounding counties. A testament to her contributions, hard work, and perseverance, she was recently recognized by the American Pediatric Surgical Association (APSA) as the ninth black female pediatric surgeon in the U.S.
She received a scholarship to Texas A&M University, graduating with a degree in biomedical science. She went on to earn her medical degree from the University of Texas Medical Branch. She spent nine additional years training to become a pediatric surgeon – five years in general surgery residency, two years in research fellowship, and two years of clinical pediatric surgical fellowship.
Clinical Excellence, Safety, Convenience
"Cook Children's brings clinical excellence and a healthy workforce culture to the Prosper area," she said. "From the time you walk in the door, everything is carefully constructed with well-rounded specialty care in almost every medical discipline. You can literally walk across the hall to another specialist if needed." This feature offers not only convenience, but safety. If a child requires surgery from two different surgical specialists, the two surgeons at Cook Children's will coordinate to reduce the child's exposure to anesthesia. At Cook Children's Prosper, everything is conveniently located under one roof. They even have a pediatrician on staff who specializes in sleep studies. A facility dedicated to this discipline is located inside the Prosper location's building.
Highly skilled in various clinical specialties, Dr. Bowen-Jallow performs laparoscopic cases with high degrees of difficulty in pediatric surgery. These include non-cardiac thoracic, gastrointestinal surgery, hepatobiliary, ano-rectal, head and neck, oncology, advanced minimally invasive surgery, congenital anomalies, and traumatic injuries.
Because of the lifelong impacts of adolescent obesity, she's also actively involved in clinical research and strongly adheres to evidence-based clinical guidelines. "My vast clinical and obesity-related research focuses on adolescent behavioral therapy, technology and weight loss surgery," she said. Her overall research has resulted in authoring 39 manuscripts, four book chapters, 38 published abstracts and more than 26 presentations at national and international meetings.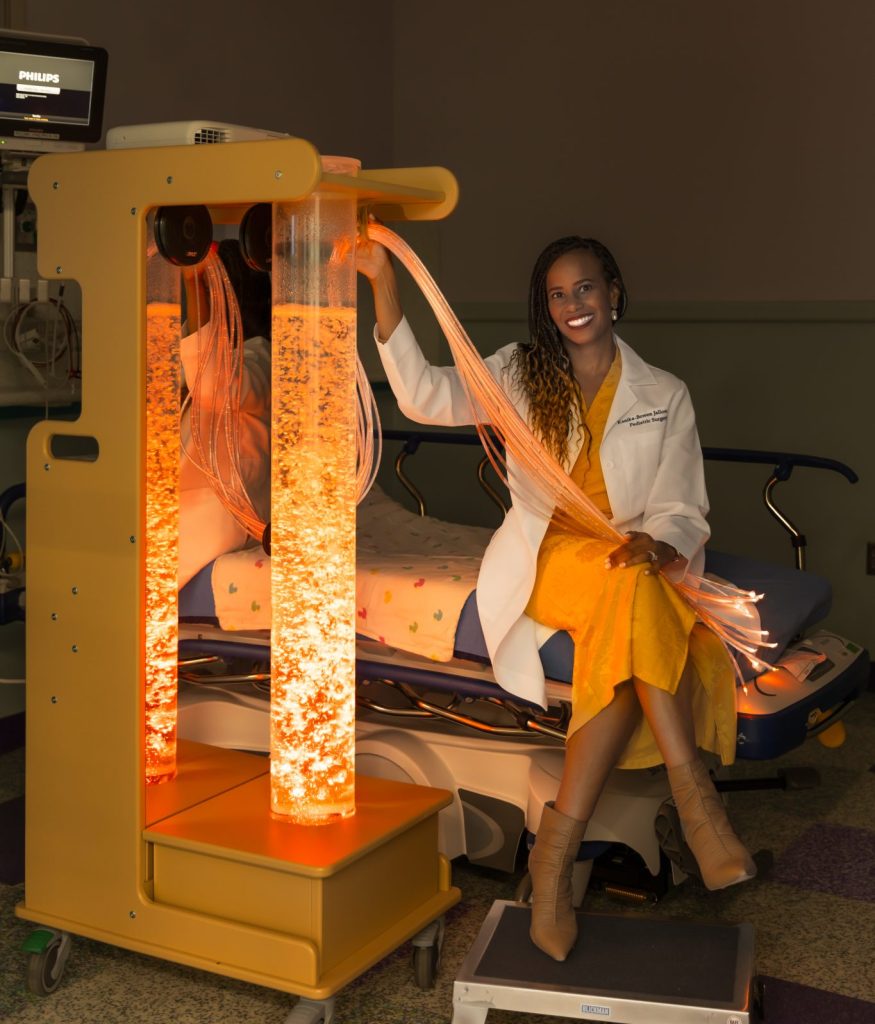 Married for 17 years, she and her husband have two children. "My family is firmly ingrained in the culture and community of Prosper," Dr. Bowen-Jallow said. Both of their children attend Prosper ISD schools and Dr. Bowen-Jallow also mentors Prosper high-school students. As a mother, she understands the trust and faith her patients' families place in her and adheres to the golden rule by treating each family as if they were her own. She considers it her duty to educate her patients' families on their child's disease processes and to provide excellent long-term continuity of care.
We're Your Neighbors
The pediatric medical center was strategically placed in Prosper to be part of the community. "We use Cook Children's Prosper doctors for our own children and have even used the ER facilities when our daughter was ill," Dr. Bowen-Jallow said. Most all of the healthcare team lives in the immediate area. As members of the Prosper community, they already have a common bond with young patients and their families when they arrive. A kind, neighborly welcome helps to ease tension and apprehension, facilitating a smooth pathway for their medical experience.
Comprehensive Healthcare Designed Especially for Kids
For years, Cook Children's has been committed to improving the well-being of every child under their care. Their goal and top priority is to provide the highest-quality patient care in the safest possible environment with the best possible outcomes. Because patients and their families are always at the forefront of everything they do, Cook Children's focuses on five key perspectives from the patient's point of view: keep me from harm, heal me, treat me with respect, find the right care for me at the right time and place, and keep my community healthy.
Recognized for Top Pediatric Programs
Cook Children's Health Care System has once again been recognized as one of the best children's hospitals in the nation, earning rankings in U.S. News & World Report's Best Children's Hospitals list for 2023-2024 as top programs in six specialties.
Take-Home Educational Resources for Parents
It's important for families to feel confident when leaving their visit at Cook Children's. Parents are provided with written information, clearly and specifically addressing their child's health concerns. Providing take-home educational resources at each visit across the system enhances the medical experience from primary, specialty, and urgent care to the medical center. Whether a child receives a complex diagnosis, a new treatment, or a routine checkup with their pediatrician, these resources empower parents and ensure continuity of care at home.
Upcoming Programs
Cook Children's Prosper will be adding a Trauma Program as well as an Adolescent Bariatric Program, tailored for kids 13 years and older suffering from obesity. Dr. Bowen-Jallow looks forward to this addition, as she was previously the director of UT Medical Center Galveston's Adolescent Bariatric Program.
To learn how Dr. Bowen-Jallow and Cook Children's Medical Center Prosper physicians can help your child, please visit their website.
Dr. Bowen-Jallow's Pediatric Surgical Services Include:
Chest wall deformities
Congenital malformations of abdomen and chest
Head and neck masses
Abdominal/gastrointestinal issues
Thoracic
Tumors and malignancies
Vascular anomalies
Advanced laparoscopy and thoracoscopy
COOK CHILDREN'S PEDIATRIC SERVICES:
Cardiology
Ear, Nose and Throat
Endocrinology
Gastroenterology
Hematology and Oncology
Nephrology
Neurology
Neurosurgery
Pediatric Surgery
Plastic Surgery
Pulmonology
Sleep Medicine
Sports Medicine
Urology
Wound Care