Facts are facts—nothing lasts forever. This is an especially true statement when it comes to your home! This month, we're looking at some average lifespan estimates for various parts of your house when it comes to durability, style, and use. If you've noticed something that might be on the way out, it could be time to get it replaced. Your house (and family) will thank you!
Windows, 1
5-30+ Years
You're more likely to replace things like latches, glass, and glazing before you replace the whole window. Most windows ultimately succumb to weathering—expansion and contraction, sun damage, and warping—regardless of the material, with aluminum giving out before well-maintained wood or vinyl.
Doors, 2
0+ Years
Your typical exterior vinyl door will look good for 20 years or so, with screen doors hanging on for 30, depending on the elements. Interior and closet doors, along with exterior doors made from steel, fiberglass, or properly cared for hardwood, can last a lifetime.
HVAC Systems, 1
5-20 Years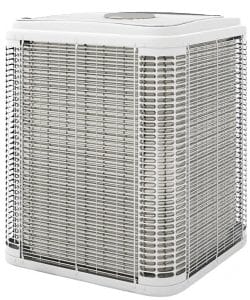 Though it depends heavily on how often they're used and the intensity of the weather the units have had to work through, properly installed heating and cooling systems can last between 15 and 20 years. Keep your filters changed, ducts cleaned, and intakes clear.
Roofing, 1
5-20 Years
The commonly used asphalt shingle roof is expected to last around 20 years, according to the NAHB. Roofs made with fiber cement, wood shakes, or slate, copper, or clay can last 25, 30, and more than 50 years, respectively. Extreme weather like hailstorms can obviously shorten the lifespan greatly.
Faucets, 1
5 Years
According to a study by the National Association of Home Builders, the average kitchen faucet can last up to 15 years, depending on the amount of use it receives. Gaskets and moving parts will wear over time, leading to less than optimal operation.
Refrigerators, 1

2-14 Years
Keep the condenser coils clean and free from dirt, dust, and pet dander, as it can block airflow to the fridge. Also, try to keep it full—the cold food acts as a natural cooling source so the refrigerator doesn't need to work as hard. New models are vastly more energy efficient than older ones, so consider an upgrade if it's been a while.
Washers and Dryers, 1

0-12 Years
Most appliance manufacturers design their machines to last at least 10 years with routine use of cleaning cycles and solutions. Try running full (not stuffed) loads to keep the machines balanced, replace old or rusted water inlet hoses, and make sure to keep the lint trap and vent clean. Newer models are also more water and energy efficient.
Smoke Alarms, 1

0 Years
The National Fire Protection Association recommends replacing smoke alarms every 10 years, regardless of whether they're hard wired or battery operated, as the sensors inside can become less sensitive over time. Carbon monoxide alarms or combination units should be replaced every 5 to 7 years.
Dishwashers, 1

0 Years
Composed of a variety of moving parts, gaskets, switches, and frequently exposed to food waste and water, you can extend the life of your dishwasher by keeping the drain and disposal clean, loading it properly, and using it regularly (once a day on average).
Carpet, 5

-10 Years
The quality and materials of your carpet and carpet pad can dramatically affect its lifespan, as will how often it's stepped on, what room it's in, whether you have pets or not, and if you wear shoes inside. If it's matted, stained, ragged, outdated, or smells funky even after a cleaning, it's probably time to swap it out.
Paint, 5

-10 Years
While a well-painted interior will generally last longer than an exterior paint job, most people end up painting again simply to change the look of their home. Exterior painting, especially in sunny Texas, can show its age due to sun fading after a few years.
By

Brandon Daiker

References and sources: National Association of Home Builders, National Association of Realtors, AngiesList.com, ConsumerReports.org, HowStuffWorks.com, iAnswerIt.org, ThisOldHouse.com