Find fabulous design ideas to inspire your own succulent garden.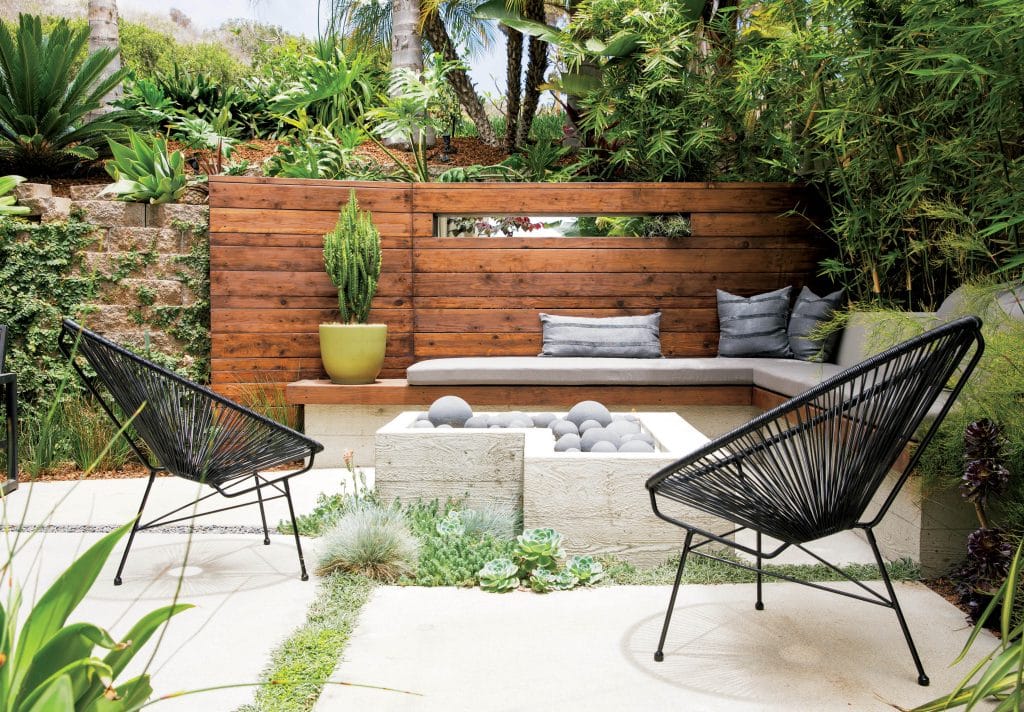 Tiny Patio
Because her house near the Southern California coast is set in a hillside, Leslie Mannes was short on outdoor space for get-togethers. The only possibility: a tiny, crumbling patio out back. Enter landscape designer Ryan Prange, who revamped it into a stylish, surprisingly roomy refuge. Prange repaved and planted the patio floor, tucked a seating area into the corner, and added built-in benches and a gas-fed firepit. He hid part of a broken concrete wall behind a wood screen, and the rest under a curtain of creeping fig (Ficus pumila) planted against the wall. "Now the patio is inviting," Prange says, "and full of nice little surprises." Among them: a small bed of sedums and silvery blue Echeveria elegans, mingling with blue fescue against the firepit, and ribbons of sedum between the pavers.
Get this Look
To accent a small patio, place an upright Euphorbia trigona in a tall 12-inch-wide ceramic pot, as shown here. Cover the soil around it with gravel mulch.
Mini Garden
Echeverias and a puff of blue fescue accent bands of sedum, visually softening the hardscape in this tiny patio.
---
Patterns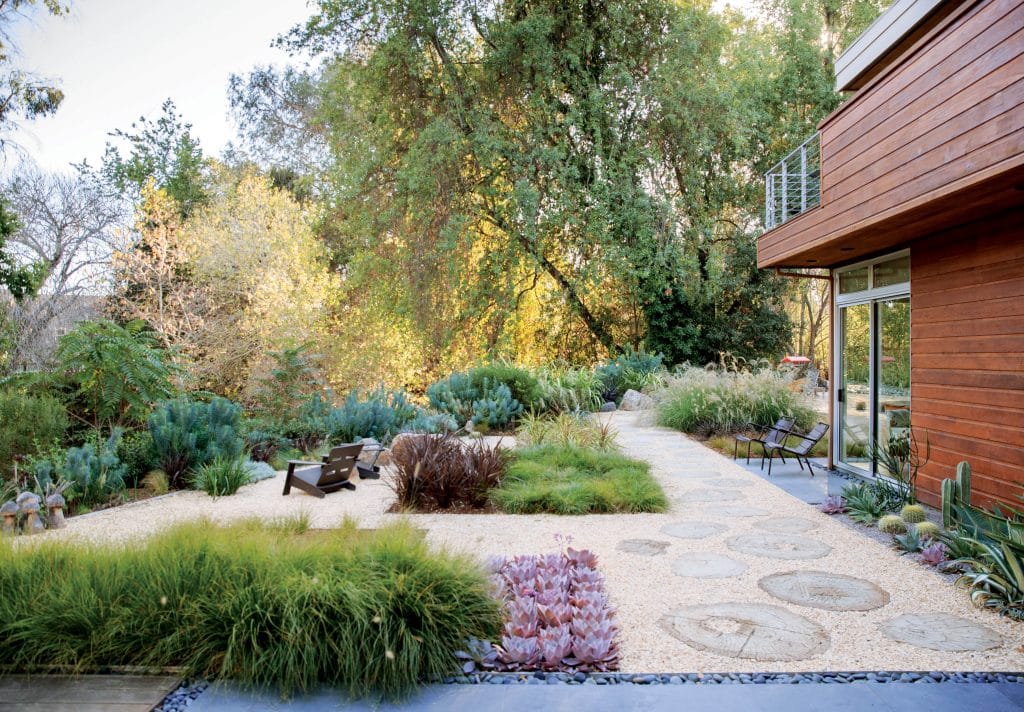 "There's no way to duplicate a natural setting," says landscape architect Keith Willig of this property, edging a creek. But Willig didn't want to mimic the creek area, either. Nor did the property's owners, who love the minimalist aesthetic of their home. Instead, Willig played up the leafy wildscape edging the creek through contrast. He used structural plants to extend the home's architectural geometry into the yard and then loosened up the design toward the garden's perimeter near the creek. Succulents are grouped by kind in tidy circular and rectangular beds, all surrounded with gravel mulches in various hues, from beige to soft gray. Now the owners' minimalist crush extends to the yard, which changes with the seasons. The succulent blooms come and go; the grasses get big seed plumes. And the garden feels like a work of art.
Get this Look
In a garden bed, set out plants of Echeveria 'Afterglow' from 4-inch containers; space them so their centers measure 6 to 12 inches apart. They'll fill in within a year or two.
Squares
Wild around the edges, this garden is a streamlined sanctuary. Beds in bold, geometric shapes show off succulents that are massed, by variety, to enhance the garden's minimalist look.
---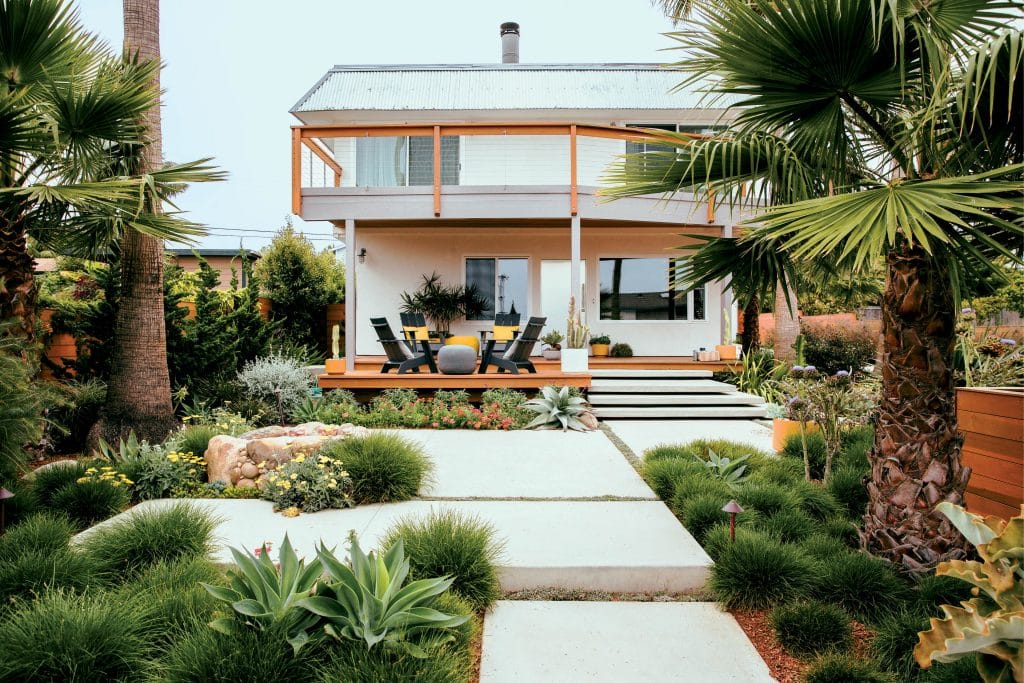 Beauties at the Beach
This small garden takes its design cues from the nearby beach. Throughout the lot, various outdoor rooms are filled with succulents and other unthirsty plantings, all inspired by coastal flora. Drought tolerant and requiring little maintenance, the plants always look tidy. In the front yard, inviting steps lead to the front door with stops along the way: at the firepit and at a cozy gathering spot on the porch. Succulents are stars in little vignettes that have big impact. All plants are on a timer-operated drip-irrigation system, with tubing laid atop the soil and covered with mulch.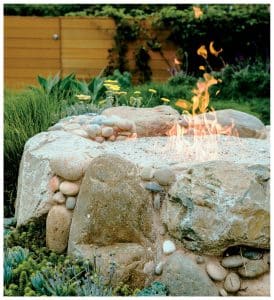 Beach-scape
A pair of agaves adds a sculptural element among grasses near the entry walk (foreground). A third agave accents the bed beside the front porch steps. Agaves are tough to beat for pure drama among grasses and perennials such as yellow yarrow (Achillea), which also blooms near the firepit.
Fire
The gas-fed firepit, made of buff-colored Mexican beach cobbles and boulders set in mortar, is embellished with shells. It is filled with sand that's then topped with pieces of shell.
---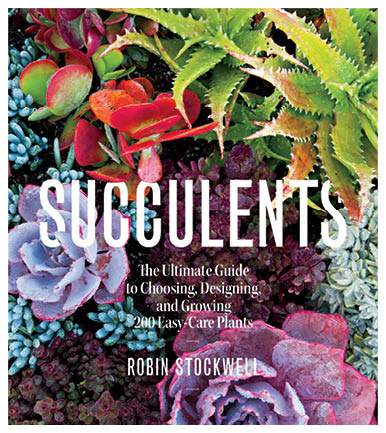 By Robin Stockwell, from Succulents
Excerpted from Succulents. Copyright © 2017 Oxmoor House. Reprinted with permission from Time Inc. Books, a division of Time Inc. New York, NY. All rights reserved.