Trends in sleek, modern, space-saving furniture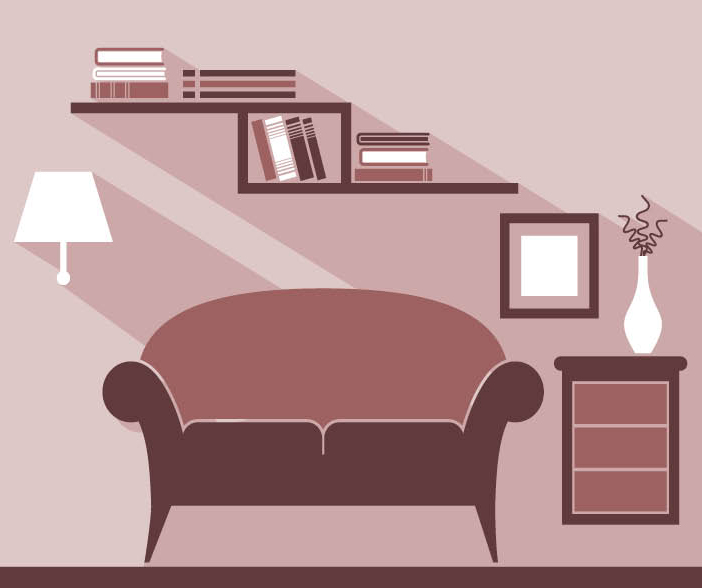 Whether you want to optimize space or update a room with a contemporary look, floating furniture offers sleek, functional, modern living. Attaching furniture to a wall results in a clean aesthetic, creates the illusion of more space, and gives you innovative ways to make your home more livable. Designs and finishes vary, fitting into nearly any décor. Materials, which can be mixed, include reclaimed, distressed, or traditionally finished woods—with maple, walnut, ash, mahogany, and teak veneer—as well as glass, metal, and even melamine.
Media Cabinet
Giant wall systems take up a lot of floor space and can visually dominate a room. They made sense when electronic media components were big and cumbersome, and when we needed plenty of storage for an ever-expanding DVD collection. Now we have thin, wall-mountable TVs, smaller, streamlined components, and online streaming media that's replaced most physical discs. New console designs have caught up with the times, too. Floating, wall-mounted media cabinets create an uncluttered appearance, and come in various styles, shapes, and sizes. Thin shelves are light and airy, but won't have as much storage capacity as a cabinet with multiple shelves and drawers. Some designs even come with an integrated electric fireplace.
Shelving
Floating shelves—a more refined and simple version of traditional book shelves—have been around for a while, but now we have more options. A variety of designs make it a cinch to revamp your walls and showcase favorite accessories, pictures, and books. They can be functional as well, holding household or bathroom products, food, kitchenware, and plants. Newer concepts include floating wine shelves for hanging glasses and keeping a few bottles, and rustic wooden shelves with a hidden slide out compartment for storage.
Tables and Desks
Floating tables and desks—which are especially handy in small spaces—make legs seem like pointless obtrusions and can bring function and interest to an unused corner of a room. A wall-mount in a kitchen alcove not only holds essentials and tucks away clutter, it can double duty as a desk and a shelf.
Chic and somewhat minimal without being stark, today's wall-mounted furniture channels a Mad Men-esque retro style with a modern twist that even Don Draper would approve of. Martinis, anyone?
Headboards and Night Stands
Is it time to transform your bedroom and give it a clean, stylish look? Skip the hulking headboard and go with an elevated design. It can maximize your available floor space, and many floating headboards include sliding doors and shelves which provide handy out-of-sight storage.
If you're going for a wall-mounted headboard, compliment it with floating nightstands. Not only do they provide a surface for a lamp and your favorite reading material or electronics, they usually feature drawers for storage, or cubbies. Perhaps better yet, go all-out and select a floating headboard with two extending, integrated nightstands. These eye-catching yet practical built-in designs often feature hidden wire management for lamp cords, alarm clock cords, and phone chargers.
Floating shelves and furniture, especially pieces intended to support a lot of weight, should be attached to wall studs for optimal support. If you're a DYIer, invest in a stud finder to help you locate these. Wall studs in a home are usually spaced 16 or 24 inches apart.
By Annette Brooks