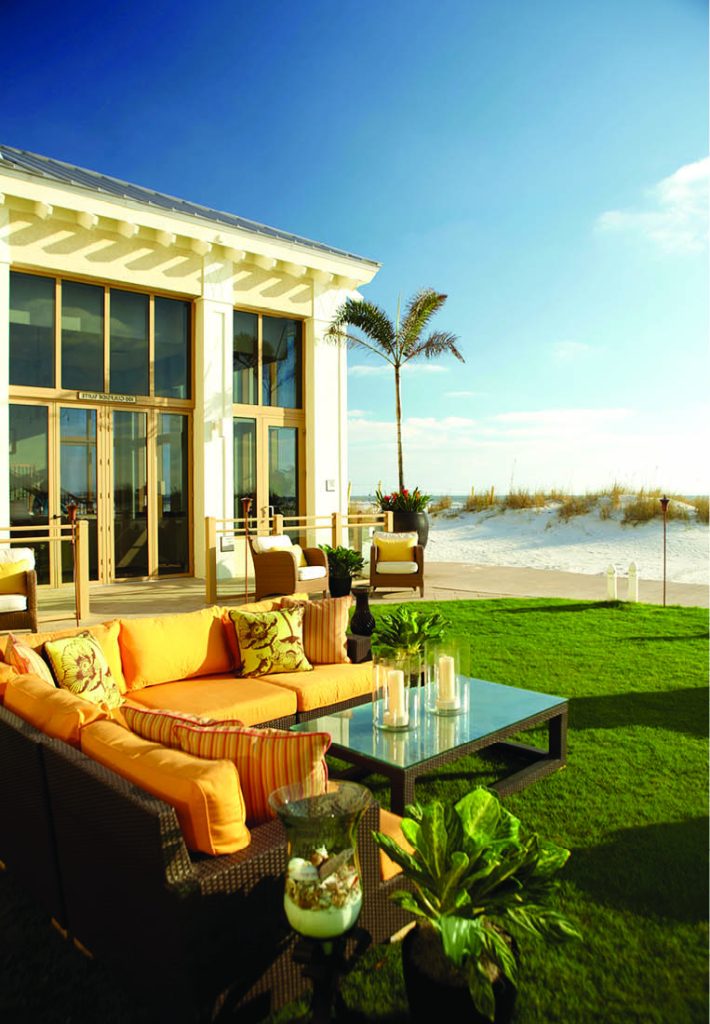 OPAL Collection's upscale resorts on Florida's east and west coasts beckon the winter weary to come hither
Texas winters are often unpredictable, but come March, you're probably yearning for some great weather and abundant sunshine. Yep, sunshine mixed with velvet white sand, ocean waves, luxurious accommodations, and good eats is just what the doctor ordered.
Thankfully, our not-so-distant-cousin Florida awaits. With pristine beaches, warm waters, scrumptious seafood, and pleasant hospitality, there is no greater escape in the United States this month. Here are two beach destinations to consider.
Sandpearl Resort in Clearwater Beach, Sandpearl.com
Among the blinding-white shores of Clearwater Beach, lapped by the Gulf of Mexico's gentle, tepid blue-green water, is Sandpearl Resort. Upon entering the plush hotel, guests are greeted by a vivacious lobby ambassador who is delighted to pour you a complimentary glass of bubbly—of the alcoholic or non-alcoholic variety. Once inside the lobby, with its crisp cream and light-yellow colored walls, elegant decor, huge windows with spectacular views, and some seriously incredible art painted by local artist Christopher M. Still, you'll soon start to see why this resort was recognized in Travel + Leisure's 2015 World's Best Awards.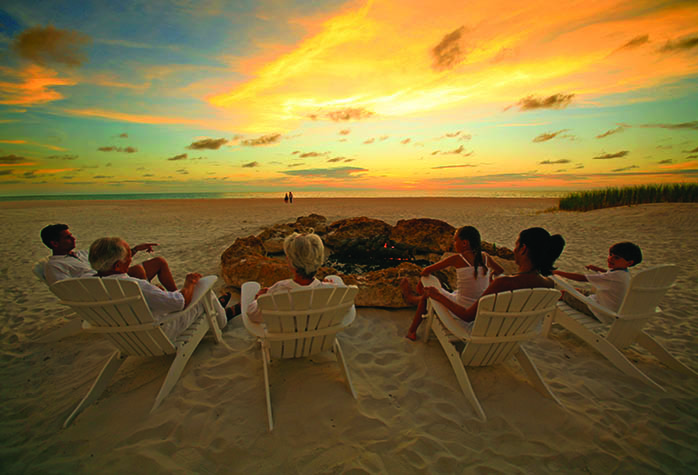 At Sandpearl, take a dip in the lagoon-style pools or pad your way through powdery soft sand to the welcoming waters of the Gulf Coast. Beyond the beach aspect, you can enjoy delectable dining, soothing spa treatments (you must book a signature massage!), creative cocktails, and even some feel-good traditions such as the ringing of the dinner bell (done by a hotel guest each night) and s'mores next to a roaring fire on a swath of beach outside the resort's Tate Island Grill.
The Sandpearl knows how to impress foodies with the only AAA Four Diamond restaurant in Clearwater: Caretta on the Gulf, where executive chef Steve Jordan creates savory selections boasting the finest and freshest ingredients. Inside the restaurant that houses an impressive live herb wall, expect scrumptious eats like the Fire & Ice, Surf & Turf, and Opus sushi rolls, homemade pretzel bread, freshly caught seafood, and prime cuts of steak. Want more? Try an organic dinner and wine pairing prepared exclusively by the chef. Be sure to save room for dessert! 
If you like beer (or even if you don't), then talk to the concierge about scheduling a privately-chauffeured excursion to experience local offerings along the Craft Beer Trail. This service was recently launched to provide guests with an unforgettable way to experience the best of the best breweries from Tarpon Springs to Gulfport. Stops vary per excursion and may include Sea Dog Brewing Company, 3 Daughters Brewing and Dunedin Brewery (hello Apricot Peach Ale and Mango Makrut Paradiso!).
If you love sea creatures, then please don't miss the Clearwater Marine Aquarium. Not only should you visit the aquarium—where the famous prosthetic-tail wearing dolphin Winter resides along with various rescued sea turtles and other marine animals—but you should definitely book the Sea Life Safari boat trip, where you can sail out into the sea, collect and inspect live specimens from the water, and stop on a tiny island covered in seashells and local vegetation for some great photo ops.
Jupiter Beach Resort & Spa in Jupiter, JupiterBeachResort.com
On 1,000 feet of private beach on the Atlantic side of Florida lies Jupiter Beach Resort & Spa, one of the area's few hotels—and the only one possessing a beachfront restaurant and bar.
Jupiter is swanky, beachy cool. It's a great place where casual beach life meets the high life. And it frequently plays host to celebs and a slew of golfers including Tiger Woods. Jupiter Beach Resort has been a hotspot for decades. It's been renovated to boast charming mahogany accents with an island feel that makes you feel richly cozy. The beachfront rooms have secluded balconies that peer over an impressive line of mangrove and palm trees peppered with openings to the beautiful beach below. The sweeping views of endless ocean waves and deep blue sky mingled with the sounds of waves crashing onto the beach just soothe in a way that no classic concerto can. It's you and nature. You'll want to take a moment and enjoy the "ahhhh" escaping your lips.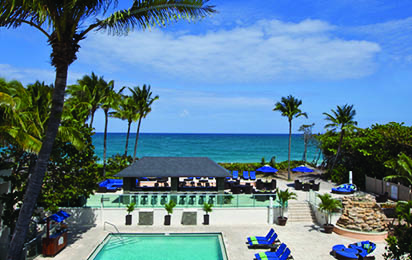 When you're ready for some relaxation, head out into the resort's intimate pool area (which received a $750K renovation in 2012), where The Sandbar tropical bar, a Jacuzzi replete with a stone waterfall, comfy red hammocks, and a blazing firepit await. It is this relaxed and intimate outdoor space enveloped by thick vegetation with the sounds of the ocean floating up the hill that makes you feel like you are secluded in a tropical oasis far, far away from the worries and stress of everyday life.
Feeling adventurous? Hop on the resort's complimentary beach cruiser bicycle and explore the town at your leisure. Be sure to stop by Harbourside Place for some upscale shopping and dining, or head over to the Jupiter Riverwalk that runs along the Intracoastal Waterway and the Jupiter Inlet. A definite must-see is the Jupiter Inlet Lighthouse & Museum. Be sure to climb the stairs inside the lighthouse for a stunning view of the surrounding area. Need some pampering? Jupiter Beach boasts a luxurious spa and full service salon. Dying for some live music and a cocktail (or three)? Journey over to the famous local watering hole, the Square Grouper Tiki Bar, located next to Castaways Marina with gorgeous views of the Jupiter Inlet and the lighthouse.
When you're ready to dine, the resort houses the modern Sinclair's Ocean Grill that serves up fresh seafood and other delectable fare. Executive Chef Ricky Gopeesingh recommends trying the Florida Black Grouper or the Seafood Bucatini. Outside the hotel are some great dining choices including the 100-percent open air waterfront Guanabanas with its tiki hut tables and towering banyan trees, and Tiger Woods' newly opened and wildly popular restaurant, The Woods Jupiter. Go for the fresh seafood at Guanabanas. You won't be disappointed! At The Woods, opt for Chilean Seabass, or if you're hankering for something other than fish, consider the many prime steak options. For dessert, dig deep into comfort foods with the s'mores casserole served in its own mini cast-iron skillet and topped with an army of toasty brown marshmallows.
From now until April at the Jupiter Beach Resort, ask about the "Jupiter Insider" package, which encourages travelers to fully immerse themselves in the local culture of South Florida, and experience life as the locals do in one of America's happiest seaside towns.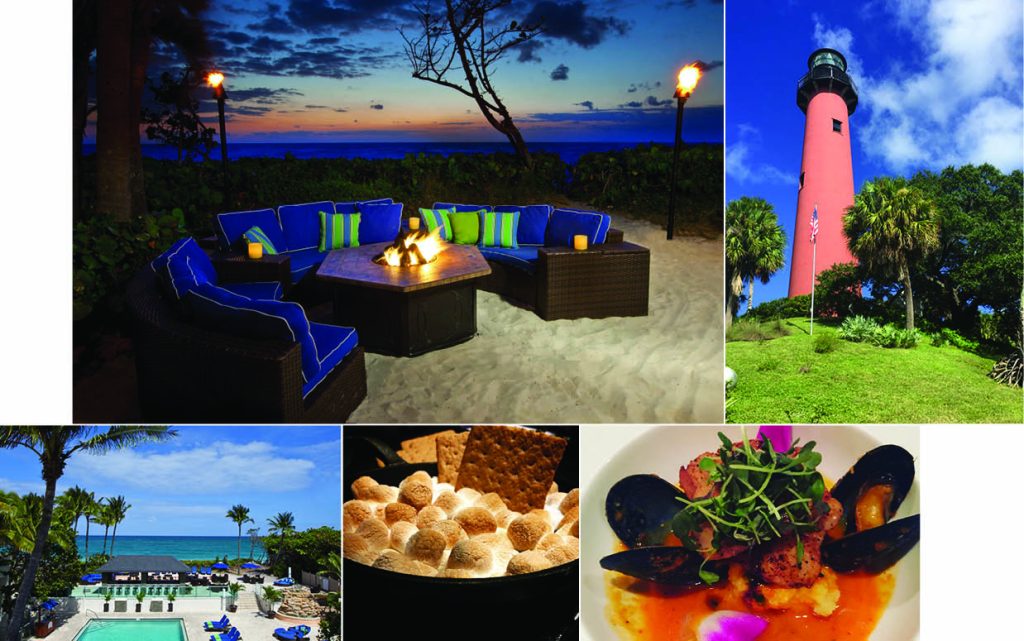 By LaRue V. Gillespie
Some photos courtesy of Jupiter Beach Resort, Clearwater Marine Aquarium, and Sandpearl Resort