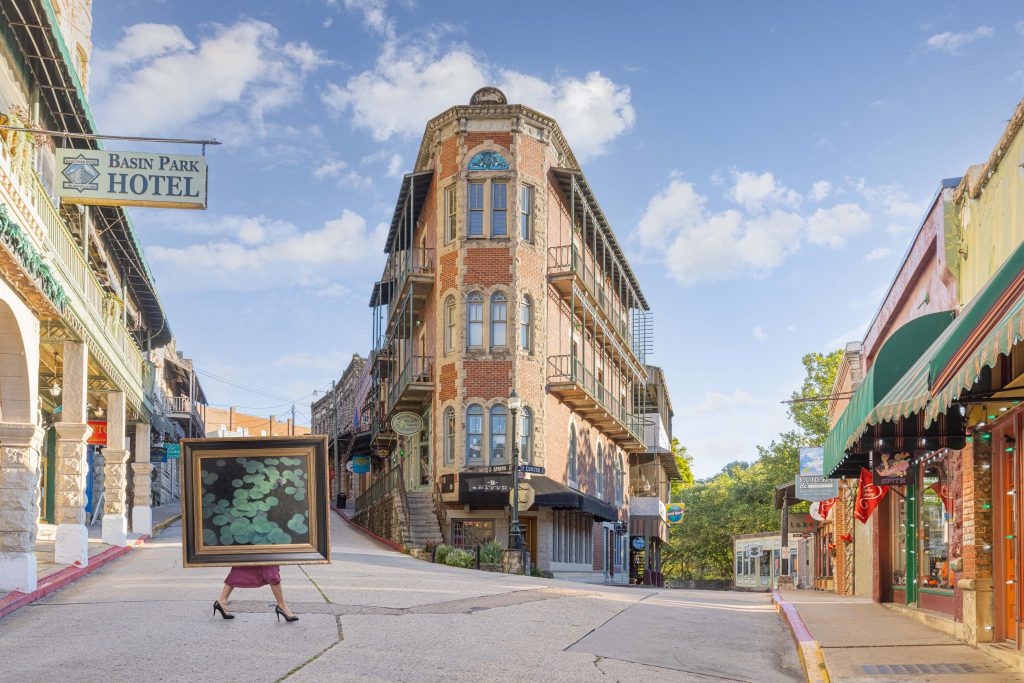 BY ANNETTE BROOKS
There's nothing like a girls' trip to revitalize your spirit, boost your happiness factor, and elevate your sense of well-being. Research shows that taking a trip with your gal-pals supports these benefits. So, start planning a girls' getaway weekend now that warm weather has arrived. Your heart, soul, and psyche will thank you for it.
Choosing the right destination is essential. The Victorian-era village of Eureka Springs, Arkansas, is perfect, offering a blend of charm, quirky street art, good food, museums, parks, and many other things to do and see. What helps keep the historic downtown uniquely local is the absence of chain stores, which aren't permitted. Be sure to give yourself plenty of time to meander through all the one-of-a-kind boutiques, galleries, and craft shops that line the streets, and dine at a wide variety of cafés and restaurants.
Things to See and Do
There are too many interesting stores and shops to name them all. Plan to spend a leisurely day strolling around the hilly, historic downtown. Enjoy the Victorian architecture, get in some retail therapy, and soak up the sights and sounds of Eureka Springs. Hop the trolley that winds around a scenic loop to get acquainted with the area before hitting the streets in comfortable walking shoes.
A couple of places you won't want to miss are Quigly's Castle, located just south of downtown, and Zarks Gallery on Spring Street.
Quigly's Castle, which is on the National Register of Historic Places, is arguably the oddest house in Eureka Springs, with outside walls covered in stones Elsie Quigly collected during childhood, and an assortment of fossils, arrowheads, and crystals. Visit the perennial garden with more than 400 flowering varieties and marvel at the tropical plants that grow in natural soil on the home's first floor. QuigleyCastle.com
Zarks Gallery, a fixture in Eureka Springs for more than a quarter of a century, displays an eclectic collection of blown glass, contemporary paintings, photography, sculptures, fine jewelry, and local pottery from local and world-renown artists. ZarksGallery.com
Explore Nature
Breathe in the fresh Ozark Mountain air and enjoy the outdoors. Below are just a few of the many places to check out.
Basin Spring Park offers a serene respite from exploring downtown. Basin Spring, which lies beneath the park, was the famous Native American healing spring that drew visitors worldwide at the turn of the 20th century. EurekaParks.com
Blue Spring Heritage Center, listed on the National Register of Historic Places, connects you with the history of the Cherokee people, the natural beauty of native gardens, and the wonder of Blue Spring, which pours 38 million gallons of water a day to a clear blue lagoon. BlueSpringHeritage.com
Other great options include Grotto Spring, Onyx Cave Park, and Lake Leatherwood City Park.
Celebrate Faith
Did you know the largest statue of Christ in North America is in Eureka Springs? Erected in 1966, the seven-story Christ of the Ozarks Statue looks down on the village from Magnetic Mountain, blessing the town with arms open wide.
Numerous evening performances of The Great Passion Play are set in an amazing outdoor amphitheater with a multi-level stage. The play includes live animals and 150 trained actors. GreatPassionPlay.org
Thorncrown Chapel (left) is a must-see. The breathtaking structure with 425 windows and more than 6,000 square feet of glass rests peacefully in a tranquil woodland setting. The chapel has won numerous prestigious architectural awards, and the American Institute of Architects placed it fourth on its list of the top buildings of the twentieth century. ThornCrown.com
Saint Elizabeth of Hungary Catholic Church is listed on the National Historic Registry. Built in the early 1900s, the church is known for its breathtaking architecture and vaulted cathedral, white Italian Carrara marble statues, and beautifully manicured gardens. StElizabethEureka.com
Accommodations
Immerse yourself in the complete Eureka Springs experience by staying at a local hotel, inn, or bed and breakfast.
The Crescent Hotel and Spa was named one of The South's Best Historic Hotels 2020 by Southern Living. Guests enjoy ornate Victorian accommodations and pampering services at the New Moon Day Spa and Salon. Take a dip in the heated outdoor swimming pool, dine at the rooftop Skybar Gourmet Pizza, enjoy a sumptuous meal in the Crystal Dining Room Restaurant, and schedule an evening ghost tour through the hotel. Crescent-Hotel.com
Arsenic & Old Lace Bed and Breakfast Inn was voted the Best B&B in Eureka Springs and recognized as the most charming inn in Arkansas by MSN Lifestyle. Just two blocks from the Eureka Springs historic district, guests enjoy a great location, superb hospitality, and a delicious complimentary breakfast. EurekaSpringsRomanceBB.com
Basin Park Hotel has an inviting "antique feel," and you can't beat its location, right in the heart of the historic downtown district. Enjoy a delicious meal and cocktails at the Balcony Bar. Be seated on the outdoor balcony overlooking Spring Street and watch the people and activities below. BasinPark.com
Other options include Elk Street Cottage, Hidden Spring Bed and Breakfast, and Starry Night — to name a few. If you're into something decidedly unique, check out Eureka Springs Hobbit Caves.