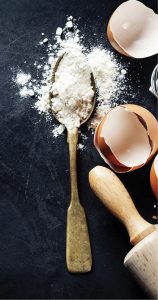 Everyone loves the holiday potluck—and every family has their own faves that have to be on the table at each get-together, many of which come with built-in history and special stories. We've gathered up a few of those favorites from our family here at Living to share with you. Pull up a chair!
Ham and Cheese Party Sandwiches
---
Abbie Greeves, senior account executive
"Being from a small town in Red River County, my sister and I grew up on some wonderful homemade desserts. When one of our great friends fell in love with this dessert, we had the hardest time getting a recipe to pass along that was actually written down!"
For the crust:
1 box Duncan Hines Butter Yellow cake mix
1 stick butter, softened
2 eggs, beaten
For the topping:
8 ounces cream cheese, softened
3 eggs, beaten
2 cups powdered sugar
1 teaspoon vanilla extract
»  Preheat oven to 325°F. Mix the cake mix, butter, and 2 beaten eggs together. Batter will be stiff. Grease a 9"x12" cake pan and spread the batter over the bottom and up the sides of the pan to form a crust. Mix the remaining ingredients together and spread over the crust. Bake for 45 minutes. (Back to top)
---
Ann Parks, accounts receivable manager
You can't beat a good peach cobbler during the holidays. Whether you serve it hot, cold, with a scoop of ice cream or without, the sweet, fruity, cinnamon-enhanced dessert is a crowd pleaser, no matter who's visiting.
29 ounce can of sliced peaches
1 stick butter
2 tablespoons baking powder
1 cup sugar
¼ teaspoon salt
¾ cup flour
¾ cup milk
cinnamon, to taste
»  Preheat oven to 350°F. Place the stick of butter into an 11¾"x7½" baking dish, then put the dish in the oven and let the butter melt, about 5 minutes. Drain the peaches, then pour them into the dish over the butter. In a bowl, combine all the dry ingredients, then add the milk and mix well. Pour the batter over the peaches, then sprinkle cinnamon over the top. Bake for about 1 hour, until the top is brown. (Back to top)
---
Keri Hampton, client services manager
"I usually make this pie for our holiday gatherings—last year my brother-in-law said it was the best pumpkin pie he'd ever had, so there's that!"
9" pie shell
2 large eggs
15 ounce can of pure pumpkin puree
1 cup heavy cream
½ cup pure maple syrup
¾ teaspoon ground cinnamon
½ teaspoon ground ginger
½ teaspoon kosher salt
pinch of ground cloves
»  Preheat oven to 350°F and set the rack in the lowest position. In a large bowl, whisk together eggs, pumpkin puree, heavy cream, maple syrup, cinnamon, ginger, salt, and cloves. Pour the mixture into the pie crust and bake for 60-70 minutes on a foil-lined baking sheet until the center is set. Let cool before serving. (Back to top)
---
Lauren Guetig, director of brand management
"Use some Woodford Reserve bourbon if you can—and I always add an extra splash as homage to my Kentucky roots!"
9" pie shell
1 cup white sugar
1 cup light corn syrup
½ cup butter
4 eggs, beaten
¼ cup bourbon
1 teaspoon vanilla extract
¼ teaspoon salt
6 ounces semi-sweet
chocolate chips
1 cup chopped pecans
»  Preheat oven to 325°F. In a small saucepan, combine sugar, corn syrup, and butter. Cook over medium heat, stirring constantly, until butter melts and sugar dissolves. Cool slightly. In a large bowl, mix eggs, bourbon, vanilla, and salt. Slowly whisk in the sugar mixture. Stir in chocolate chips and pecans, then pour into pie shell. Bake for 50 to 55 minutes, until set and golden. (Back to top)
---
Ham and Cheese Party Sandwiches
John Lawing, executive vice president
"Our family always looks forward to Christmas morning brunch with these yummy, warm sandwiches. We prepare them the night before, then pop them in the oven while we're opening presents, served up with fresh fruit, scones, clotted cream, and strawberry preserves. Mimosas optional but preferred!"
30 Hawaiian-style 2" sweet rolls
2 pounds shaved deli ham
1 pound Monterey Jack cheese, shredded
1 cup butter
2 tablespoons mustard
2 teaspoons Worcestershire sauce
»  Slice the rolls in half, then place the ham and cheese on the rolls to make sandwiches. Arrange them in a 9"x13" baking dish. Melt the butter in a saucepan, then stir in the mustard and Worcestershire sauce. Pour the butter mixture evenly over the sandwiches. Cover and chill overnight, then bake, covered, at 350°F for 20 minutes or until the cheese melts. (Back to top)
---
Nicole Crenshaw, graphic designer
"My grandmother always made these during the holidays when we'd visit her in Virginia. The texture is both crunchy and soft, and the individual size makes portioning easy. This is my go-to holiday potluck dish."
1 box unseasoned stuffing cubes
dry or stale leftover bread, in 1" pieces
1 tablespoon dried thyme
1 tablespoon dried sage
1 teaspoon salt
2 teaspoons pepper
1 white onion, diced
1 cup of diced celery
2-3 cups of chicken broth (approximate)
»  Preheat oven to 350°F. Mix all dry ingredients together in a large bowl. Pour chicken broth into the mixture, ensuring all contents are wet. Wait a few minutes for the bread to absorb the broth—the mixture should be "mashable," similar to meatballs. If the mixture is too dry, add some more broth. Using your hands, form 2" wide balls. Bake for 40-50 minutes on parchment-lined cookie sheets until golden and crunchy. Goes great with gravy! (Back to top)
---
Tammy Ladd, senior account executive
Here's a comforting take on the traditional potato casserole, using some ingredients you may already have around the house—sauté the onions first if you've got some picky eaters or just don't want the bite of crisp onion.
2 pounds frozen cubed hash browns
8 ounces sour cream
1 cup cheddar cheese, shredded
1 stick butter, melted
1 small onion, diced and sautéed
1 can cream of mushroom soup
1 teaspoon paprika
salt and pepper, to taste
»  Mix all ingredients together in a baking dish, and then top with paprika and more shredded cheddar. Bake uncovered at 350°F for 1½ hours (1 hour if hash browns are thawed). (Back to top)
---
Mimi Filbin, senior account executive
"This casserole is delicious and hearty—and you can pop it into the oven for Christmas morning breakfast that's ready by the time presents are opened."
1 pound sage pork sausage
8 eggs, beaten
½ teaspoon salt
6 slices buttered bread
1½ cups half and half
1½ cups shredded Colby cheese
»  Place the buttered slices of bread into a lightly greased baking dish. Cook the sausage until brown, and then drain well. Crumble it over the bread, then  top with cheese. Combine the eggs, half and half, and salt, and mix well. Pour the mixture over the cheese. Cover the pan and chill overnight. Bake uncovered at 350°F for 40 minutes, until set. (Back to top)
---
Becky Ross, account executive
"I make these every year—they're a huge hit! You can use any kind of liquor, but better quality spirits make a better dessert. And bourbon makes them the best!"
3 cups finely crushed vanilla wafers (about 75 cookies)
2 cups powdered sugar
¼ cup cocoa
1 cup finely chopped pecans or walnuts
½ cup bourbon (more or less, to taste)
¼ cup light corn syrup
granulated sugar
»  Mix the crushed wafers, powdered sugar, pecans, and cocoa together in a large bowl. Stir in the bourbon and corn syrup. Roll mixture into 1" balls—you're going to get sticky hands, so dust your fingers with a little of the granulated sugar to help. Roll the balls in the granulated sugar, then place them into a tightly sealed container and chill. Let them rest in the refrigerator for at least 4 or 5 days before opening. (Feel free to snack on one each day to judge the flavor.)  (Back to top)
---
Linda Jost, senior account executive
"While I was enjoying my first Thanksgiving with the Jost family in St. Louis, I saw that they had a table of desserts, but no pecan pie! I was so distraught that the next year I started bringing pies. When my dad developed diabetes, I stopped with the pies so as not to tempt him… but these sweet pecans still bring that holiday taste."
4 cups pecan halves
1 egg white
1 cup sugar
1½ teaspoons ground cinnamon
½ teaspoon salt
»  In a large bowl, beat the egg white and a tablespoon of water until frothy. Stir in the pecans, sugar, cinnamon, and salt, and mix until nuts are evenly coated. Spread onto a lightly greased baking sheet, and bake at 300°F for 30 to 45 minutes, stirring every 15 minutes, until golden. Cool and store in a tightly covered container. (Back to top)
---
Erica Lyle, senior account executive
"This was my mother-in-law's recipe. You can change it up with a variety of different fillings if you're after either sweet or savory. It slices up into 1" pieces and can also be frozen for later. Have a merry Christmas!"
3½ cups flour
pinch of salt
1 cup milk
½ cup margarine, melted
1 packet yeast
¼ cup warm water
4 tablespoons sugar
»  Proof yeast in a cup with warm water and sugar. Melt margarine (or your choice of oils) and add milk in a measuring cup. Add the yeast mixture to the milk mixture and stir. In a large bowl, combine flour and salt, then make a well in the flour and pour in the liquid, stirring until incorporated. Cover with a damp cloth and
let stand in a warm place to rise. After rising, divide the dough into two pieces and roll out into an oblong shape. Cut 1" slits on the long edges. Add your choice of fillings. (Some ideas: sausage with green chili peppers, chopped ham and cheddar, pie filling and cream cheese.) Fold the short ends toward the middle, fold the long ends in, and braid the slit pieces. Tuck the final piece to seal the loaf. Bake at 350°F for about 45 minutes, or until golden brown. (Back to top)