Revive Your Body and Mind in Phoenix, Arizona
By Abby Hoeffner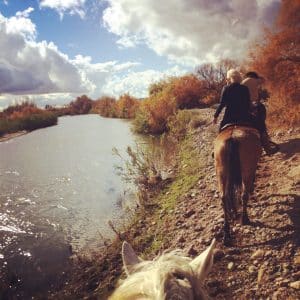 The air was crisp and the sun intense as Granger—the plaid shirt and cowboy hat wearing guide at Fort McDowell Adventures—held my horse's head while I climbed in the saddle. The day before I had caught the short flight to Phoenix for a long weekend of nature communing, exploration and relaxation. Though I had jogged through the manicured grounds and cactus garden of The Phoenician and walked through the Desert Botanical Garden the evening before, this was my first experience out in the "real" desert. As our calm mounts wove through the valley bordered by ochre mountains I took in my surroundings.
The landscape is one that speaks of survival. Plant and animal life thrive in this desert, but have had to adapt in drastic ways to do so. It's not unlike the struggle many of us feel in our day-to-day lives, except, instead of battling the elements for water, we fight for enough time to keep up with all of our responsibilities.
Perhaps it is our connection with the struggle that makes the desert such a place of rejuvenation for so many. If a land with rainfall averages of less than eight inches a year can yield plant and animal species so numerous that only tropical rainforests top it, surely we can check off our to-do list while still keeping our families our top priority.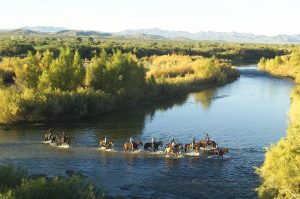 As these thoughts trickled through my mind Granger pointed out a herd of wild horses foraging between the giant saguaro cactus and creosote bushes. I caught my breath and sat high in the saddle to catch a glimpse of them. As I watched the mustangs gallop away it occurred to me, there will never be quite enough minutes in the day. So, like the dwellers of this arid land, we adapt. And pausing for a few days to explore creation so we can return to our daily lives with renewed vigor and a fresh appreciation for the world we live in is one way we do that.
Stay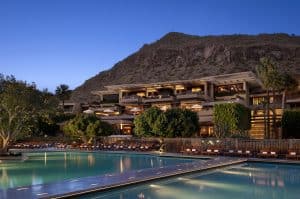 Located at the base of Camelback Mountain, The Phoenician epitomizes the idea of an oasis in the desert. Step out onto the balcony and lush green lawns, eight sparkling pools, a 27-hole championship golf course and towering palm trees stretch before you on the 250-acre property. Inside, elegance abounds in the well-appointed guestrooms that boast spa-like bathrooms. The property also features several superb restaurants, numerous boutique shops, The Centre for Well-Being and Salon Mila spa complex, and a multi-million dollar art collection. Seasonal activities that coincide with holidays take place throughout the year and, every Friday and Saturday evening at sunset a complimentary program featuring large birds of prey called The Flight of Phoenix takes place.
Eat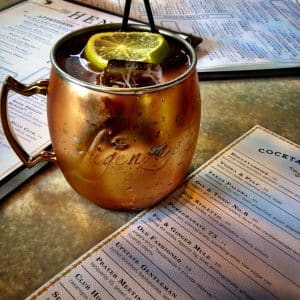 Toile meets plaid and chesterfield sofas at The Henry, a concept from entrepreneurial chef Sam Fox. Surrounded in casual opulence with a dash of English pretentiousness balanced by Southern hospitality, relaxed patrons dine off of an eclectic menu that includes many enticing options such as a healthy, warm salmon salad.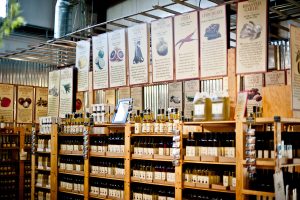 Continue your in-touch-with-nature experience with lunch at Queen Creek Olive Mill. Over 100 olive trees growing on the property yield the cold pressed extra virgin olive oil used in their dishes. The non-olive ingredients are sourced from local purveyors for fresh, healthy options that taste as good as they are for you. The on-site shop sells an assortment of regular and infused extra virgin olive oils in addition to house made bath and body products.
A true renewal retreat also allows for some fun, and a night out at SumoMaya will bring just that. The Asian/Mexican fusion (yes, you read that correctly) fare is a foodie's dream come true. Tapas style presentation meant for sharing means more opportunities to try different dishes, awaking the taste buds to a myriad of delicious, unusual flavors. The Miso Sea Bass is a must-try.
Do
Fort McDowell Adventures is located on the Fort McDowell Indian Reservation in Mesa, Arizona, which is a short drive from Phoenix proper. This well organized outfit takes riders of all experience levels out to explore over 25,000 pristine acres of the Sonoran Desert on horseback. You'll traverse trails up and down small canyons and ford the Verde River while taking in the views and wildlife.
For a different perspective schedule a guided hike (or, if you're a regular hiker you'll have no problem tackling it alone) up Camelback Mountain, the distinctly shaped ridge that sits just behind The Phoenician. Each step up not only brings spectacular views, but a sense of accomplishment.
Even non-gardeners will be fascinated by the variety of arid-land plants from deserts around the world that can be seen during a walk through The Desert Botanical Garden. If you can catch one of the many concerts that take place in the garden throughout the year, you're in for a truly memorable experience.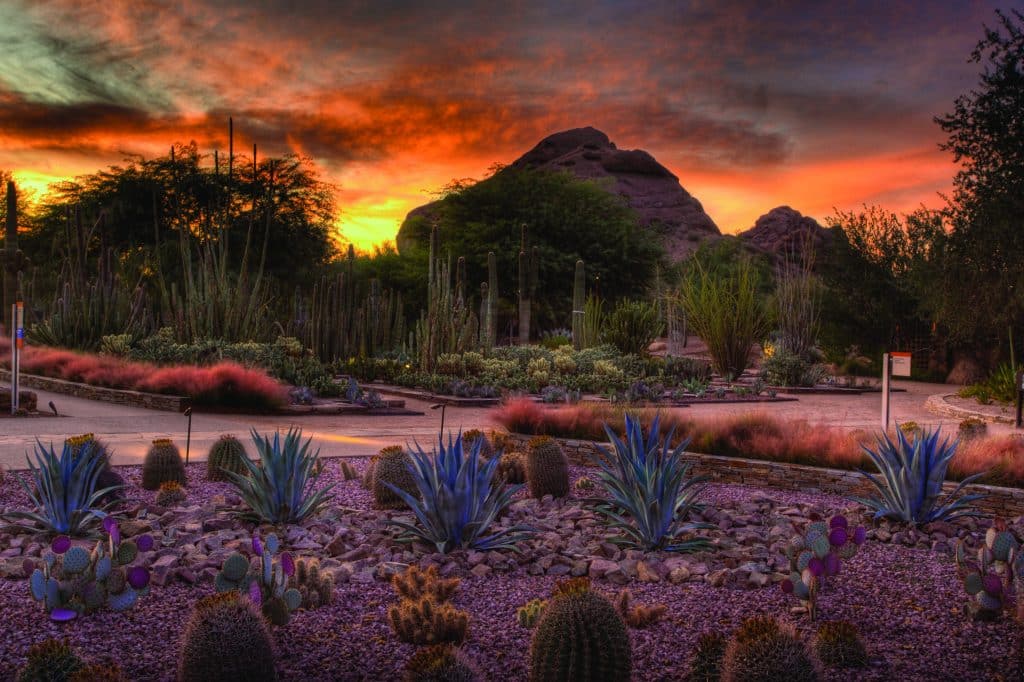 What renewal experience is complete without a visit to a spa? Not one we're going to recommend! The Center for Well-Being at The Phoenician elevates the spa experience to one of true rejuvenation. The eucalyptus steam room is the perfect place to begin your therapeutic journey and, if you're a guest of the resort, can be used throughout your stay even if you don't have a treatment scheduled. After pushing your body physically with hikes and horseback rides reward it with their Essential Healing Massage. In this treatment essential oils are massaged along the spine, promoting relaxation, general health and a sense of calm. The full body massage that follows will release any remaining tension from your muscles.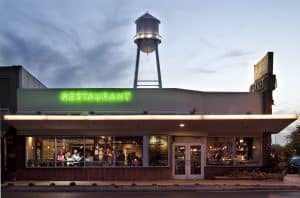 In keeping with a more relaxed pace, visit quaint downtown Gilbert, a town just outside of Phoenix. Notable independent chefs have been breathing life into this historical neighborhood with their wine bars, BBQ joints, and taco shops. You'll enjoy strolling through the boutiques and eateries, all of which bask in the shade of the iconic Gilbert Water Tower, making it feel like the setting of any number of country songs that wax melodic about small town life.
To plan your own desert renewal experience take advantage of the wealth of information on the area at VisitPhoenix.com and VisitMesa.com.