The best way to immerse yourself in Brooklyn's mix of hip and historic neighborhoods is on foot, meandering around, absorbing all the sights, sounds, and flavors. And when your tootsies get tired, just hail a taxi.
The borough of Brooklyn's glitzy neighboring island with the towering skyline has taken center stage for almost as long as it's existed, but times have changed for Brooklyn, known as America's first suburb. It's become a happening travel destination in its own right—an eclectic hotspot for art, culture, entertainment, and a lively food scene. Next time you're in New York City, set aside a day to explore Brooklyn's trendy neighborhoods across the East River. Branch out and expand your knowledge of this amazingly diverse metropolis.
Getting there from Manhattan
Sure, you can take a cab or subway, but don't miss a bucket list opportunity to walk across the Brooklyn Bridge, weather permitting. Thousands of pedestrians and bicyclists cross this mile-long, Industrial Age wonder daily because it's that awesome—and, it's free.
Bring some water with you and allow an hour to leisurely take in the fantastic views. One of the best photo locations is on the Brooklyn side of the arch of the two massive archways. Position yourself on the side closest to the Statue of Liberty, and get a picture against the iconic backdrop of Manhattan skyscrapers.
If you'd rather not walk the bridge, hop on the East River Ferry (one-way tickets run $4 to $6), which also offers great views. Catch the ferry in Manhattan at Pier 11/Wall Street, or the East 34th Street/Midtown terminal. Get off at either the Williamsburg-North 6th Street stop or the Brooklyn Bridge Park/Dumbo stop.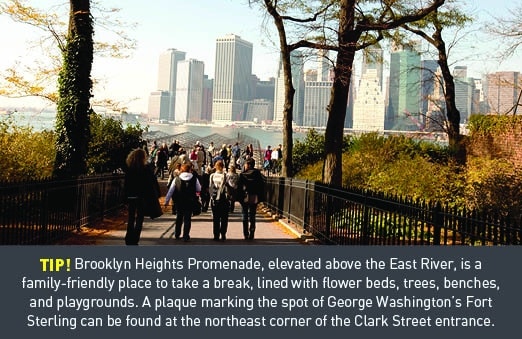 Discover Brooklyn Heights
On the other side of the Brooklyn Bridge lies a scenic stretch with a waterside view of Manhattan in all its glory. Head south along Brooklyn Bridge Park, situated along the East River shoreline, to Pier Six in Brooklyn Heights.
Inside the Heights, stroll down streets lined with historic mansions and brownstones that once housed the likes of Truman Capote, Bob Dylan, and Marilyn Monroe. If you're a movie buff, the four-story Federal-style brownstone featured in 1987's starring-Cher Moonstruck is located at the corner of Cranberry and Willow Streets.
Find The Plymouth Church of the Pilgrims and view original copies of the first hymnal book published in the United States. Notice the stained glass windows in the Plymouth Sanctuary depicting historical themes such as the Pilgrims landing at Plymouth Rock and Lincoln's signing of the Emancipation Proclamation.
Chill Out in Dumbo
Dumbo (an acronym for Down Under the Manhattan Bridge Overpass) has been renewed into one of NYC's most modern neighborhoods. You might spy famous faces along the cobblestone streets, or in the converted factories and lofts, teeming with chic restaurants, bars, boutiques, galleries, and residential spaces.
Catch the artsy, creative Dumbo vibe inside Mighty Tanaka, a small gallery focused on street art and emerging artists. PowerHouse Books, one of NYC's top independent bookstores, is located on the ground floor of a Dumbo space that serves as an independent bookstore, art gallery, and event venue.
Chocoholics and those with a sweet tooth should visit the Willy Wonka-esque Jacques Torres Chocolate shop. Their fresh handcrafted chocolates, ice cream sandwiches, hot chocolate, and especially the decadent chocolate chip cookies the size of your head (a good selfie!), are to die for.
Taste-tastic Williamsburg
With a dynamic music, arts, and boutique scene, bustling Williamsburg is one of NYC's most vibrant neighborhoods, perfect for exploration and people watching. It's also a renowned foodie destination. French, Italian, Mediterranean, pub grub, brunch, healthy food with locally farmed menus—take your pick!
Cheese lovers can get their groove on at The Bedford Cheese Shop, with its excellent selection of small-production cheeses. The shop also carries cheese-friendly accompaniments and products from Brooklyn-based artisanal food companies, such as Brooklyn Brine pickles.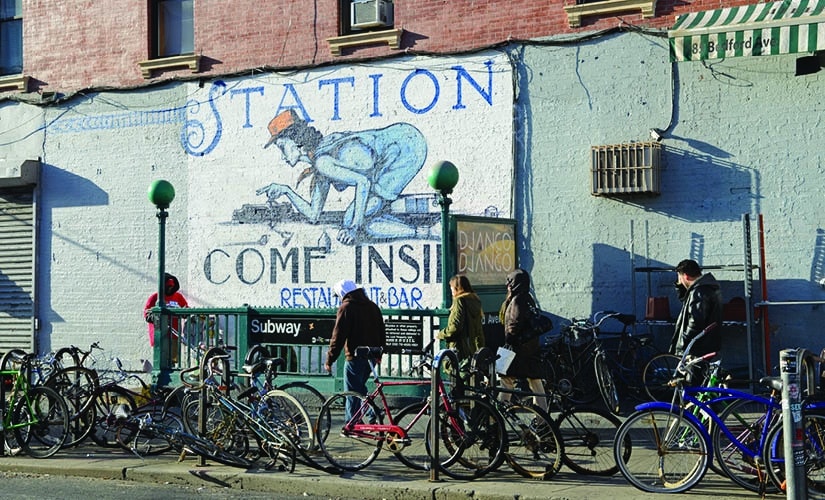 Meadowsweet offers locavore dining at its best. The restaurant's Michelin-starred chef, Polo Dobkin, is known for his creative American plates inspired by the Mediterranean. The cocktail program highlights herbs from the restaurant's mezzanine garden.
Carnivores get their thrills in Brooklyn, too. Tasty BBQ can be found at Fette Sau (German translation—fat pig). The dry-rub, beer and bourbon purveyor with an industrial, cafeteria-style setting, serves by-the-pound smoked meat (including burnt ends) on butcher's paper. Don't be alarmed if the line is out the door. It usually moves quickly.
For a classic NYC steak, and an evening that is decidedly old school, make a reservation well in advance of your New York trip at Peter Luger Steak. All steaks are USDA prime, family selected, and dry aged. Their massive 2,000 square foot aging box is packed floor to ceiling at any given time with 30,000 pounds of meat. It's cash-only at this steak icon. Bring a mini bankroll.
Local Beer, Artisanal Wine and Coffee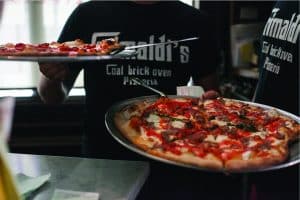 Most artisanal food companies are located in Brooklyn's interior, but local beverages are plentiful in Williamsburg, Dumbo, and its adjacent, re-purposed Brooklyn Navy Yard.
A pilgrimage to Brooklyn Brewery has become as compulsory as visiting Sam Adams when in Boston. Churning out lagers, pilsners, and East India pale ales seven days a week, the brewery fits easily into a sightseeing schedule. If small batch artisanal wines are more your style, schedule a tour and tasting Brooklyn Winery. Book a couple of days in advance at BkWinery.com.
Get a caffeine fix at The Brooklyn Roasting Company, with its organic certified and sustainable coffees. Stop in and view the beans being roasted in small batches, packaged in recycled paper bags, and carried off on bicycles and biodiesel-powered vans.
Based in a 115-year-old building in the Brooklyn Navy Yard (by Dumbo), Kings County Distillery makes award-winning small batch whiskey—including chocolate whiskey infused with ground cacao bean husks—and moonshine. Visit Saturdays for tastings.
Theatre, Music, and Bowling
Have an urge to go bowling or see a concert? Brooklyn Bowl epitomizes the borough's eclecticism. The half bowling alley, half concert venue includes a surprisingly good on-site restaurant. Concerts are sometimes sold out, so buy tickets in advance.
Ready for an off-off-Broadway theatre experience? Brick Theatre nurtures emerging artists with seasonal festivals, world premieres, and cutting-edge monthly performance series. The theatre is located in a former auto-body shop and yoga center, refurbished into a modern performance space.
Can't decide where to eat? Smorgasburg, open April through November on the Williamsburg waterfront, showcases 100+ local and regional food vendors. Chef Mario Batali has called Smorgasburg "The single greatest thing I've ever seen gastronomically in New York City." Enough already! Go.
By Annette Brooks
Photos by Julienne Schaer, Myrna Suarez, Phil Kline, and Joe Buglewicz