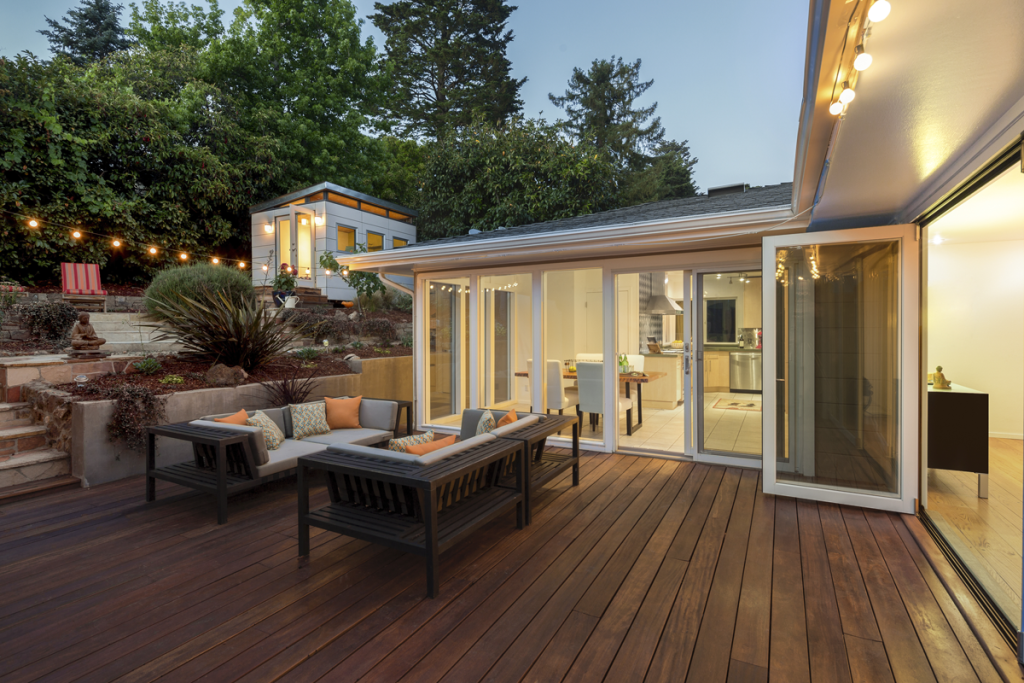 By Mimi Greenwood Knight
Who wants to be stuck in the house all night after a long day at work or school? A spacious deck is a perfect place to get outside, enjoy some family time under the stars, eat, listen to the crickets, and enjoy your backyard. Here are some deck trends and ideas we're excited about for 2021.
Larger Decks
Gone are the days of the 20-by-10-foot deck with a grill and a scattering of patio chairs. Families are now enjoying multilevel decks with different functions on different levels, such as outdoor kitchens, sun decks, or spas. Pergolas and walls add privacy, and built-ins provide the perfect solution for seating, storage, and planters.
Varied-plank Decking
Instead of an expanse of identical decking, try mixing materials. Think of alternating thinner and thicker boards or different colored materials for a contemporary flair. It's an easy way to achieve any number of looks and can be accomplished with traditional wood or composite decking material.
Bold Color
While neutrals are always popular for decks, some homeowners are stepping out with bolder hues. Use complementary colors to highlight structural design elements or to accent decking and railing to create a picture frame effect to show off structural design elements.
Outdoor Living
There's no end to the choices in outdoor living decor. Lighting, appliances, TVs, fireplaces, fire pits, misters, and outdoor kitchens make the deck a great place to hang any time of year. Low-voltage, solar-lighting adds safety as well as ambiance. Lighting elements should provide style, directional lighting, and function.
Green Decking Materials
Composite decking is one of the most popular and affordable sustainable materials. The blend of wood fiber and recycled plastic creates a highly durable and beautiful product. Homeowners love it for its low maintenance and the way it convincingly mimics premium natural materials. And while a composite deck costs more upfront to build, it's cheaper over the life of the deck because it won't need to be painted or stained every few years.
Heaters and Ceiling Fans
Adding heaters and fans to covered areas means you can enjoy your deck all year long. Incorporating them into the original deck design makes for a seamless aesthetic, but it's usually not a problem to retrofit them later.
Modern/Industrial Style
While rustic-style deck designs are still popular, contemporary-looking homes are being designed with modern/industrial-looking decks featuring cleaner lines, angular shapes, and cooler colors. Think mixed materials like metal and composite decking, stamped concrete, and glass rails or 'fences" for a sleek, industrial vibe. Cable railing also offers a clear, unobstructed view and requires minimal maintenance.
Blending Outdoors and In
Decks today are viewed as an extension of the home, offering many of the same amenities. Some homeowners are echoing the aesthetic appeal of their indoor living out onto the deck. This can be done by continuing the color theme and other décor elements for a cohesive look with the indoor space flowing seamlessly into the deck and outdoor area.