Escape to Your Private Retreat
By Mimi Greenwood Knight
Once a supporting character in most home designs, the modern bathroom has stepped into the spotlight, evolving into much more than four walls housing a few necessary fixtures. Today's bathroom possesses star power with the ultimate in luxury, elegance and design.
Whether you opt for old-world charm with vanities and sinks concealed within treasured antiques, or a sleek, contemporary, even futuristic design with above-counter vessel sinks and free-standing tubs, your bathroom can be nothing short of a personal haven behind closed doors. Here are a few we really like.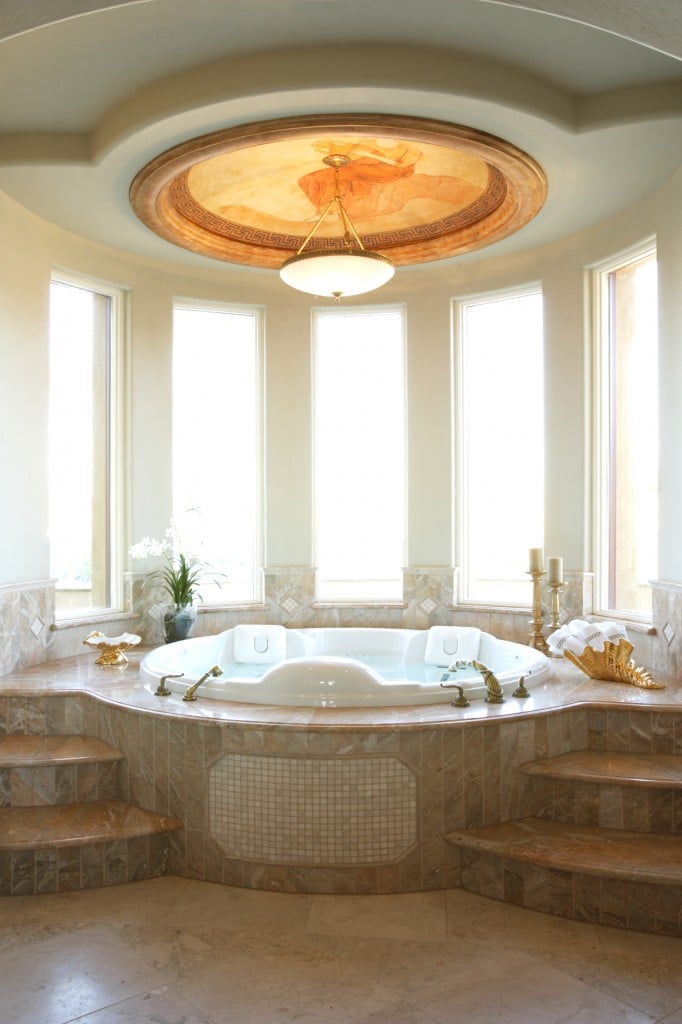 Bathed in light and highlighting a spectacular panoramic view, this garden tub offers Parthenon-esque elegance with its monochromatic palette of natural stone and more-than-generous bank of windows, resulting in a room like no other.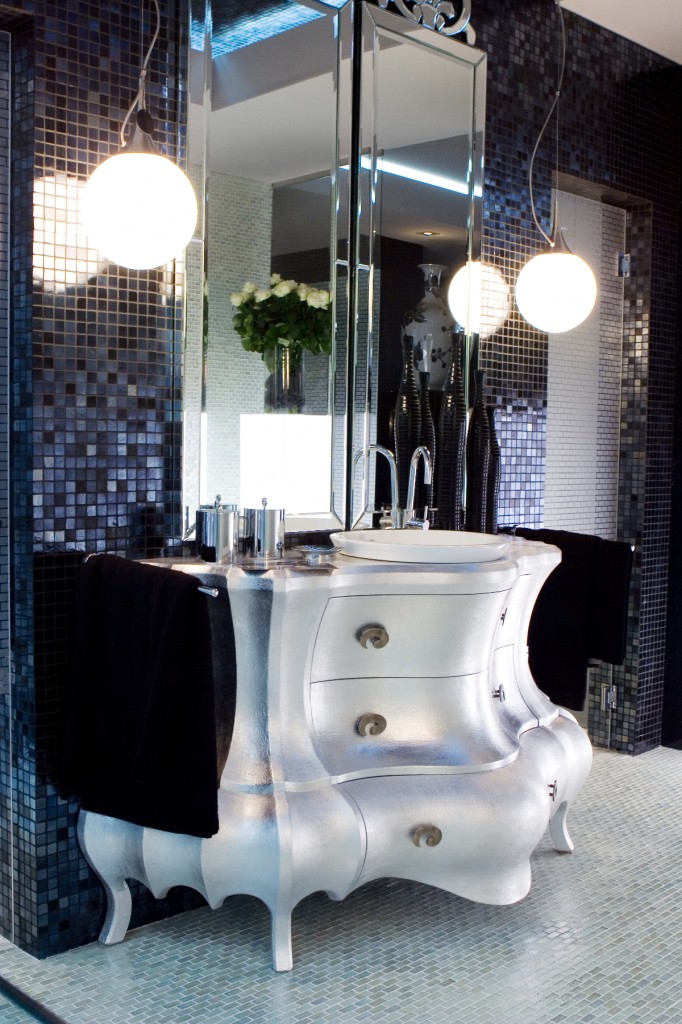 With its daring black and white finish, this custom vanity makes a statement that is masculine yet sensual. Walls and floors are one-inch glass tiles with bold lighting, ample mirrors and a surprising touch of pizzazz in the mirror-top filigree.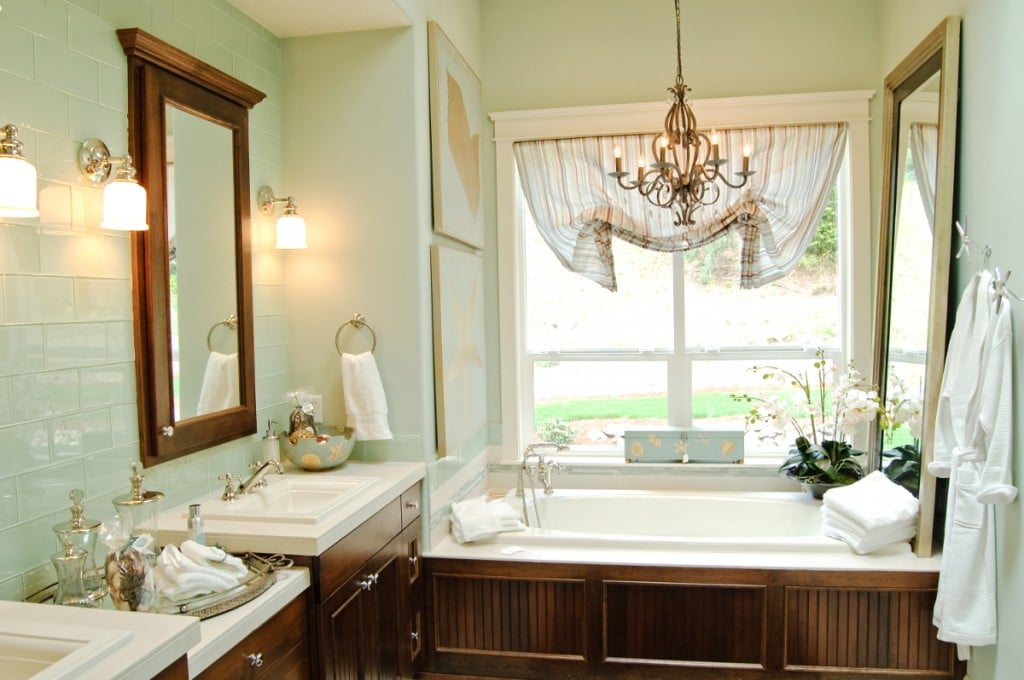 This lovely bathroom is in a word—tranquil with its ocean-colored walls recalling a calm, tropical locale. Dark wood enclosures contrast with clean white fixtures, offering a sophisticated look while natural, ambient light completes the relaxing ambiance.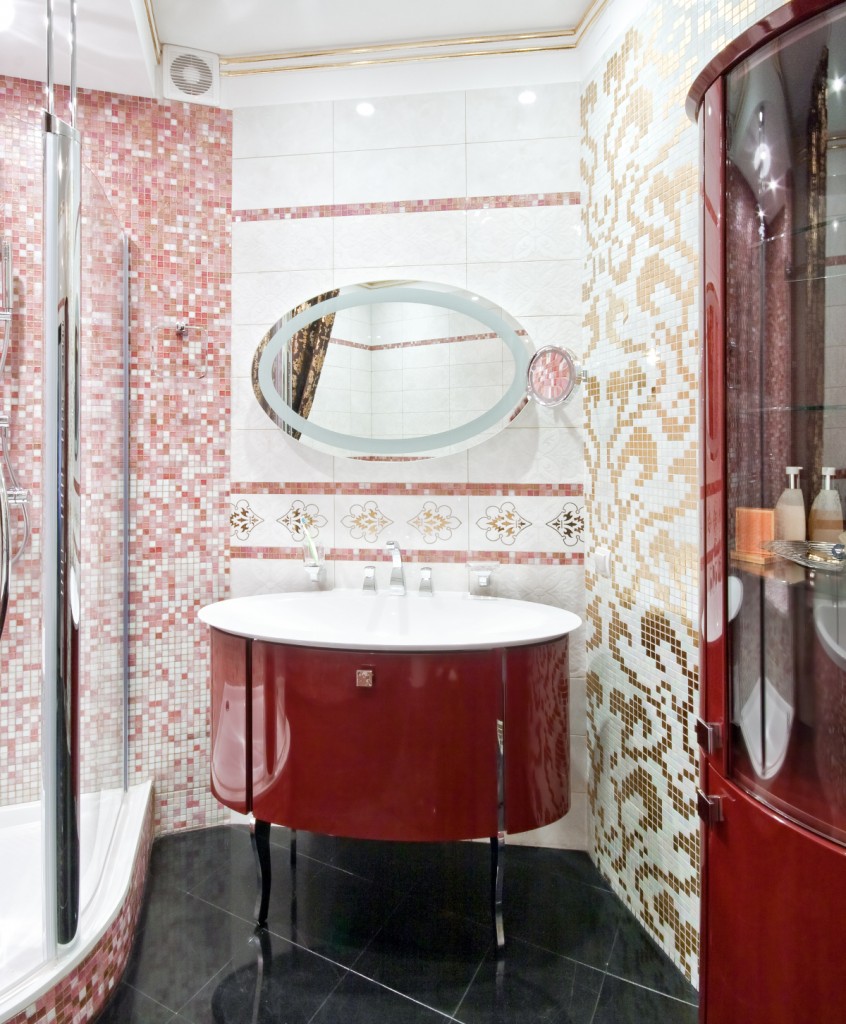 The challenge with any bathroom design is to create a room that's as attractive as it is functional. But who said it can't be fun too? This bathroom with its playful red and white palette and rounded walls is just that. Mosaic tile walls with custom borders and the curved theme echoed in the oval mirror make this bathroom truly one-of-a-kind.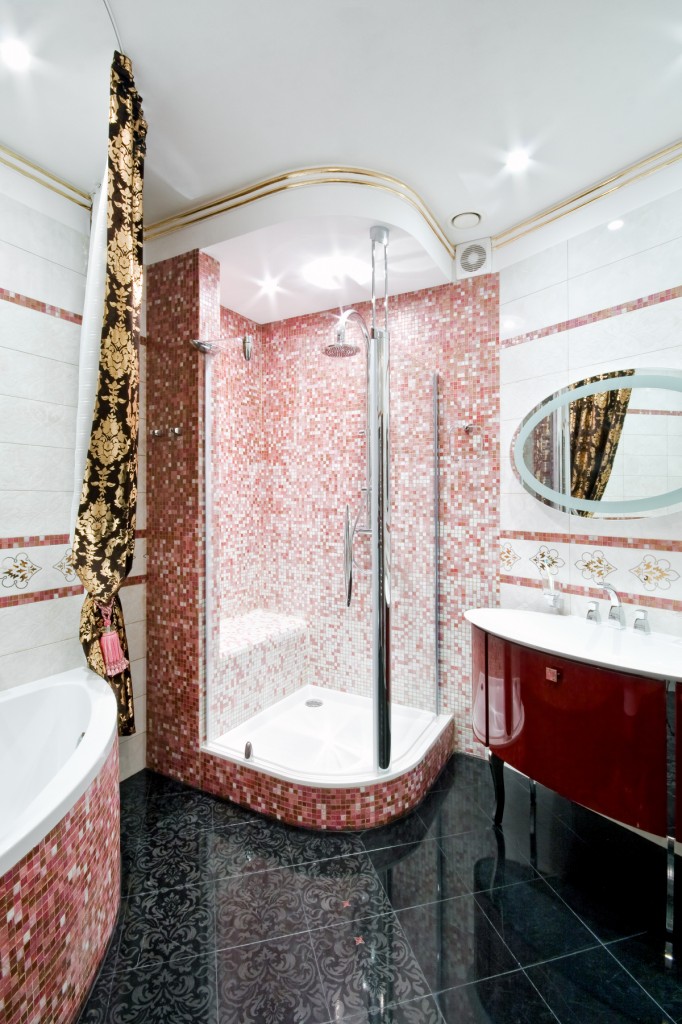 Stalwart marble flooring is the only serious thing in this fun and funky red and white bathroom where a frameless glass shower enclosure offers an alternative to the oversized circular tub.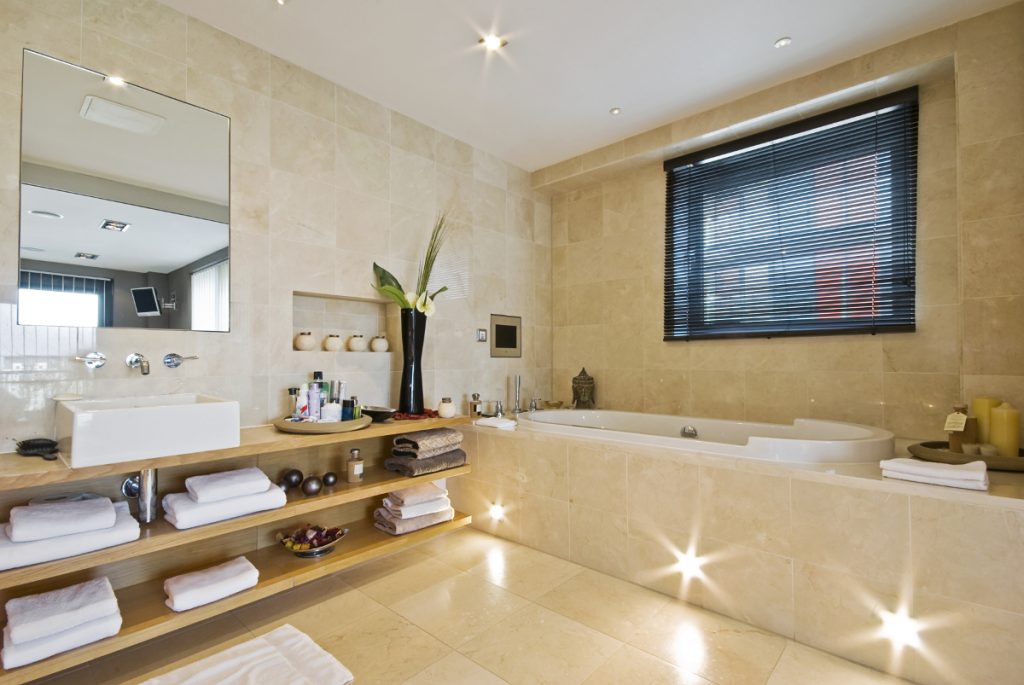 The monochromic palette, blonde wood and clean lines in this cavernous bathroom create a seamless, unfussy look. Awash in natural stone, the room is illuminated by day through the ample window, completing the smart, contemporary statement.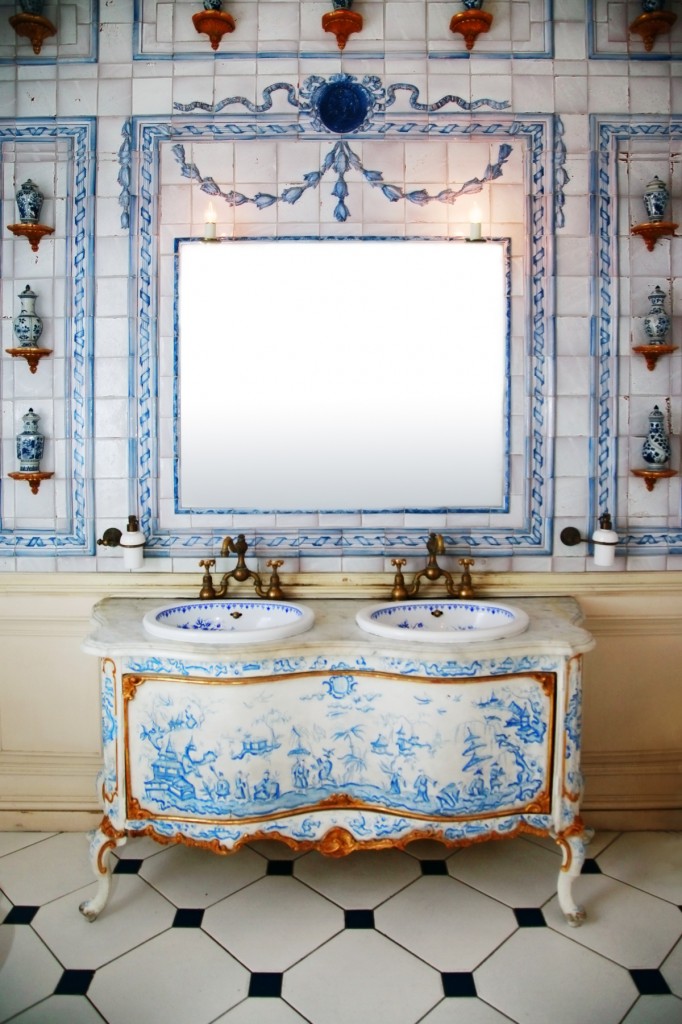 The queen herself would be right at home in this elegant loo where modern amenities are concealed within a gracious hand-painted vanity, and custom tile work is reminiscent of Blue Willow china. A travertine chair-rail and smart black and white flooring finish off the regal vibe.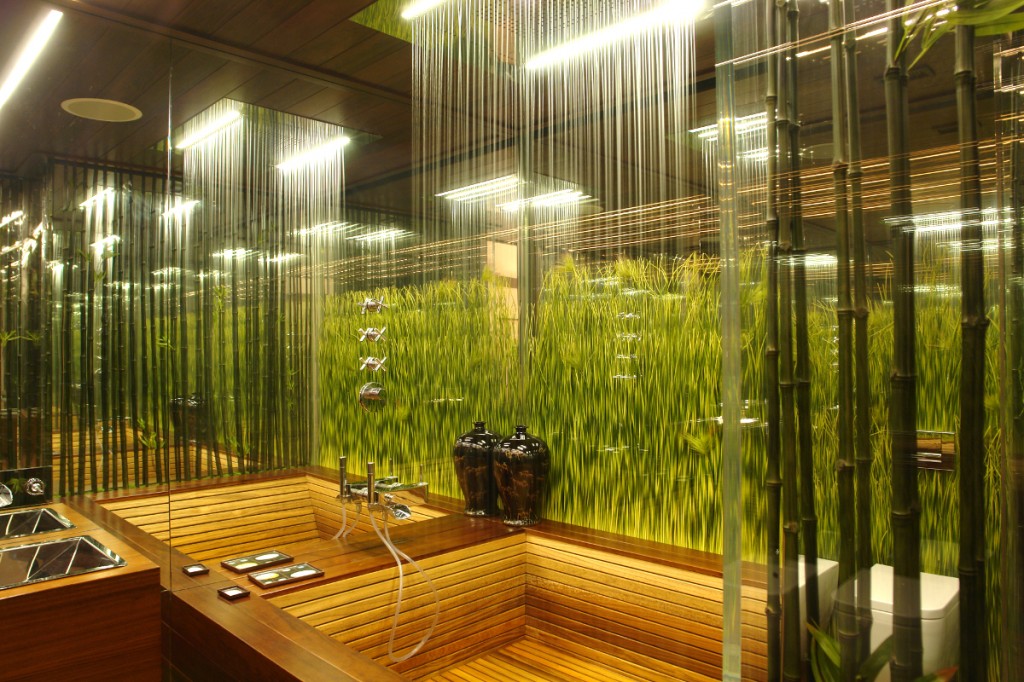 Designers creating this room had permission to think outside the box—way out. The result is this bathroom-turned-tropical rainforest where tubs fill from overhead waterfalls and glass walls and mirrors create the illusion of unlimited space to unwind.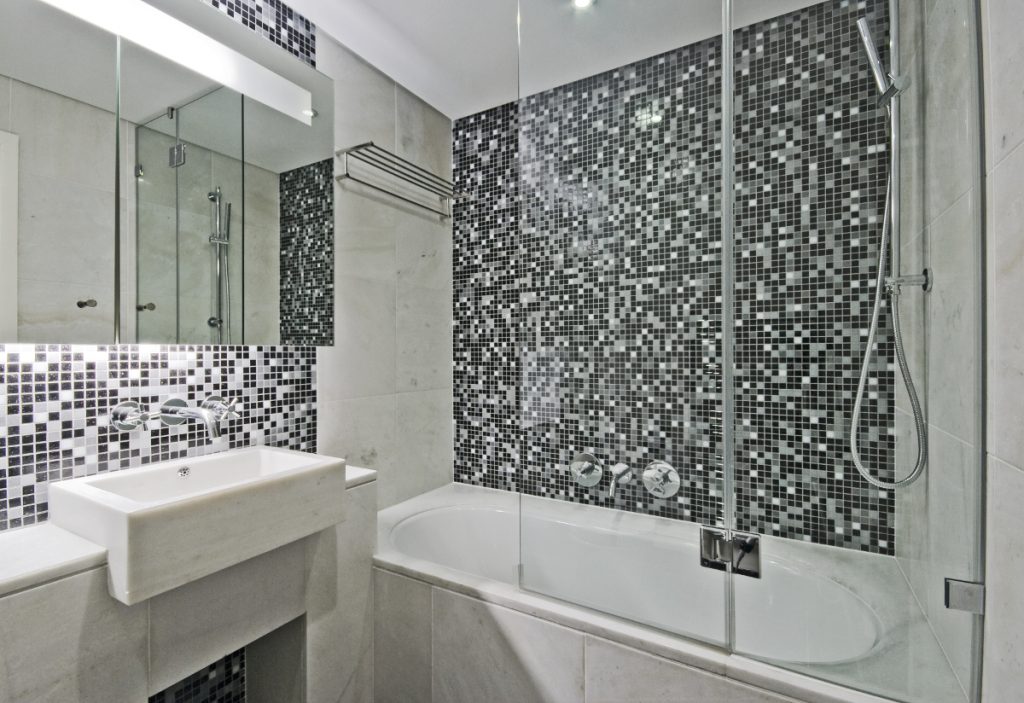 Here designers rose to the challenge of creating a bathroom that's smart and sophisticated within a limited space. Newsprint-colored glass tiles offer walls a vibrant look that's almost alive. Clean lines and frameless glass shower walls give the impression of more than enough room.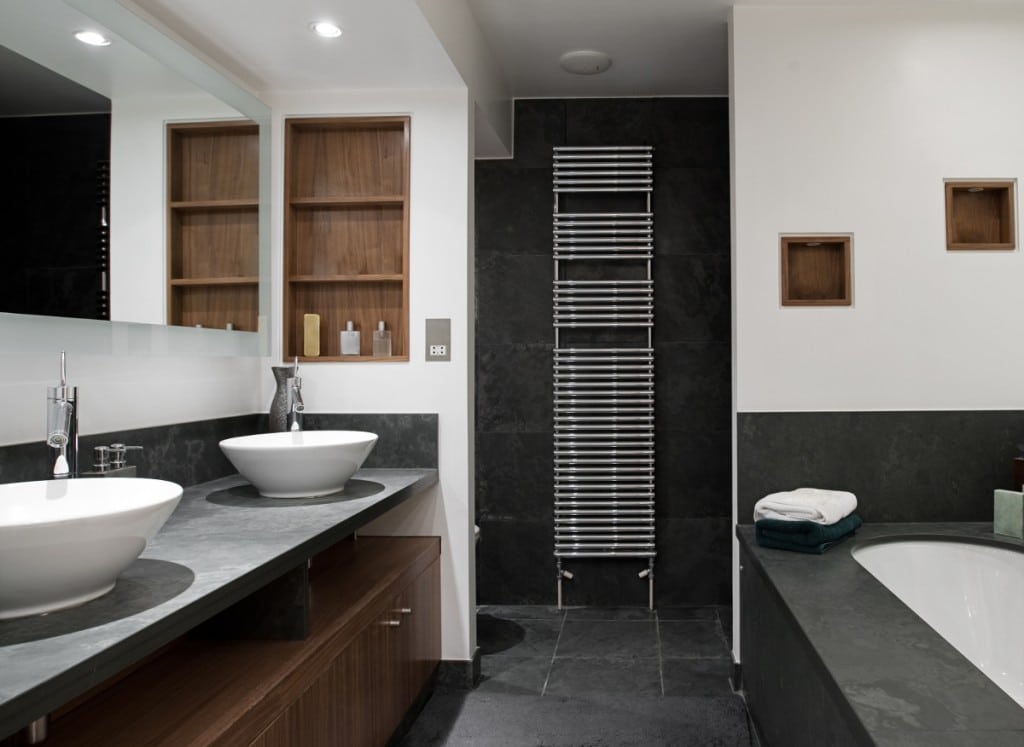 No space is wasted in this elegantly understated room where natural wood enclosures, slate tub surround and white walls offer a sleek look and even shelving is recessed to complete the Zen-like feel.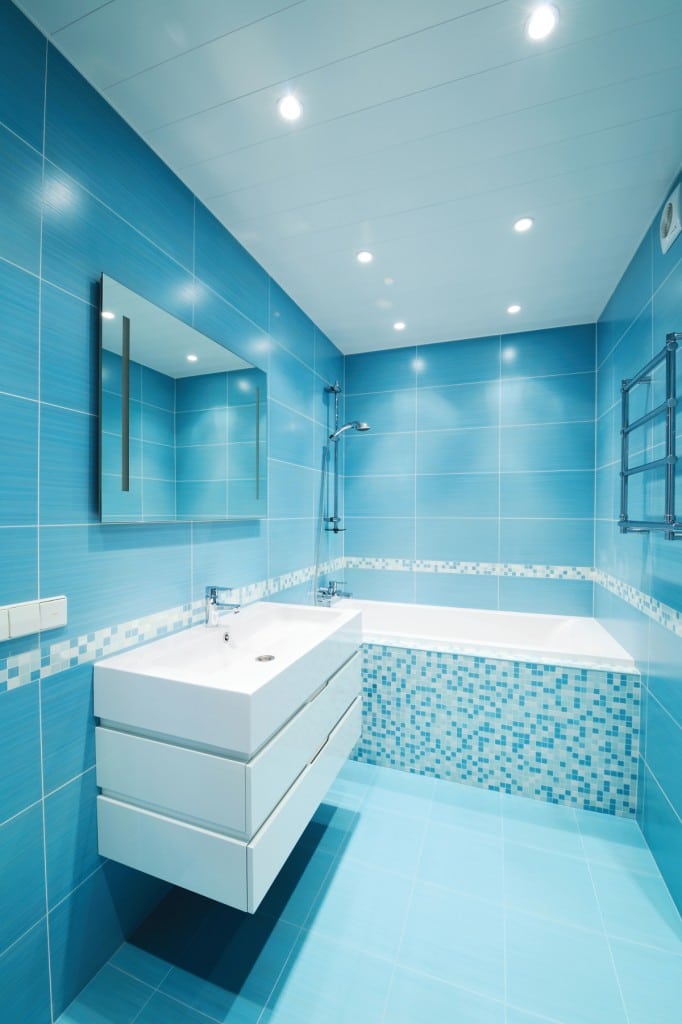 This space-efficient, spa-like room houses everything you need to pamper yourself without clutter or excessiveness. Penny tiles on the tub enclosure and running around the waist-high accent band contrast with subway tiles on the walls. The shower area remains open and undefined.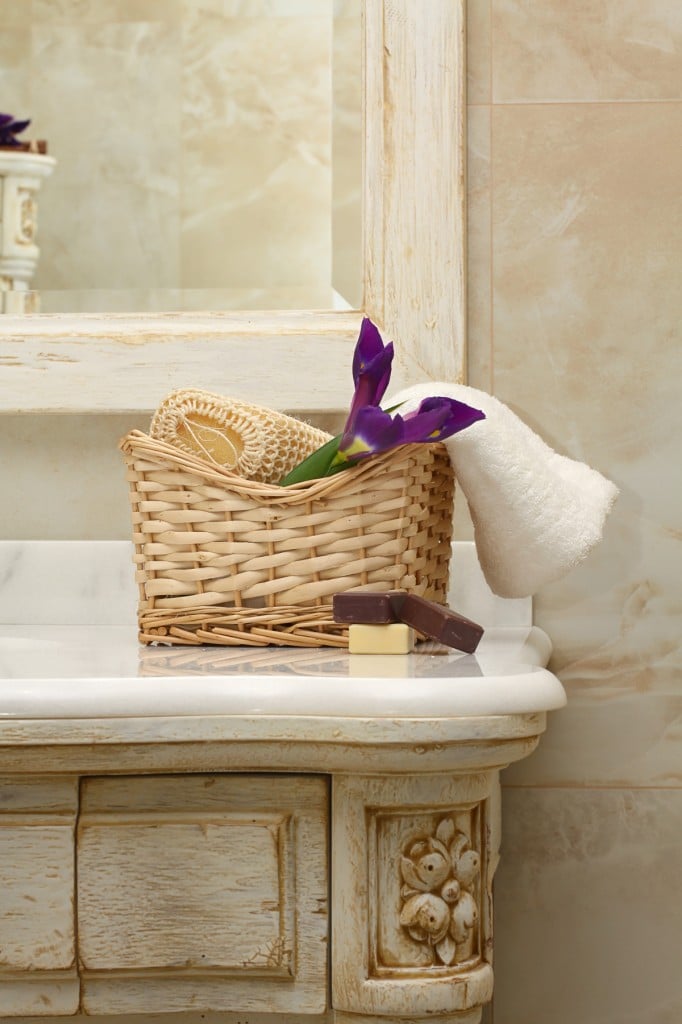 Beauty is in the details as with this wicker basket ready to catch hand towels, loofahs and guest soaps.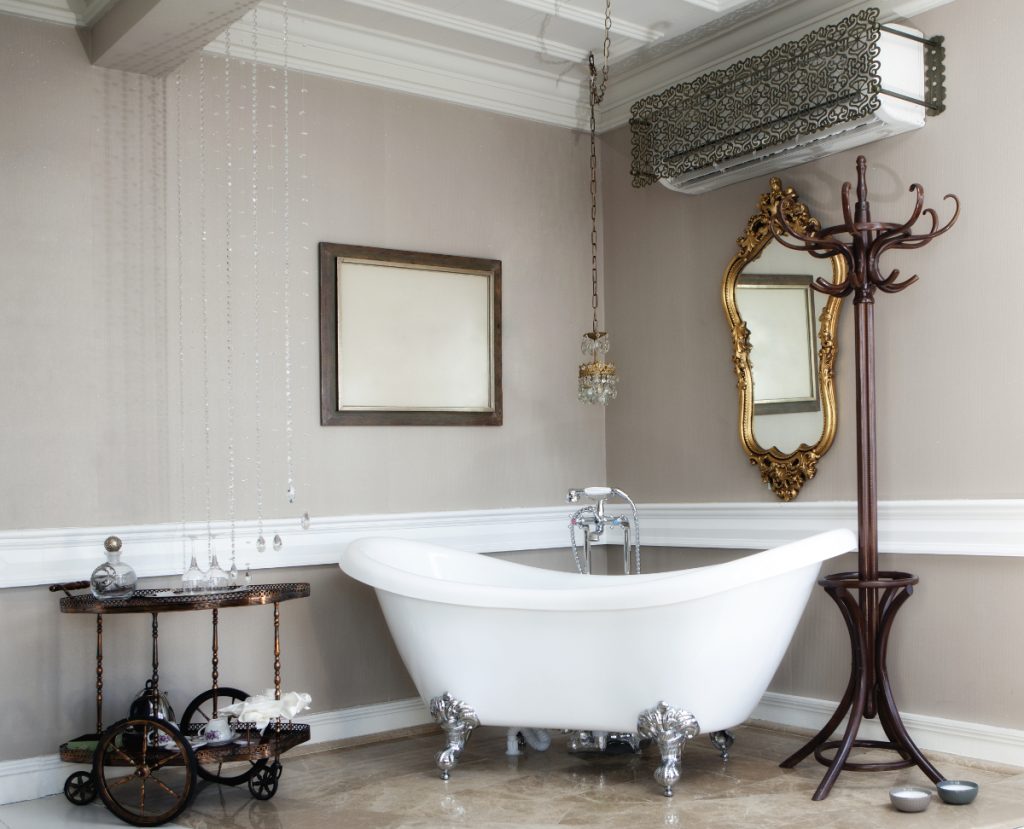 Tucked away in a corner of the bath, neural-colored walls and elegant marble flooring set the stage as a claw-foot tub, gold-leaf mirror, antique tea cart and wooden hat rack assemble, awaiting their mistress to loll away a few lazy hours.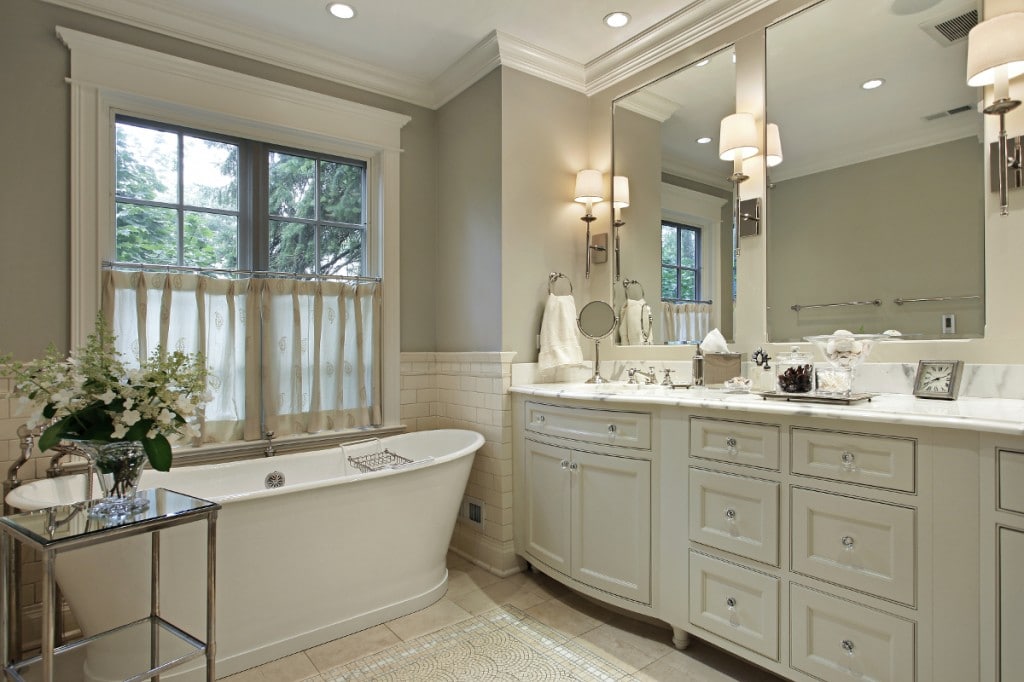 This free-standing tub appears ready to set sail upon a sea of soothing earth tones. Elegant white crown molding, wainscoting and custom cabinetry calm the senses while a lovely double window lends complementary natural light to the recessed lighting.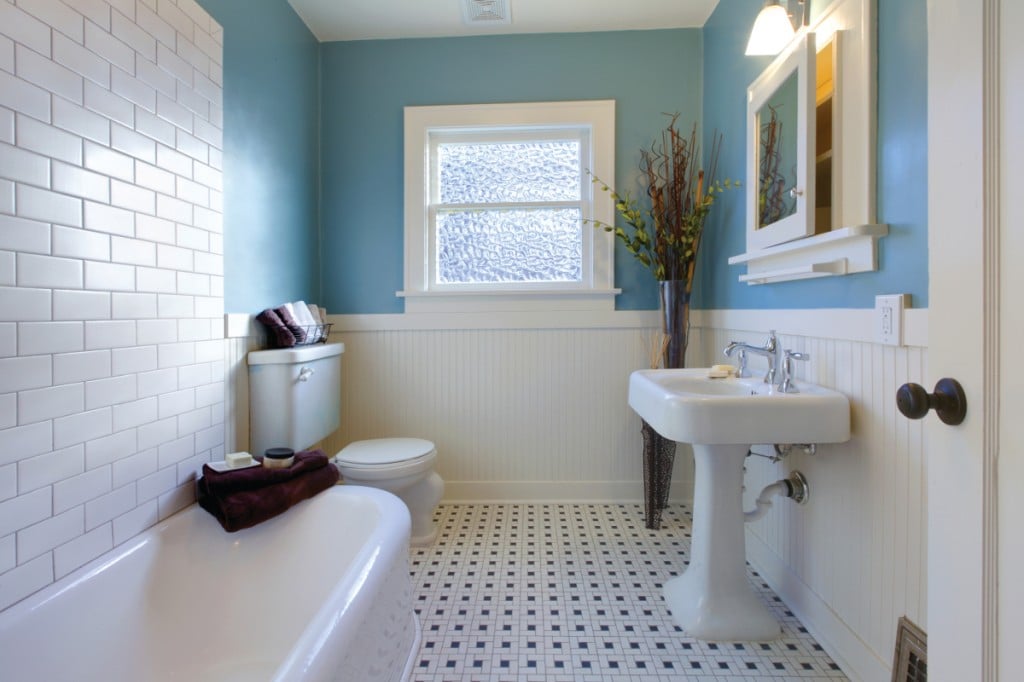 In a masterful use of the space, this bathroom's designer flattered the vibrant blue of the walls with the crisp white of the wainscoting, subway tile and porcelain fixtures, all set upon handsome black and white tile.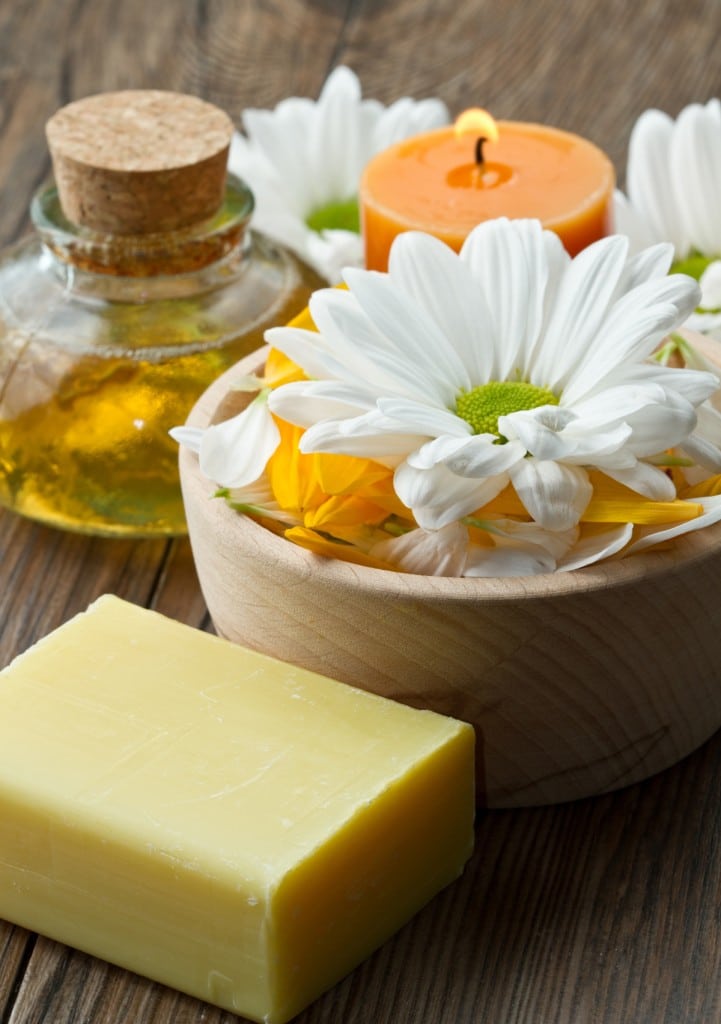 Citrus-scented candles, fresh flowers, earth oils and hand-cut soap beckon the bather to stay and indulge themselves awhile.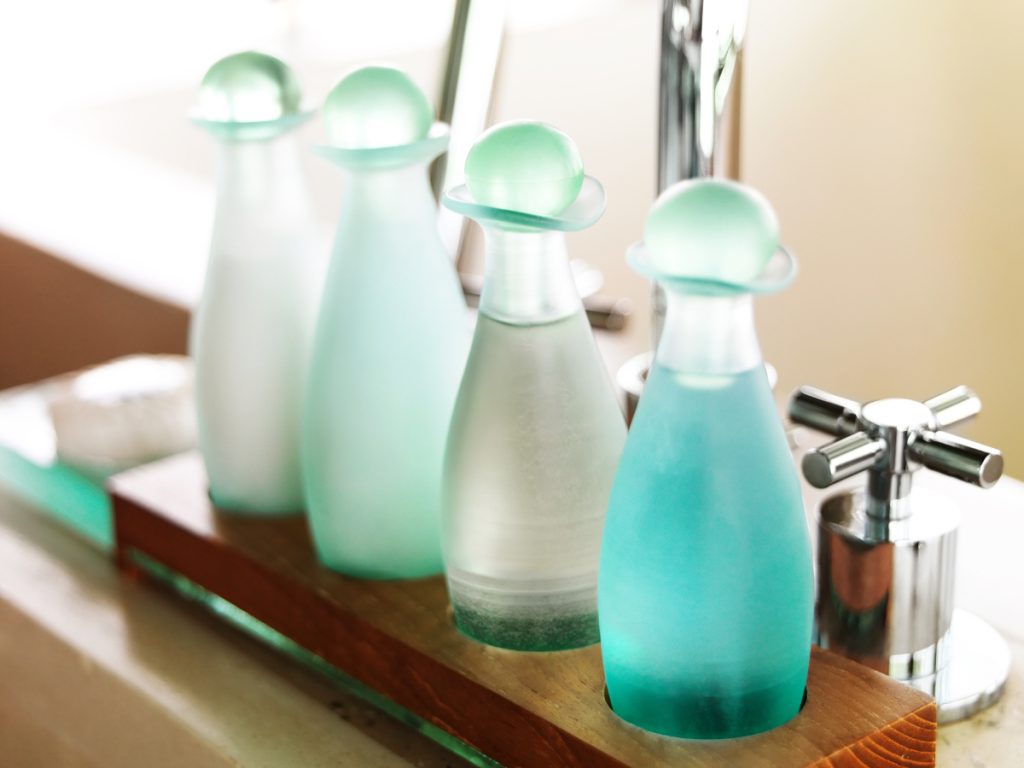 Reluctant to allow a jumble of bottles to clutter up the bathroom vanity, the homeowner transferred skin care products to these lovely hand-blown glass bottles where, instead of detracting from the appeal of the room, they enhance it.