Annual October community reading effort releases title and meet-and-greet information
The Friends of the McKinney Public Libraries are pleased to announce this year's book selection for Read Across McKinney 2019, Before We Were Yours, by Texas author Lisa Wingate.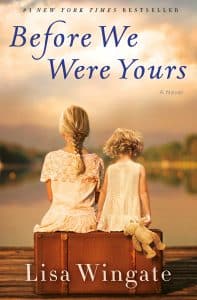 A book club favorite worldwide, Before We Were Yours is a fascinating fictionalization of one of America's most notorious real-life scandals. From the 1920s through 1950, thousands of children of single mothers and poverty-stricken parents were taken away, sometimes even quietly whisked off front porches or from hospital maternity wards, by the Tennessee Children's Home Society and its Memphis branch director, Georgia Tann. While heartbroken birth mothers searched for their stolen sons and daughters, the children were often kept in unlicensed boarding facilities and given new names and histories before being advertised for adoption to families who could afford to pay.
"We are very excited to present this author in coordination with the release of her follow-up book, Before and After," said Jo Dell'Antonia, President of Friends of the McKinney Public Library System. Before and After reveals the true stories of victims of the notorious adoption scandal, some of whom learned the truth from Lisa Wingate's bestselling novel Before We Were Yours and were reunited with birth family members as a result of its wide reach. Scheduled for release on October 22, Before and After was coauthored by a victim of the adoption scam, Judy Christie.
Spencer Smith, Director of Libraries, added, "Both the Roy and Helen Hall Memorial Library, downtown, and the John and Judy Gay library on El Dorado will be supporting the event with print copies of Before We Were Yours and Before and After, as well as audio CDs and downloadable audio books."
First developed in 2005 and funded in part by the City of McKinney Arts Commission, Read Across McKinney is a city-wide book club, scheduled for the month of October, that encourages residents throughout the community to read the same book concurrently. As well as engaging in a common discussion, participants are invited to meet the author and have their books signed at a luncheon and discussion at Stonebridge Country Club.
• Please visit ReadAcrossMcKinney.org for more information and ticketing details.
Courtesy: Gail Weiland/Friends of the McKinney Public Library