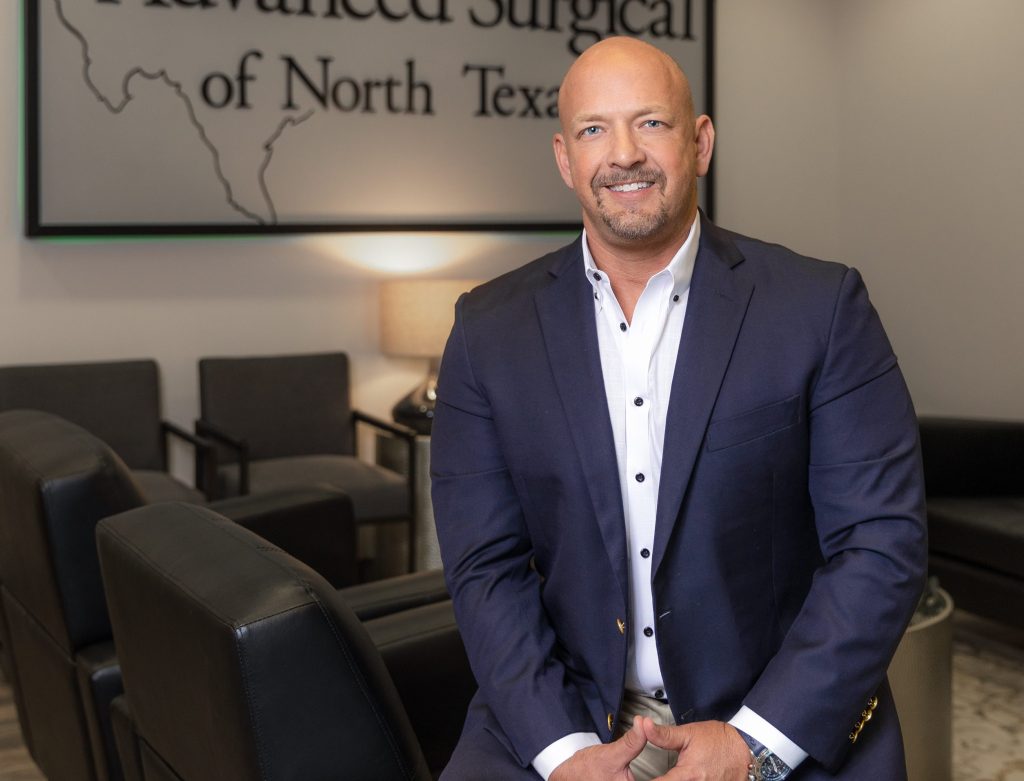 "What I love about my profession, is that surgery allows us to correct problems.
You can treat the issue affecting someone, and they can get on with their life. That's really rewarding."
By Sandy Lowe | Photo By Kenny Richard Photography
---
The road to the medical profession started in an unusual way for Steve Duffy, MD, FACS. He spent a lot of time in the emergency room as a kid due to sports and being outdoors.
"Our family doctor inspired me," Dr. Duffy says. "She did a lot of procedures in her office. When I got to medical school, I fell in love with surgery right away."
Dr. Duffy holds undergraduate and graduate degrees from the University of Texas at Dallas. He received his medical degree with honors from the University of Texas Medical Branch at Galveston. After serving as a U.S. Air Force trauma and general surgeon, he returned to Dallas. Since 2014, he has built that love of medicine into a thriving surgical practice voted by Living readers as the Best General Surgeon three years in a row and by D Magazine for the last 8 years.
One of the clear reasons for Advanced Surgical's stellar reputation is the core value of listening to patients.
"That's the most important part of our patient-doctor relationship," Dr. Duffy says. "We come up with a plan together. You are in charge of your own care. From the time you meet us until you're discharged, you get 100% of our abilities and our attention."
Patients experience a warm welcome from the Advanced Surgical staff. The surrounding atmosphere is one of calm and peace. More than once a patient's elevated blood pressure has gone down during a visit.
With one of the busiest surgical practices in the Metroplex, Dr. Duffy and his team offer cutting-edge surgical technology to benefit their patients. Dr. Duffy was trained early on in the days of the da Vinci Surgical System in 2011. He now travels across the country teaching other surgeons advanced robotic techniques. This technology allows for smaller incisions, less discomfort, less risk of complications, and a quicker return to daily life.
Dr. Duffy performs colorectal surgery to treat medical conditions that affect the colon, rectum, and anus. The skilled and compassionate team at Advanced Surgical of North Texas provides surgical and nonsurgical treatment for colorectal problems. These issues are a good example of the value of robotic surgery. Recovery time for open colorectal surgery can be up to seven days, compared with a recovery of 1-2 days with robotic surgery.
Along with his partners Dr. Chris Cottrell and Dr. Elizabeth Rogers, Dr. Duffy can also address gallbladder, hernia repair, weight-loss surgeries, thyroid, reflux, skin lesions, appendicitis, and pilonidal disease.
Dr. Duffy says he still ends up in the emergency room from time to time due to his enthusiastic interest in racing cars and weightlifting. He has volunteered with animal rescue organizations, helping with spay and neuter clinics and taught firefighters, EMS personnel, and boy scouts in first aid and trauma management. He is on faculty or is a consultant to multiple local free-standing ERs and urgent care clinics.
Advanced Surgical of North Texas will welcome you warmly, treat you and your health with respect, and give their all to improving your health.