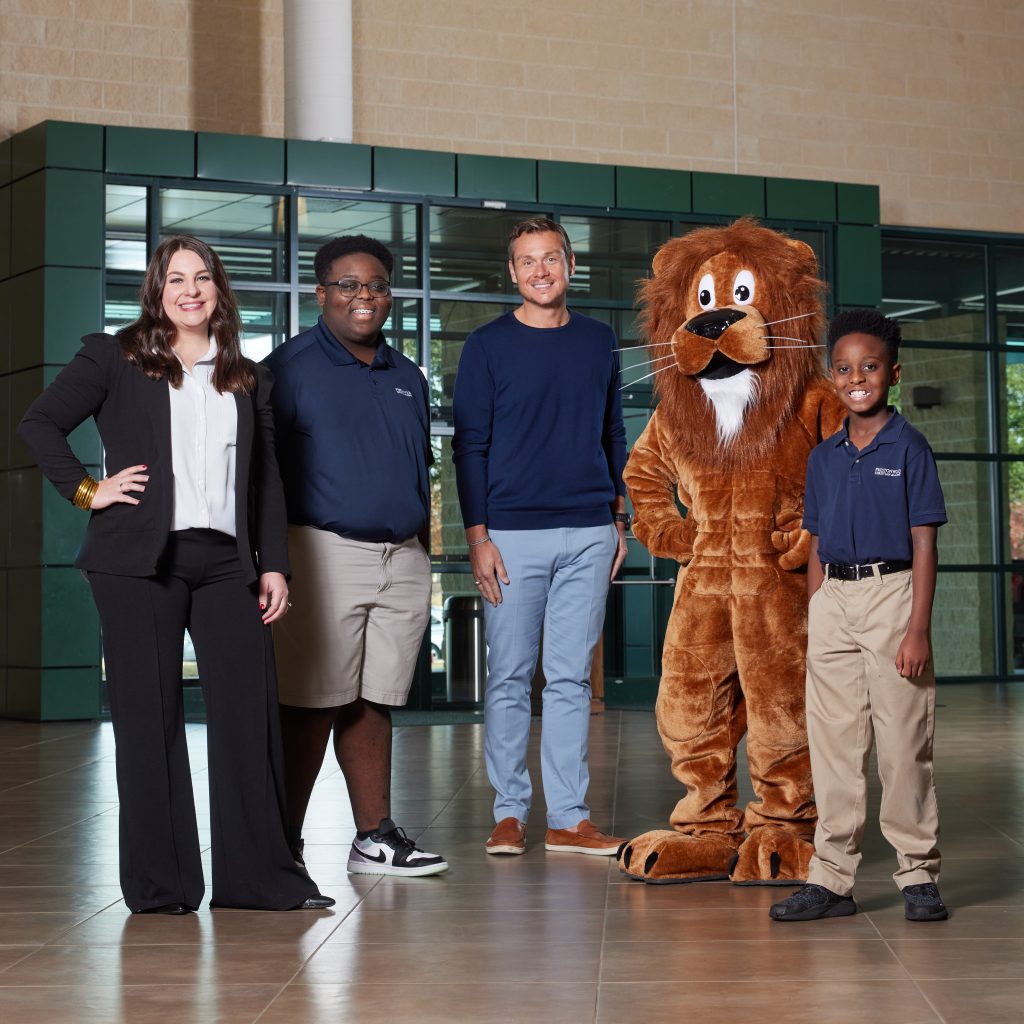 By
Annette Brooks
| Photos By
Scott Peek Photography
---
As more parents and students seek a Christian education, Prestonwood Christian Academy stands out as a leading option. The accredited school system, including PCA North in Prosper, equips children to strive for excellence, model Christ-like leadership, and embrace biblical truth, giving them the skills and foundation to flourish in today's world.
Understandably, PCA continues to experience tremendous growth. PCA North, which opened in Prosper in 2014, will celebrate its first graduating class in 2023 and is actively expanding the school. "We're growing quickly and purposefully with a student-focused vision to expand our reach and best serve our current and future students and their families developing faith-filled Lions who will impact the culture for Christ," says the Superintendent, Prestonwood Christian Academy School System, Dr. Mike Goddard.
Answering the Increasing Need for Tuition Assistance
PCA is committed to helping remove financial barriers to obtaining a Christian education through its Sponsor-A-Lion tuition assistance program. In addition to accepting direct donations to the Sponsor-A-Lion program, PCA's annual Zig Ziglar Servant Leadership Award Banquet raises funds.
Through the shared vision of Prestonwood Christian Academy and the Prestonwood Foundation, the Zig Ziglar Servant Leadership Award was established in 2009 with the purpose of encapsulating the legacy of Zig Ziglar (a PCA
grandfather) by annually naming a recipient who embodies the very essence of his servant leadership. The Zig Ziglar Servant Leadership Award Banquet honors an individual who represents Ziglar's Christ-like humility and service.
"We believe that anyone who wants a Christian education should have that opportunity, no matter their background or financial situation," says PCA North Director of Development Relations Megan Rogers. "There are hundreds of families who can benefit from the generosity of our community and the proceeds of the Sponsor-A-Lion tuition assistance program. Because of the Zig Ziglar Servant Leadership Award Banquet, many will have that chance. I love that God put me here to serve this way, for this cause."
Nick Hummel, a PCA North parent and PCA North's co-chair for the Zig Ziglar Servant Leadership Award Banquet says, "PCA North has been a true blessing to my family. I love that our home, school, and church are aligned in raising our children to be warriors for Christ, and they get to live out their faith daily with their classmates. We support the Zig Ziglar Servant Leadership Award Banquet because 100% of the proceeds are invested back into tuition assistance for future faith-filled Lions. There are very few other causes in our area that have the potential for true lifelong impact and transformation for families."
Isaiah Key, a freshman at PCA North, and his younger brother, Joshua, a third-grader, are the 2023 Zig Ziglar Award Banquet student representatives. When their father passed away, PCA stepped in to help the family with tuition assistance. The boy's mother, Daphne, works at the front desk at PCA North.
"I'm very appreciative that my brother, Joshua, and I are able to go to a school like PCA North," says Isaiah Key. "It's truly a blessing to our lives and entire family. Whether it's being challenged by our teachers academically or spiritually, we have grown so much during our time here. We love our school!"
2023 Zig Ziglar Servant Leadership Award Winner
The 2023 award goes to Mr. Michael W. Smith, one of the best-known names and influential artists in contemporary Christian music. The Grammy Award-winning, multi-platinum artist, best-selling author, and actor will receive the award at the Banquet and speak to the audience.
Honorees like Mr. Smith embody and represent PCA's values, philosophy, and mission statement: In pursuit of excellence in education, the mission of Prestonwood Christian Academy is to assist Christian parents by helping equip students to embrace biblical truth, strive for academic excellence, and model Christ-like leadership to influence their homes, churches, and communities for Christ.
More About Prestonwood Christian Academy
PCA is known for its Kingdom education philosophy — the lifelong, Bible-based, Christ-centered process of leading a child into a new identity with Christ, and its attention to spiritual growth, as well as its focus on critical thinking, collaboration, creativity, and communication. PCA also offers a robust STEM curriculum along with many extracurricular programs.
In addition to PCA North, the education system includes a flagship school in Plano which also offers a Hybrid option for specific grades, PCA Online, St. Timothy Christian Academy for children with learning differences, and the King's Academy in South Dallas, which is 95% donor-financed.
Prestonwood Christian Academy is fully accredited through Cognia (formerly AdvancED), Exemplary Accredited by the Association of Christian Schools International (ACSI), and is a member of the Council on Educational Standards and Accountability (CESA).
PCA Zig Ziglar Servant Leadership Award Banquet
April 2, 2023, 6PM
Ford Center at The Star,
9 Cowboys Way, Frisco, TX
Western Attire
The Banquet is open to anyone wanting to sponsor a table. PCA offers table sponsorships at eight different levels, starting at the Leader Level for just $1,500, which includes a table of eight seats and event recognition. The top, Premier Level, includes a hotel room for the night and a photo with the 2023 awardee, Michael W. Smith.
Visit PrestonwoodChristian.org/zigtable to sponsor a table today.
If you are unable to attend, you can give directly to the Sponsor-A-Lion Program on the same page.
Tuition assistance for students is a growing need, especially in these turbulent economic conditions. In the current school year, more than 622 PCA students receive an average of $7,548 in tuition assistance. Over the last 15 years, PCA has raised more than $30 million for its tuition assistance program.
Please visit: PrestonwoodChristian.org or call (972) 798-6780 to schedule a tour of PCA North.