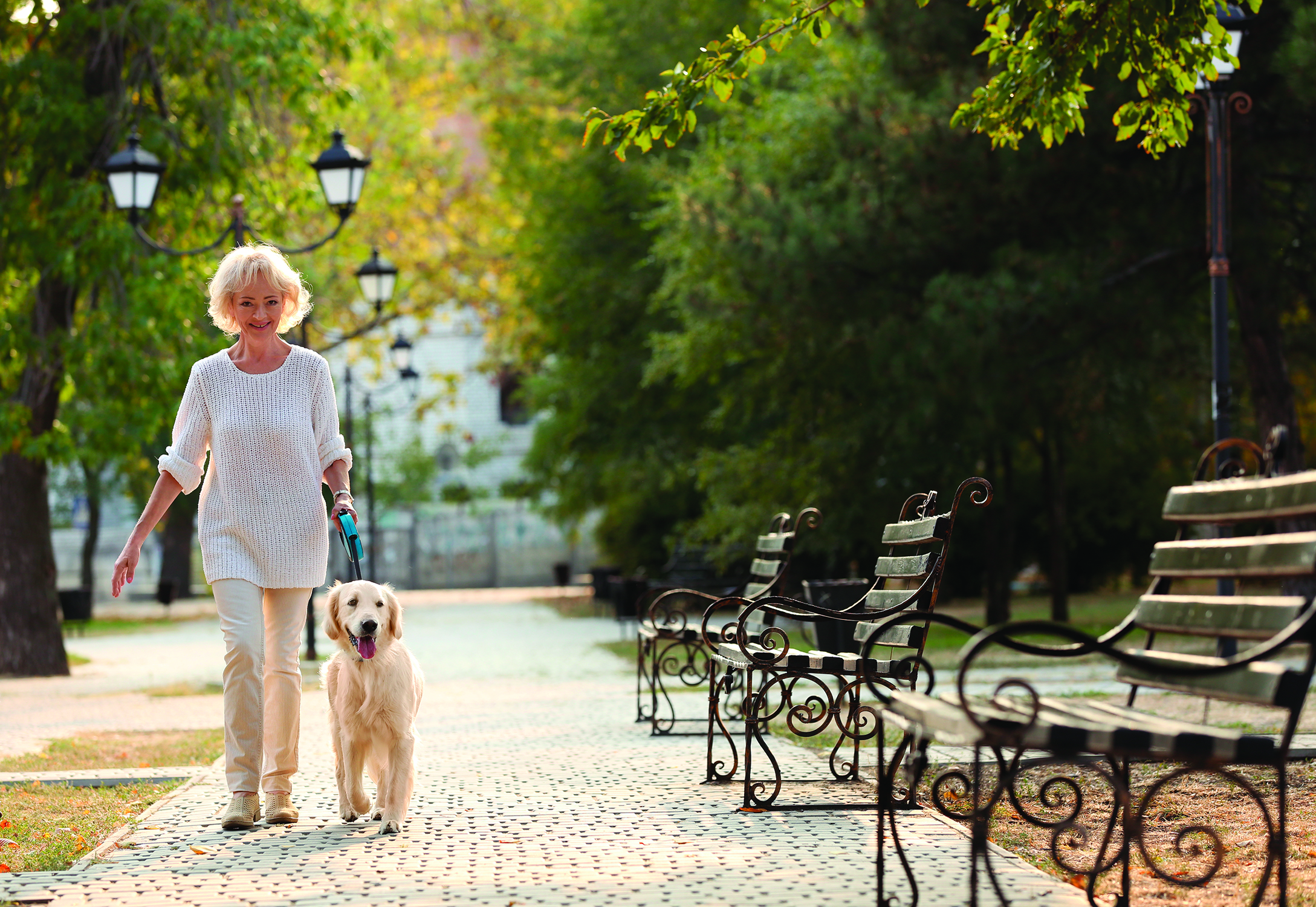 Furry friends can play a significant role in pet owners' lives. The old saying goes, "dogs are man's best friend," and research shows they may be more than that. In fact, they just might be the key to keeping seniors active.
According to a study conducted by the University of Lincoln and Glasgow Caledonian University in collaboration with Mars Petcare Waltham Centre for Pet Nutrition, dog owners 65 and older were found to walk over 20 minutes more a day than seniors who did not have canine companions at home.
The study documented three key conclusions:
1. Dog owners walked further and for longer than non-dog owners.
2. Dog owners were more likely to reach recommended activity levels.
3. Dog owners had fewer periods of sitting down.
"Older adult dog owners are more active than those without dogs and are also more likely to meet government recommendations for daily physical activity," said Nancy Gee, human animal interaction researcher at Waltham. "We are learning more every day about the important roles pets play in our lives, so it's no surprise that pets are now in more than 84 million households. It's great to recognize how pets can help improve seniors' lives."
Walking with your pup can help both the pet and owner get in shape. Pets can keep older adults active and even help them meet the recommended public health guidelines for weekly physical activity. According to the study, on average, dog owners more often participated in 30 minutes a day of moderate physical activity and achieved 2,760 additional steps.
However, the benefits of pet ownership go beyond physical activity. It's no secret that pets provide companionship. From reducing rates of stress, depression and feelings of social isolation, pets can play a significant role in improving people's lives, which ultimately can make pet owners happier and healthier.
Not only do pets serve as companions in their own right, studies have shown that dog owners can get to know their neighbors through their pets. Pets can even help facilitate the initial meeting and conversation, which may come as no surprise for many dog owners who have chatted with others while walking their dogs. For older adults who live alone or in a group facility, having a pet is also a great way to build relationships with others.
As senior citizens are celebrated on upcoming days that acknowledge older adults, it turns out living with a pet can be a healthy choice for seniors in more ways than one.
For more information on the benefits of pet ownership, visit bettercitiesforpets.com.
Photo courtesy of Africa Studio/Shutterstock.com
#13926
Source: Mars Petcare