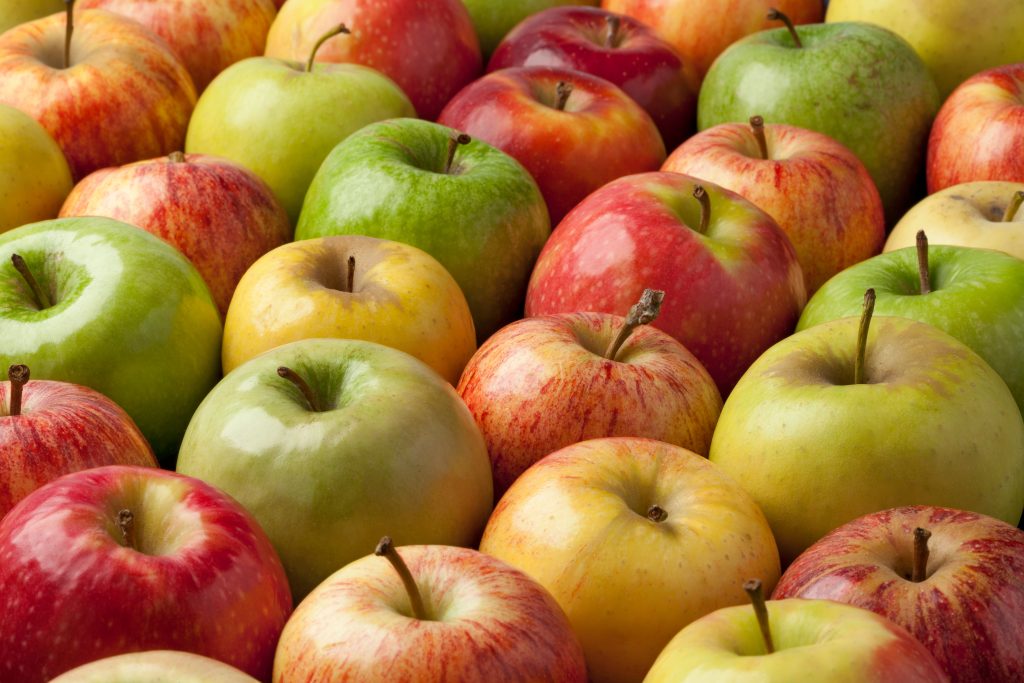 By Sydni Ellis
---
Pumpkins are fall's iconic fruit. With their perfect sweetness that blends so well with the season's spices, it can be easy to forget the other delightful flavor to savor — apples!
Hot apple cider, caramel-coated apples, and apple cinnamon treats — it's all so good. Although you can't munch on a raw pumpkin, you can enjoy a crunchy apple anytime your heart desires or use them in delicious foods, cocktails, scents, and more.
Homemade Apple Cider
Sure, store-bought is fine, but there's something extra special about apple cider made from scratch. Delish's Homemade Apple Cider is made in a stockpot on the stove and smells amazing in your kitchen. This recipe requires 10 large apples, an orange, cinnamon sticks, spices, and brown sugar. Combine with water, simmer for two hours, then mash the apples and simmer for another hour. Remember to save some of the cider to use for cocktail recipes. Delish.com
Apple Cider Mimosa
Enjoy a seasonal version of this brunch favorite by making The Spruce Eats' Apple Cider Mimosa recipe. This drink combines champagne or sparkling wine with apple cider and pear vodka. For extra flair, garnish the rim with cinnamon sugar and an apple slice, it's like a liquid apple pie. TheSpruceEats.com
Caramel Apple Manhattan
If you have extra prep time or are hosting a fall get-together, make Recipe Girl's Caramel Apple Manhattan. This cocktail is made with bourbon, apple cider, and Calvados apple brandy, among other things. The kicker is the garnish, which involves dipping apple slices into melted caramel candies and then them slipping on the rim of the cup before serving. RecipeGirl.com
Apple Pie Bars
Apple pie in snack-sized portions? Yes, please! Ina Garten's Apple Pie Bars recipe takes a little work, but it's worth it. The crust is made with butter, sugar, brown sugar, vanilla, chopped walnuts, cinnamon, and other ingredients. Scatter the dough in a baking pan, then pre-cook it before adding the apple filling. Use 1½ pounds Granny Smith apples, 1½ pounds Golden Delicious apples, sugar, spices, butter, and more to make the filling. These ingredients are combined over a large pot until the apples are tender, then spread over the crust and top with the remaining dough. It's like a heavenly mixture of apple crumble and apple pie that's especially delicious when topped with whipped cream. FoodNetwork.com
Roasted Chicken with Apples and Herbs
Apples aren't reserved for desserts. Incorporate this delicious, versatile fruit into your savory dishes as well. Southern Living's roasted chicken recipe requires four to six apples (like Gala, Fuji, or Granny Smith), 12 small shallots, thyme and rosemary sprigs, a whole chicken, and more. The finished roasted dish is delightfully juicy and perfect for the holiday season. SouthernLiving.com
Apple
Aromas
There's nothing like the smell of fresh apples, but it isn't practical to bake or simmer apple cider every day. Here are a few of our favorite fragrances so you can channel sweet fall vibes daily.
Relive nostalgic moments of buying your first caramel apple at the Fall Fair with the Fall Festival candle from Noa Lux. Notes of apple, caramel, vanilla, and toffee, will transport you back to those childhood moments.
$40, NoaLuxCo.com

It doesn't get much more fall than the Tumalo Cider candle from Broken Top Candle Co. This scent adds a kick of spice to the classic apple cider we all know and love. Embrace the cozy season with this fruity masterpiece. $26, 9 oz., $15,
4 oz. BrokenTopCandleCo.com

Yankee Candle's Macintosh is a fruity apple scent with top notes of apple peels and crisp greens, mid notes of grapefruit and juicy Macintosh, and base notes of clove bed and sheer musk. $31, YankeeCandle.com
Sweet holiday memories will rise to the surface when the Homesick Grandma's Kitchen candle is lit. It features notes of butter, apple, cream, cinnamon, clove, sugar cookie, and vanilla, which is heavenly.
$38, 13.75 oz. Homesick.com

Artiscent's Soul Flame candle transports you in front of a crackling fire while enjoying a warm mug of cranberry apple cider with family and friends. A touch of orange zest and cinnamon bark round off this cozy combination.
$38, Artistscent.com