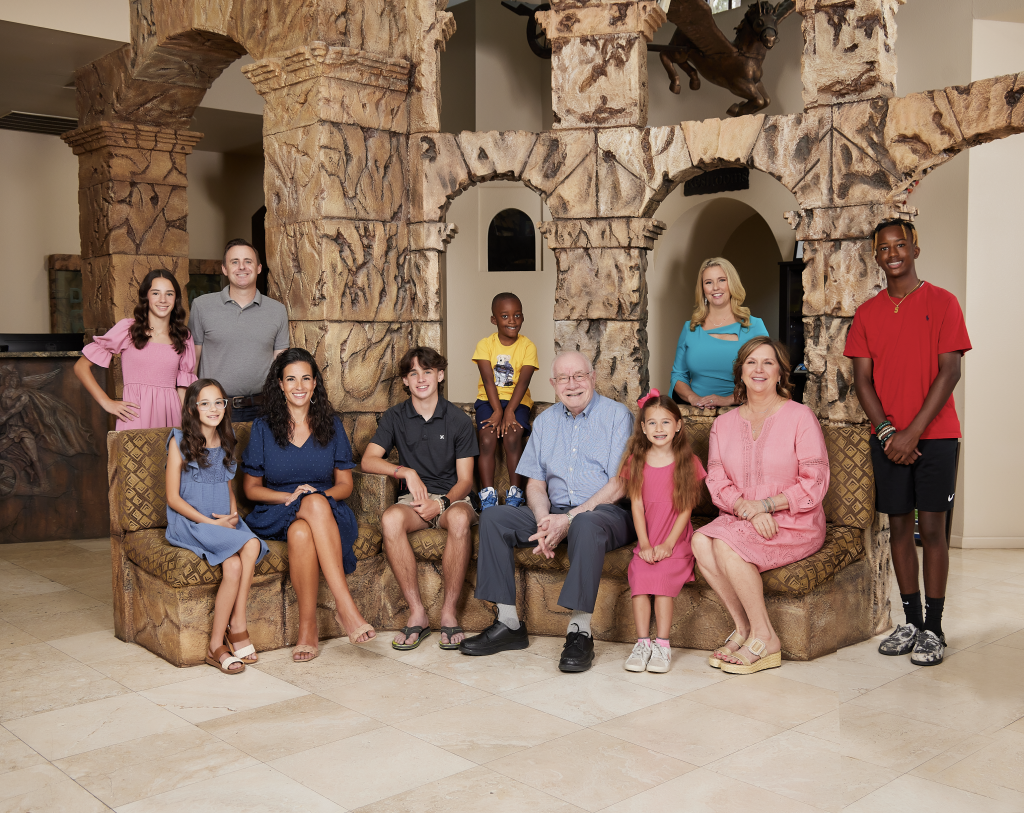 Photos by
Scott Peek Photography
---
Dr. Jennifer Buchanan takes many things into account when developing a plan for one of her orthodontic patients, but age is rarely one of them. "Orthodontic treatment can be as successful for adults as it is for children and adolescents," she said. "In fact, statistically in the U.S., one in three orthodontic patients is an adult." Dr. Buchanan has patients in almost every age group, from seven-year-olds coming in for their first evaluation (as recommended by the American Association of Orthodontists) to 30 and 40-somethings who had braces as kids but weren't diligent about wearing their retainers to those in their 60s, 70s, and 80s who perhaps never had braces but want to correct their misaligned teeth for cosmetic as well as health reasons.
"Whether you're eight or 80, it's the same physiological process that moves teeth," Dr. Buchanan said. "Teeth move in response to forces being placed on them over time. Orthodontic problems can be corrected as easily for adults as they can for kids because of the advanced technologies used in my office." It's not all about aesthetics either. Teeth that don't align are harder to keep clean which can lead to tooth decay and gum disease, both of which have been linked to heart disease, dementia, cancer, and other serious health conditions.
Kermit
79-year-old Kermit Ross gets a kick out of meeting young kids in braces and pointing out the braces on his own teeth. In fact, it's something he has in common with his grandson. "I grew up in a small town in rural Indiana," he said. "And though an orthodontist told my mom I should have treatment, it just wasn't in the family budget." Instead, Kermit resigned himself to having crooked teeth throughout his adult life.
From time to time, he'd revisit the idea of orthodontics, but with a job that saw him frequently relocating, the time never seemed right. Finally retired and living in Plano, Kermit took the advice of his general dentist who told him straightening his teeth would make it easier to keep them healthy. "He recommended Dr. Buchanan because of the advanced technologies used in her office," Kermit said. "She took X-rays of my teeth and head and even showed me 3D images of the way my smile would look after treatment."
Advanced Damon Insignia Customized Braces allowed Dr. Buchanan to completely customize treatment for Kermit and, while getting braces when he was a boy may have required tooth extraction, jaw surgery, expanders, Herbst appliances, or headgear, the new Damon technology is realigning his teeth without any of that. They're much gentler and will be less noticeable as he heads back to Indiana for his high school reunion next month.
"Now through the end of August, Dr. Buchanan is accepting used clothing and shoes — in any condition — for her Shoes for Smiles campaign. Since 2014, the program has recycled over 40,000 pounds of shoes and clothing. With the profits, over 1,000 pairs of shoes have been purchased for local kids of the Boys & Girls Clubs of Collin County to begin the new school year.
Find out more at McKinneyBraces.com.
Beverly
At 60, Beverly Vucekovich was unhappy with her smile. "Everything seemed to narrow as I aged," she said. "When I looked at pictures of myself, suddenly I couldn't see my teeth. It's like my smile was collapsing." Beverly actually had braces as a child. In fact, she had them twice. What she didn't realize was that she also had a tongue tie which was causing her tongue to thrust forward and make her teeth move.
As she began preparing for her son's wedding, she decided to consult Dr. Buchanan. "I went in thinking about aligners, but ultimately decided to go with the Damon Customized Insignia Braces," Beverly said. "Dr. Buchanan also diagnosed the tongue tie which was corrected." Beverly is thrilled with her new smile. "It changed the whole shape of my mouth," she said. "I was starting to lose my smile, but Damon Braces widened my smile back up and I couldn't be happier with the results."
Ellie
When it came time for Ellie Fleitz's parents to choose an orthodontist for her, they didn't think twice. "We'd had a great experience with Dr. Buchanan treating our older daughter," said Ellie's mom, Lidija. "We loved the idea of the Damon braces with no extractions or expanders. The office is upbeat and inviting, and we love the open floor plan where we can see Ellie the whole time she's being treated. Dr. Buchanan is kind and thorough and always explains everything in a way Ellie and I can both understand. We're looking forward to another beautiful smile in the family."
Braces at Any Age
Just as we start seeing gray hair and wrinkles, most of us will also see our smiles narrow and collapse. Damon Braces and Spark Aligners can help with breathing issues by opening up collapsing airways as we age as well as serve as an instant facelift, returning your smile and jawline to a more youthful appearance. Properly aligned teeth are less likely to wear and break and are much easier to keep clean and healthy.
Dr. Buchanan makes treatment more accessible for everyone by offering early morning and evening appointments. And advanced technology — either in Damon Braces or Spark Clear Tooth Aligners — means fewer office visits and shorter overall treatment time. Patients of Dr. Buchanan are serving the community since a portion of all treatment fees go toward paying off mortgages for wounded veterans in our area.
Find out more at McKinneyBraces.com.
---
CONTACT
6595 Virginia Parkway, Suite100
McKinney, Texas 75071
Text (972) 542-4412 for a free evaluation
McKinneyBraces.com