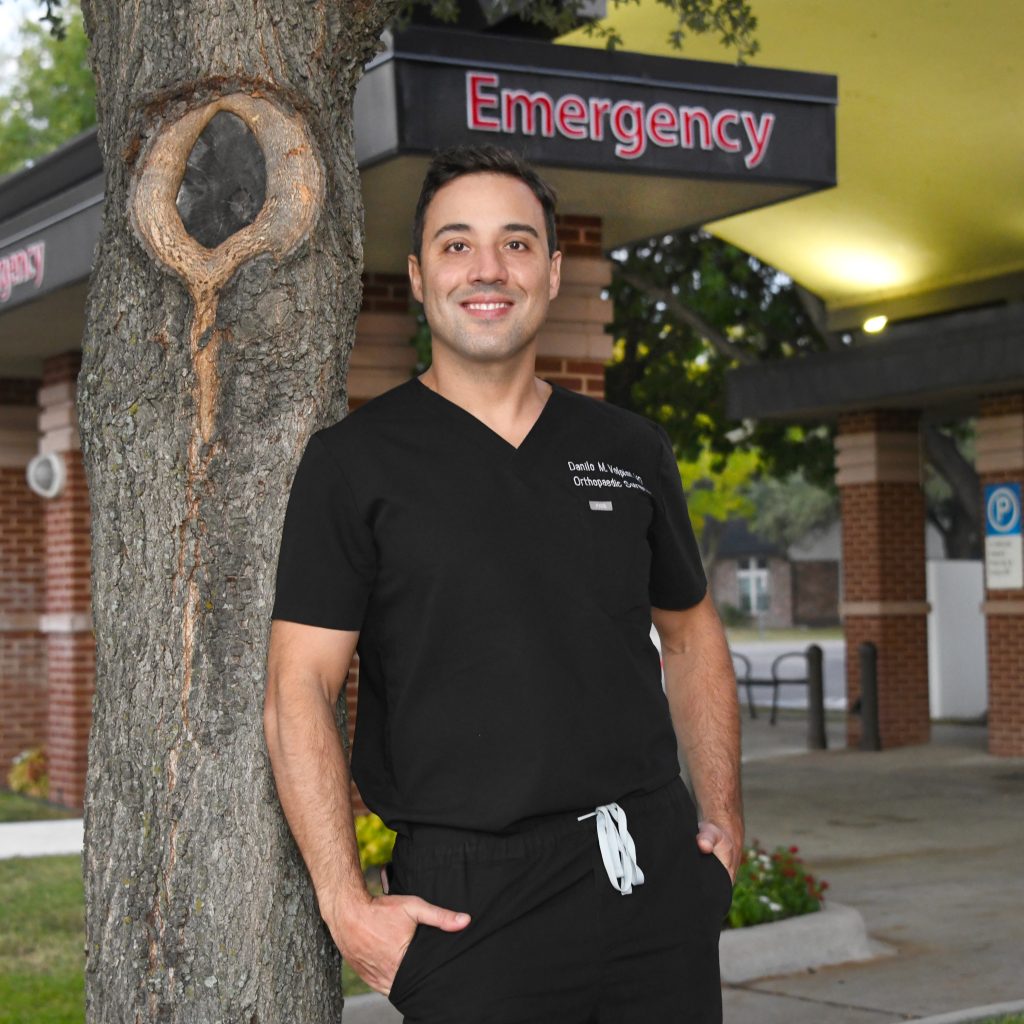 By Cheryl Ricer | Photos by Lake Pointe Photography
---
Since 1987, Baylor Scott & White Medical Center – Lake Pointe has served the residents in Forney, Greenville, Rockwall, Rowlett, Wylie, and the surrounding communities in its 176-bed acute care hospital in Rowlett located at 6800 Scenic Drive. With more than 500 physicians on the medical staff, they offer a wide range of medical specialties and services, including a Fast-Track Emergency Department, intensive care unit, women's services, Level III obstetric and maternity care, Level III NICU, interventional cardiology, diagnostic imaging, robotic-assisted surgery, orthopedics, vascular surgery, neurosurgery, and urology.
The orthopedic trauma department stays busy treating fractures, especially this time of year — football season. From broken bones to treatment for sprains, the orthopedic specialists at Baylor Scott & White Medical Center – Lake Pointe walk patients through treatment options that may include imaging, orthotics, medication, sports, or physical therapy, or as a last resort, surgery.
"Like all the physicians on the Baylor Scott & White medical staff," said Dr. Danilo Volpini, medical director of orthopedic trauma for Baylor Scott & White Medical Center – Lake Pointe, "the orthopedic specialists are board certified, fellowship-trained surgeons who are experts in evaluating and treating fractures of all kinds and patients of all ages."
The orthopedic specialists understand that like each fracture, each person is different, and they will present a treatment plan that is best for you depending on the type of fracture, your age, and the location of the fracture.
"There are many types of fractures," said Dr. Volpini. "Many fractures can be treated conservatively. Others require surgery. From professional athletes with sports-related fractures to individuals with broken bones, our goal is to get you back to your desired level of activity without pain."
Fractures are common. The average person has two during a lifetime. They occur when the physical force exerted on the bone is stronger than the bone itself. The main types of fractures are displaced, non-displaced, open, and closed. Displaced and non-displaced fractures refer to the alignment of the fractured bone.
In a displaced fracture, the bone snaps into two or more parts and moves so that the two ends are not lined up straight. In a non-displaced fracture, the bone cracks either part or all the way through but doesn't move and maintains proper alignment. A closed fracture is when the bone breaks, but there is no puncture or open wound in the skin. In an open fracture, the bone breaks through the skin; it may then recede back into the wound and not be visible through the skin.
The risk of fracture depends, in part, on your age. Broken bones are very common in childhood, although children's fractures are generally less complicated than adults. The most common fractures in children, according to Dr. Volpini, are broken bones in the extremities, sometimes the ribs, and much more rarely the spine.
"Typically, in the youngest population — 2-3 years old — they break their leg or forearm," said Dr. Volpini. "As they begin to get older and braver, they may incur wrist fractures, perhaps from falling off of the monkey bars."
The doctor will treat these fractures with a closed reduction, or a bone reset. The doctor will push or pull the ends of the fractured bone until they're aligned, then put a cast or splint on the affected body part to hold the bone in place while it heals. During follow-up, the doctor will take an X-ray to ensure that the bone is healing properly.
A torus fracture is another common injury in children, often caused from falling on the hand. This fracture causes one side of the bone to bend but does not actually break. It is an incomplete fracture that normally heals within one month of being treated with a cast.
Dr. Volpini explained, "Usually the body will heal these injuries without any problems, especially in young children where we are able to get as close to perfect alignment as possible using a splint or cast."
As we age, our bones become more brittle, and we are more likely to suffer fractures from falls. Older adults may face ankle fractures suffered from twisting motions when attempting to maintain balance, or broken wrists or hips suffered from falls.
"Treatment for adults is not as easy as treating children or young people," said Dr. Volpini. "Sometimes adult fractures require surgery if reduction doesn't work. If the fracture is not well-aligned after the closed reduction/reset, it must be surgically re-aligned. Also, sometimes the fracture doesn't heal properly or at all, then surgery is required."
Other fractures that may require surgery are fractured joints where cartilage is also broken — an ankle, wrist, or hip. Dr. Volpini asserts that a broken joint must heal with perfect alignment, otherwise the patient will experience arthritis. Compound fractures (more than one break) or open fractures also require immediate emergency surgery.
"We recommend surgery for fractures that impede a patient's mobilization," said Dr. Volpini, "as surgery will typically restore mobilization faster."
Patients should be aware that all fractures are time sensitive and waiting to get treatment can change the outcome especially if fractures are not reset. Any patient with a fracture should come in as soon as possible to make sure the bone is not displaced and is aligned for proper healing.
Baylor Scott & White Medical Center — Lake Pointe provides patients with concierge services that facilitate a patient experience that sets the facility apart from others. A staff member is with the patient every step of the way to ensure the patient receives optimum care and treatment.
The orthopedic surgeons on the medical staff and staff also work closely with an entire team of physicians on the medical staff and health professionals, including vascular surgeons, endocrinologists, and rheumatologists to optimize your care. You, your family, and their health are the number one priority at Baylor Scott & White Medical Center – Lake Pointe.
For more information, visit bswhealth.com/LakePointe.
Physicians provide clinical services as members of the medical staff at one of Baylor Scott & White Health's subsidiary, community or affiliated medical centers and do not provide clinical services as employees or agents of Baylor Scott & White Health or those medical centers.