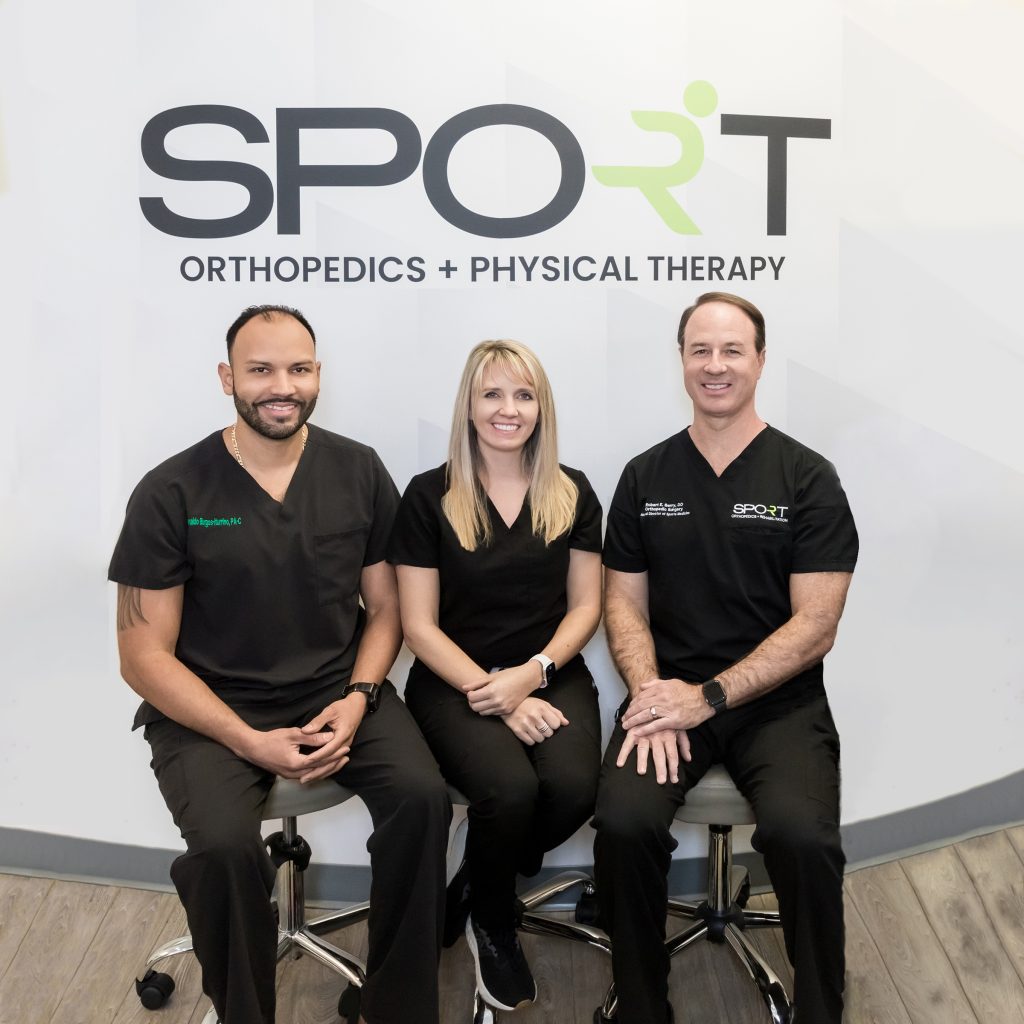 By
Meredith Knight
---
John's only regret is that he didn't see Dr. Robert E. Berry sooner. "I'm 62 and was forced to retire from training horses after 30 years due to injuries," he said. "I was in severe pain when sitting and needed a cane to walk more than 50 feet due to slippage of my knee joints. I tried Acuscope, Myoscope, wraps, braces, laser treatments, and pain medication. I came to SPORT Orthopedics + Physical Therapy looking at total knee replacements, but Dr. Berry suggested arthroscopic surgery to repair ligaments, cartilage, and tears in the structure of my knees, then shots to replenish fluids in the joint. He did the surgeries, and I began weekly shots. Today, I don't use a cane and I'm active again. In those 30 years of horses and motorcycles, I've broken 53 bones, so to be active today is truly a blessing."
A Team That Cares
John's is only one of thousands of success stories SPORT Orthopedics + Physical Therapy patients have enjoyed. Another happy patient, Jackson, relayed in a five-star online review that he'd reluctantly resigned himself to sitting on the bench for the opening game of the baseball season. His ACL tear was that bad. He scheduled an appointment with SPORT Orthopedics + Physical Therapy. "From my first appointment to the last appointment, Dr. Berry and his staff were kind and courteous, making a terrible injury seem very manageable," he wrote." It was clear their number one priority was to help get me back to full health as quickly as possible. Thanks to SPORT, I was back to 100% when the first pitch was thrown. It was a pleasure to work with a team that works together, is supportive, and genuinely cares."
For Athletes and the Rest of Us
All in a day's work for board-certified, fellowship-trained orthopedic surgeon, Dr. Robert Berry. And he's just not here for athletes either. "We're often asked what we do differently for professional athletes when compared with the rest of our patients," Dr. Berry said. "The answer is, 'absolutely nothing'. We offer the same state-of-the-art care with the latest technology and cutting-edge techniques to all our patients, whether they make their living as athletes or not."
Dr. Berry believes everybody deserves to live a full, happy, pain-free life. "We see high-school athletes who might miss a college scholarship because of an injury, and we see grandparents who can't go on vacation with their families because they're in too much pain," Dr. Berry said. "What's your pain keeping you from doing? We want to give you an appropriate diagnosis TODAY and begin addressing that pain, so you can get back to doing the things that matter to you."
Praised by His Patients
The SPORT Orthopedics + Physical Therapy website at SportsMedTexas.com is replete with patient testimonials, some from the aforementioned pro athletes who couldn't be more grateful to Dr. Berry for getting them back in the game. But there's also heartfelt thanks from retirees who've returned to the golf course, moms and dads who are able to work and raise kids pain-free, and hundreds of patients who are happy to get back to the life they love. It's no wonder Dr. Berry landed in the number one spot for Orthopedic Surgery and Sports Medicine in D Magazine's Best People Awards and has consistently been named a Top Doc by Living Magazine readers.
Hailed Among His Peers
To whom does a surgeon turn when they need orthopedic surgery? If that surgeon lives in the DFW Metroplex, there's a good chance it's board-certified and fellowship-trained orthopedic surgeon Dr. Berry at SPORT Orthopedics + Physical Therapy. For over 18 years now, Dr. Berry has been the orthopedic surgeon of choice for local physicians and their staff, elite pro athletes, weekend warriors, and folks just like you and me.
Orthopedic Urgent Care
As a former competitive athlete himself, Dr. Berry understands the desire to get back in the game and understands how important it is to treat an athlete—and anyone else—quickly and efficiently, to diagnose the problem and find the solution. "If you're a coach with an injured player, a parent with an injured child, or you're the one who's been sidelined, we offer orthopedic urgent care. If you're injured today, we'll see you today. And we give every patient — not just professional athletes — professional-level care."
Rather than waiting in the ER for hours to see someone who's not an expert in orthopedic injuries or physical therapy, you can go straight to the experts. "We offer physical therapy in all of our locations and have the latest digital X-rays and diagnostics to get you an appropriate diagnosis today and start the healing immediately." And although he's a highly qualified surgeon, Dr. Berry always exhausts all non-surgical options first before considering surgery.
There When You Need Them
With offices in Dallas, Frisco, Prosper, and Wiley, Dr. Berry and his seasoned team offer professional-level orthopedic care including walk-in and same-day urgent care, Saturday hours, on-site advanced imaging, and on-site physical therapy. A firm believer in making a difference in his community, Dr. Berry founded Texas Youth Sports Medicine Foundation, a nonprofit that helps level the medical "playing field" for economically-disadvantaged high-school athletes by ensuring they have access to the accepted medical standard of care, expertise, and treatment for their sports-related injuries, regardless of ability to pay, so they may achieve their ultimate potential in athletics — and in life. "We want to come alongside athletes and their families and offer them the same care we offer elite professional athletes," Dr. Berry said. "Good care shouldn't be out of reach for any athlete due to finances."
Happily married for 32 years, Dr. Berry is a proud father of three grown children and seven grandchildren. He and his wife have been active in the North Texas community since 2005 where he enjoys running, cycling on the Peloton, traveling, and spending time with family.
Find out more at SportsMedTexas.com.
---
CONTACT
18152 Preston Road, Suite 2
Dallas, Texas 75252
9255 Dallas Parkway, Suite 120
Frisco, Texas 75033
790 North Preston Road, Suite 60
Prosper, Texas 75078
3400 FM 544, Suite 650
Wylie, Texas 75098