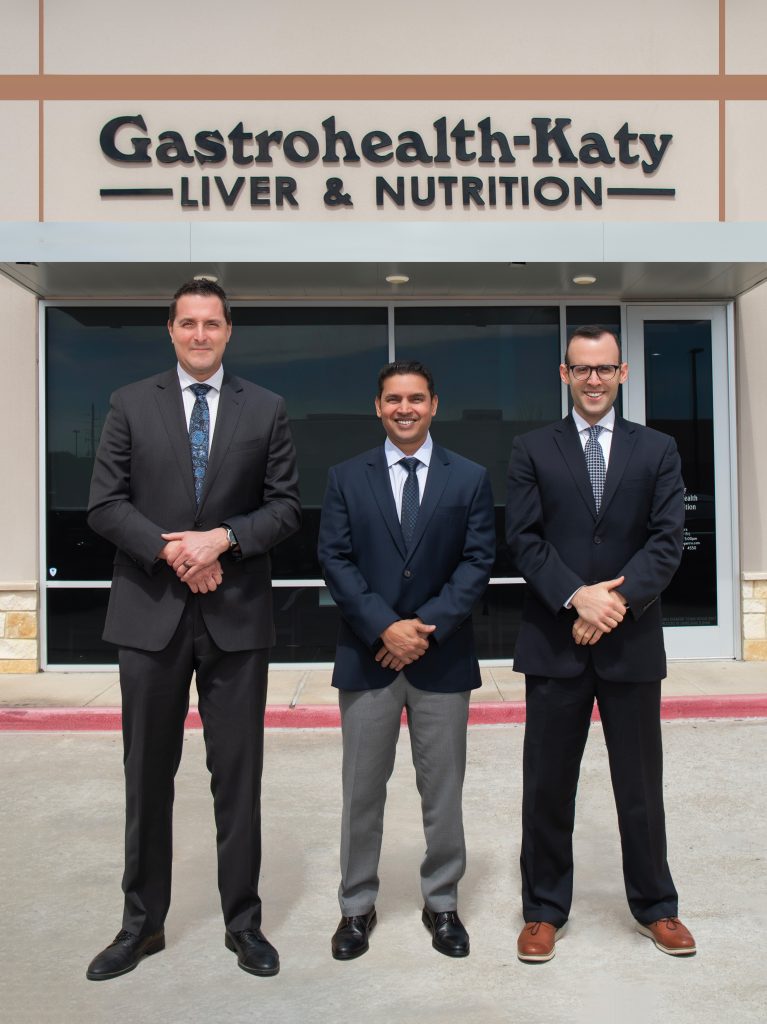 Photos by
German Alexander Production
---
What does the perfect doctor/patient interaction look like to you? How about this? Rather than rushing you through a visit, your doctor takes time to really listen to you and your concerns. They explain in clear, concise language any treatment they're recommending and make sure all your questions are answered. The care they recommend is holistic, taking into account your diet, exercise habits, stress level, and lifestyle preferences. While this healthcare professional is well versed in medications and pharmaceuticals, they view them as a last resort, not the end-all-be-all of care. While they leave no stone unturned in their diagnosis, they also respect your time and commitments. Their "bedside manner" puts you at ease and elicits trust in their recommendations. Lastly, this caring provider possesses a breadth and depth of knowledge to offer you the best care available. Dozens of five-star online reviews describe the doctors of Gastro Health & Nutrition-Katy in just such terms.
Founding Physician Dr. Dharmendra Verma explained, "Everyone deserves to live a long and healthy life. We believe that by helping people identify, treat, and manage their digestive irregularities, we can enable them to enjoy incredible life experiences that may not have otherwise been possible."
Dr. Richard LaCamera agreed. "Optimal health begins with a healthy gut and balanced nutrition. We strive to offer our patients optimal wellness through disease prevention, management, and optimizing their overall health."
As they've offered this comprehensive and holistic gastrointestinal and nutritional care to their Katy neighbors, the Gastro Health & Nutrition-Katy practice has steadily grown and the patient base has expanded. They're now happy to welcome Dr. Jordan Shapiro to the team. "We're thrilled to have found Dr. Shapiro who shares our patient-first philosophy and belief in a holistic-health model," Dr. Verma said. "He has a wonderful rapport with our patients and is someone I'd absolutely trust with my own family's care."
The Importance of Gut Health
It's not a coincidence that Drs. Verma, LaCamera, and Shapiro concentrate their practice of medicine on the gastrointestinal tract. "Your overall health is dependent upon the ability of your gut to properly function," Dr. LaCamera said. "Your gut is responsible for breaking down the food you eat and processing it into vitamins, minerals, and other essential nutrients needed to help fuel your entire body. Your gut aims to keep functions such as hormone balance, energy production, and expulsion of toxins as regulated as possible. Our aim is to educate our patients and partner with them to keep their gut—and thus the other systems of their body—operating at optimum capacity."
Meet Dr. Verma
Dharmendra Verma, MD finished his residency training in internal medicine at University of Texas, Houston along with MD Anderson Cancer Center, where subsequently, he completed a subspecialty fellowship in gastroenterology, hepatology, and
nutrition. He also received advanced training in hepatology for management of chronic liver conditions.
Dr. Verma has expertise in general gastroenterology including key areas of GERD, inflammatory bowel diseases, and colorectal illnesses. His interest includes evidence-based management of digestive disorders and participation in collaborative research to expand the knowledge base for treating such conditions. He's been active in bringing cutting-edge care to the South Texas area in partnership with major academic centers in Houston and San Antonio. He, his wife, and son enjoy being a part of the vibrant Katy community, which they've called home for more than a decade.
Meet Dr. LaCamera
Dr. Richard LaCamera earned his Bachelor's in Science in zoology from the University of Florida in 1987 and completed medical school in 1991, completing his internal medicine residency at the University of Alabama Birmingham in 1994 and his GI fellowship training at the Medical University of South Carolina in 1997.
Dr. LaCamera had a thriving private gastroenterology practice in Palm Harbor, Florida for 24 years. He prides himself on being thorough, answering all of his patient's questions, and making every effort to provide them with passionate and accurate care. Dr. LaCamera has achieved dual-board-certification in internal medicine and gastroenterology. He and his wife have two sons and recently welcomed their first grandchild. When not on the job, he enjoys spending time with his family, coaching youth sports, and being involved in his church.
Meet Dr. Shapiro
Dr. Jordan Shapiro is a pediatrician, internist, and adult gastroenterologist specializing in the care of patients with chronic gastrointestinal disorders, focused on improving the transition from pediatric to adult care. His clinical interests include disorders of the brain-gut interaction, pelvic-floor disorders, and eating disorders.
Dr. Shapiro received his medical doctorate from Medical College of Wisconsin and completed his residency in internal medicine and pediatrics at Cincinnati Children's Hospital through the University of Cincinnati. He further completed a gastroenterology and hepatology fellowship at the Baylor College of Medicine which included a T-32 research track and received a Master's Degree of Science and completed a Health Services Research Fellowship concurrently through the Baylor College of Medicine.
Did you know four out of five cases of colorectal cancer develop without any warning signs?
"Roughly 50,000 Americans die from colorectal cancer each year, yet it's one of the most treatable cancers, when caught in its early stages," said Founding Physician Dr. Dharmendra Verma. "Because there's been an increase in the incidence of colon cancer in young adults, we prefer to begin screening for colon cancer at age 45." Colonoscopy is a pain-free, sedated exam that's regarded as the gold standard for catching and preventing colorectal cancer.
Visit KatyGastro.com or call (713) 429-4550 to schedule a proper age-appropriate evaluation.
---
Contact
1259 FM 1463, Suite 500
Katy, Texas 77494
For Referring Physicians
(713) 429-4550
KatyGastro.com