Vicki L. Pinak, Esq. and April Faye Tabangay-Vigilla, Esq.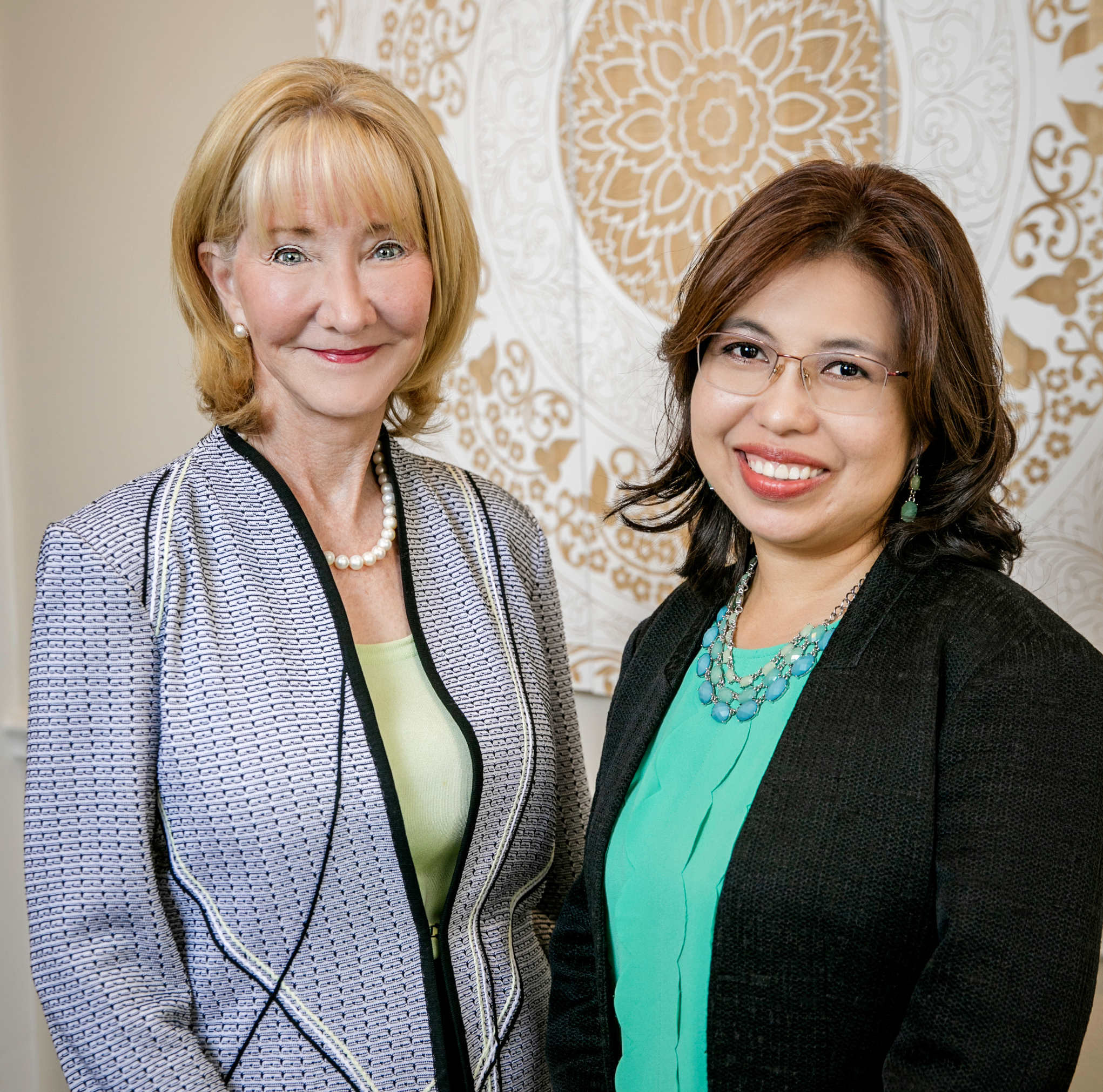 Photos by
Kelley Sweet Photography
---
Attorney and Former District Judge Vicki L. Pinak was voted by Living readers as the Best Family and Divorce Attorney in Fort Bend County in 2022. She has been practicing in the legal industry for 33 years. Unlike many attorneys, Vicki is comfortable in the courtroom. This helps her obtain settlements and resolutions for her clients.
Vicki believes the more correct information you have leads to well-thought-out decisions, and that is exactly how she approaches each client's case.
"We understand that learning about the process can be scary," she said, "but simply speaking with a family law attorney does not mean you are planning to divorce or even separate. It means you are educating yourself and taking control of finding your way."
Many of Vicki's clients report that the information they see online is overwhelming and exhausting. She asserts that much of that information doesn't even apply to Texas law and is definitely not right for every family.
"The benefit of speaking with a family attorney either in person or on the telephone," she said, "is to get the information you need for your specific family issues all at once. It is important to understand you are not alone, and there are people — even attorneys — who really want to help you."
Vicki earned her law degree from St. Mary's University School of Law, beginning her career with the legendary Family Law Attorney, Tom Alexander, where she handled extremely complex matters. Prior to law school, Vicki was involved in developing and implementing the first infant stimulation program through the Mental Health Mental Retardation Authority. After receiving her Bachelor of Science degree from the University of Houston, she worked at MD Anderson in cancer research. After law school and years of litigation experience, she was appointed by the Texas governor to be the first woman district court judge in Fort Bend County.
Vicki is also an arbitrator with the American Arbitration Association, where she has served on the commercial, construction, and employment panels for 23 years.
"We had to go through a rigorous process to be selected as an arbitrator for the arbitration panels," said Vicki. "Ethics was one of the major criteria considered besides experience."
Vicki was also recognized in Living Magazine Leading Women Recognized for Excellence 2021 and her Sugar Land Law Firm was voted the Best of 2019 Sugar Land Business Award.
Vicki is joined in her practice by April Vigilla, who at a young age knew that she would follow the footsteps of her father into law after having watched him in the courtroom. April earned her law degree from Chicago-Kent College of Law and received her LLM or Master of Law in international law from the University of Houston.
April immigrated to the U.S. as a young teen and wanting to learn and understand more about her parents' journey and the challenges facing immigrants, she studied immigration law in law school. However, in her 20 years of practice, April has developed a knack for learning different areas of law.
"While my initial focus was on the field of immigration," said April. "I found myself learning and gravitating towards other fields of law such as family, probate, guardianship, and estate planning."
Now focusing primarily on family law, the knowledge and experiences gained in the other areas of law she studied provides her with a unique perspective on ways to represent and advocate for her clients. A divorce or custody litigation may involve a myriad of issues.
"What is exciting about family law," said April, "is the convergence of different areas of law in a divorce or custody litigation from criminal or immigration in domestic violence cases, to international law in foreign property disputes or child abduction cases, to planning for special needs children, to name a few."
April's passion for family law stems from seeing how family cases quickly turn adversarial and highly contentious. Her desire is to advocate for more cooperative and collaborative solutions when possible and build an effective attorney-client relationship at the initial consultation. Actively listening, empathizing, and crafting solutions that would work for the individual and the family are skills honed through years of experience. Fluent in Tagalog (Filipino) and conversational in Spanish, April partners and compassionately guides her clients while setting realistic expectations and providing roadmaps throughout the process.
"Clients often come to you at their most vulnerable hour, I am here to be their pillar that they can rely on and trust," she said.
Working as of-counsel alongside former district court judge, Vicki Pinak, April is proud to be a part of and to contribute to the success of The Pinak Law Firm, having earned Best in Family Law for 2022 and being consistently recognized as a leading firm in family law. April also serves as a volunteer mediator with the Harris County Dispute Resolution Center and as a volunteer attorney for the Houston Volunteer Lawyer's Program providing pro bono services in areas of guardianship.
April is grateful for her father and Vicki Pinak's mentorship and the support of her family. An advantage of working with a small firm is the flexibility and the ability to put time and focus on what matters.
"My priority is my family," said April. "Knowing that and balancing my family and work life makes me a better advocate and problem solver for my clients."
The Pinak Law Firm, PLLC provides free first consultations.
---
CONTACT
12440 Emily Court
Suite 604
Sugar Land, Texas 77478
(281) 240-2355
FortBendDivorceLawyer.com