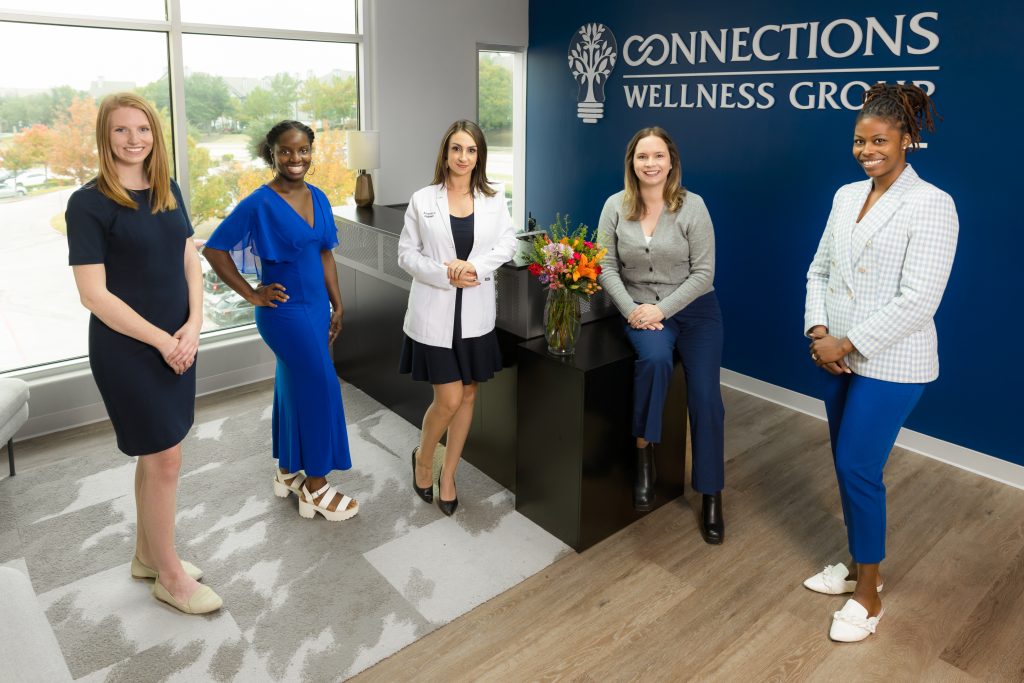 "I'm so grateful for Connections Wellness Group and urge others suffering from an eating disorder to do what I did — find help," Melanie shares, adding, "I recommend the MindFULL program. It has given me hope versus feeling there was no way out."
– MELANIE
By Annette Brooks | Photos by Kenny Richard Photography
---
Melanie became self-conscious about her body image in middle school after being teased. She developed an eating disorder during the COVID-19 pandemic when students were distance learning. Below, Melanie shares her journey and how the MindFULL program at Connections Wellness Group – McKinney helped her love herself again.
"I spent a lot of time alone during the pandemic and began thinking about going back to school looking different. I'd been teased in middle school and wanted to be liked. I started dieting, which turned into an eating disorder. Eventually, there were some days when I didn't eat at all,"
Melanie confides.
Knowing she needed help, Melanie, now age 16, confided in her mother. Her mom knew the signs and symptoms of an eating disorder and became concerned when she noticed Melanie was losing weight. Melanie's brother had struggled with an eating disorder after he started dating a girl with anorexia. Supportive and concerned, Melanie's mom found professional help for her daughter.
Melanie started to see a therapist, but the stress of returning to school took a toll. "I tried to get better but would end up binging and purging," Melanie confided. "I began thinking it was too late for me and felt depressed. Then my therapist told us that Connections Wellness Group had started to offer their MindFULL program in McKinney."
Ready to not be controlled by an eating disorder ("Ed") and to be healthy, Melanie started the MindFULL program. "I was really excited at first, but then reality hit — I had to eat. My stress started to return, but the program gave me the tools to combat this. The group sessions and the hands-on food prep was especially beneficial, and the program helped me understand what to implement in my eating schedule on a personalized level."
Melanie says the MindFULL program helped her understand when Ed is talking to her versus her true self. "It gave me the tools I need to not act on my emotional mind when I get frustrated or feel overwhelmed but to listen to my rational, logical mind," she explains. Now, when Ed tries to creep into Melanie's thoughts, she talks to herself like she would talk to a friend. "I tell myself to give my body the nutrients it needs to be healthy," she says.
"I'm so grateful for Connections Wellness Group and urge others suffering from an eating disorder to do what I did — find help," Melanie shares, adding, "I recommend the MindFULL program. It has given me hope versus feeling there was no way out."
Melanie's mother also praises Connections Wellness Group. "With all my love, I urge parents to understand how serious and harmful an eating disorder can be. I see the changes in Melanie and how she's transformed since being in the MindFULL program for just two months."
About The MindFULL Program
Eating disorders are complex mental health conditions and among the deadliest. Yet they are often overlooked and misunderstood.
"COVID-19 shutdowns created the perfect storm for eating disorders to develop," says Amber Newell, LMSW, a MindFULL therapist at Connections Wellness Group – McKinney.
The innovative program, which offers a comprehensive approach for clients of any gender from ages 12 -18 (if still in high school), was launched in Connections Wellness Group's Denton office two years ago. It became available at the McKinney location in September 2022. MindFULL includes both partial hospitalization program (PHP) and intensive outpatient program (IOP) levels of care and uses a variety of treatment modalities. Evidence-based therapeutic approaches incorporated into the program include group, cognitive, and dialectical behavioral therapy, exposure and response prevention, motivational interviewing, family-centered treatment, joyful movement, meditation,
and mindfulness.
A Day in the MindFULL Program
The program begins at 8:30 AM Monday through Friday. Each evening, clients return home to practice the skills learned and return the next day.
Mornings are set aside for group therapy and activities, nutrition education that includes how food works for and helps our body, and a snack with the onsite dietitian. During lunchtime, there's a focus on exposure and response prevention. Lunch from Monday through Thursday involves menu options prepared by the program participants. This differs from eating disorder programs that serve food cafeteria-style, and with menu options that aren't customized for those with particular issues, such as food texture sensitivity. Each Friday, clients order food from a restaurant to help teach them how to make appropriate choices when dining out.
Afternoons include comprehensive private school instruction, so students stay caught up with their schoolwork, snack time, and therapy sessions with licensed professionals using modalities like cognitive behavioral therapy and dialectical behavioral therapy.
Family also plays a crucial role in the MindFULL program. Each Tuesday evening, Connections Wellness Group – McKinney hosts a Family Connection session where clients and their families learn, connect, and eat together.
This is only a brief overview of the MindFULL program. Please visit ConnectionsWellnessGroup.com/eating-disorder-program for details and call (469) 617-6166 for more information.
The Journey to Wellness and Recovery Starts Today
If you or a loved one are struggling with an eating disorder, please call Connections Wellness Group – McKinney today and learn more about the MindFULL program.
Serving Texas since 2018, award-winning Connections Wellness Group has multiple locations throughout the Metroplex, offering life-enhancing, personalized, cost-effective mental health solutions. Their innovative, integrated treatment model features a dynamic team of mental health professionals in the McKinney location, including licensed therapists and counselors, dietitians, nurse practitioners, and board-certified psychiatrists.
Connections Wellness Group is in-network with all major insurance companies and Tricare.
MindFULL McKinney Offers a Comprehensive Adolescent Approach
MindFULL eating disorder IOP and PHP (Ages 12-18)

Meal support therapy

Dietary group and individual sessions

Therapeutic group and individual sessions

Psychiatry

Nursing

Comprehensive, accredited private school instruction
---
Contact
7290 Virginia Parkway,
Suite 3100
McKinney, Texas 75071
(469) 617-6166
ConnectionsWellnessGroup.com/mckinney