By Pamela Hammonds
Any good Texan appreciates the value of a shady place in the summer. Whether you seek refuge beneath a canopy of green or one you've created from timbers or canvas, putting a barrier between you and the sun is a good thing. A welcome thing.
Landscape designer Stephanie Bellinger, owner of Bellinger Design Group, helped a north Texas homeowner make the most of her wooded lot, creating an enviable oasis in a suburban neighborhood (featured here). While our plant palette is limited due to our intense heat and freezing temps, not to mention our scarce rainfall and less-than-loamy soil, we do have options if we're willing to work within the confines of our landscape.
Whether you aspire for a mountain hideaway or a tropical paradise, start with trees. Plant them early and in abundance. Stephanie suggests hardwoods such as oaks, elms and ash while certain pines make great choices as they grow fast and are evergreen. "Personally, I believe any tree is a good tree if it offers shade," Stephanie said, "but realize that some won't last forever. It's interesting to note that some varieties considered 'trash trees' residentially in the '70s are now embraced as native or adaptive native—cedar, elm, ash and pecans. I wanted pecans when I moved here and people thought I was crazy for planting them in my front yard. Now you see them everywhere and they grow quickly. Plus homeowners delight in having their own pecan crop, and it is the state tree, after all."
When planting for shade, the soil needs every consideration given to a sunny locale. Mulch, natural soil  amendments and drainage are key. "Especially when working with clay soil, you'll need organic material along with expanded shale and green sand to help with drainage," Stephanie said. She also suggests digging a 'dirty or ugly hole' when planting—leaving the bottom and edges jagged to encourage roots to spread. "With a smooth-sided hole, the roots will spiral onto themselves and the tree or plant will not thrive. But trees should be planted in native, non-amended soil so the variety makes a big difference. Howard Garrett's Texas Trees is an excellent resource for tree selection."
When Stephanie first moved to Texas over 35 years ago, landscaping was about plants. Today's gardens set the stage for outdoor living and encompass structures both rustic and contemporary that reflect the homeowner's personality. "We're creating environments that are more interesting, but I still like to see the hard lines of pergolas and arbors softened with living plants."
No matter what you start with, "recognize early on that every garden evolves," Stephanie said. "You might have a pocket of sunlight where a plant will thrive one year and the next year, it's gone. You have to be willing to adapt and enjoy the process."
Backyard Park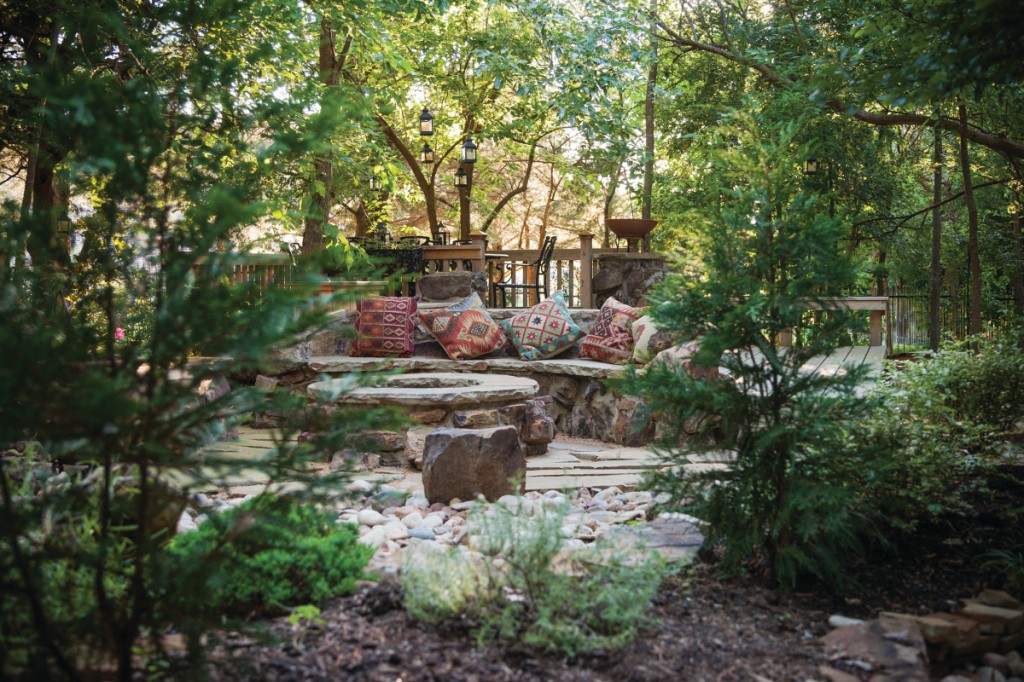 A stone sofa surrounds a fire pit flanked by a dry creek bed while a cedar deck with stone accents utilizes even more natural materials, allowing this magnificent seating area to blend effortlessly with its habitat. Battery powered lanterns hang from nearby trees, offering an evening oasis far from suburban stresses.
Lead the Way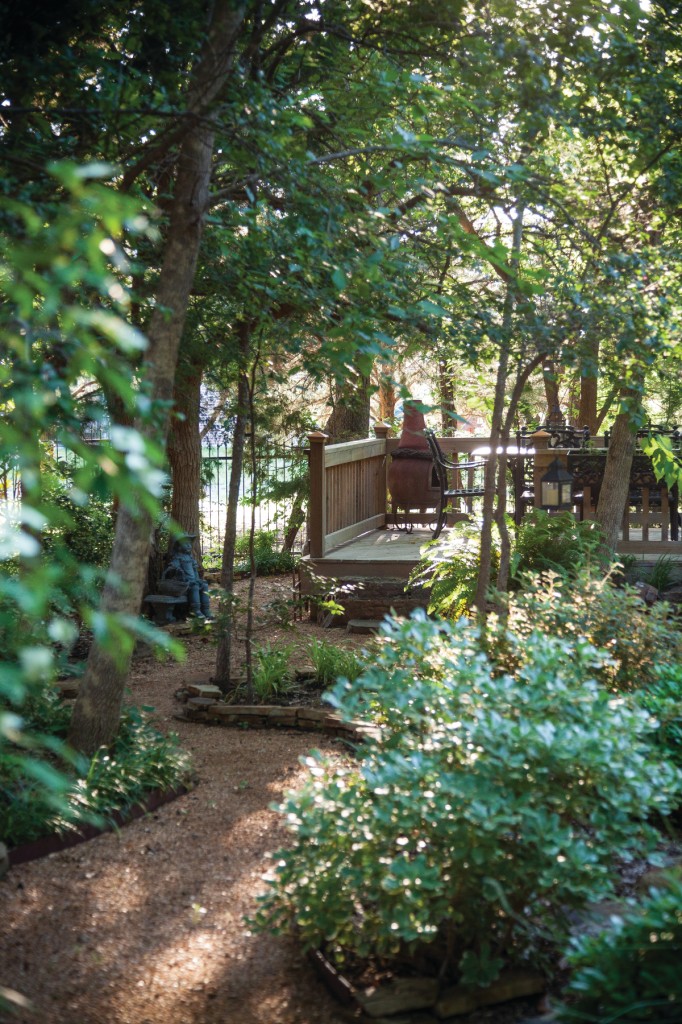 Decomposed granite paths bordered by stacked stone edges weave effortlessly between variegated privet, pittosporum, monkey grass, day lilies and hydrangea while shade-loving ornamental Japanese maple, dogwood and redbuds create an understory. Native elm, ash and bois d'arc (osage orange) trees provide the canopy.
Rocky Wonderland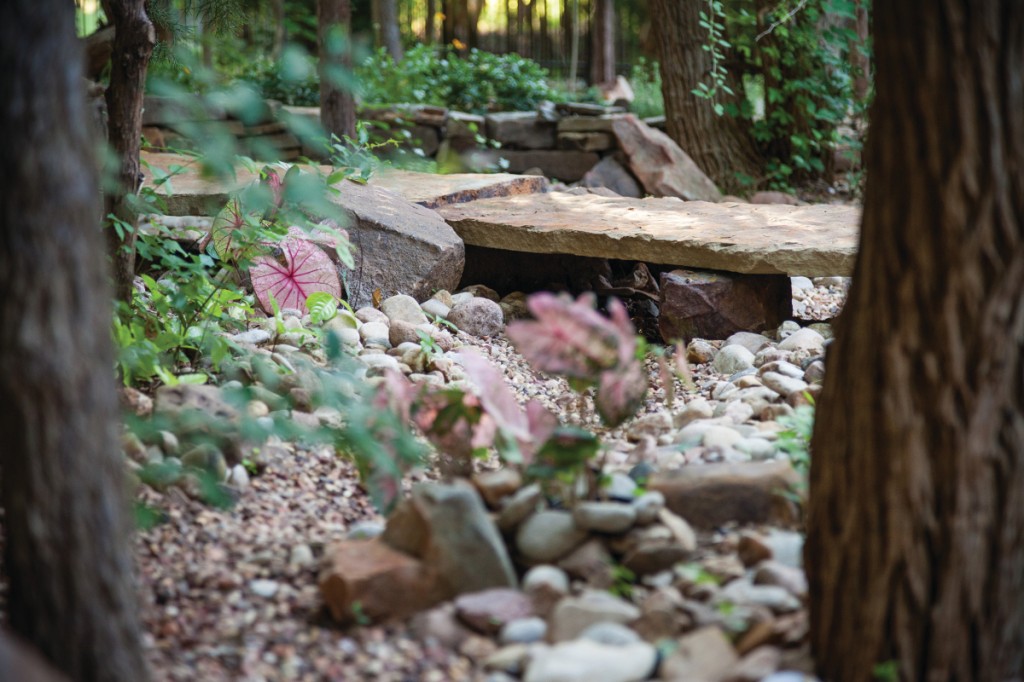 A dry creek bed becomes a bubbling brook during a rare deluge, providing essential drainage that would otherwise erode the soil and uproot plants. The charming Oklahoma flagstone bridge creates a footpath over the river rock and gravel while a blushing Caladium peeks out. Who says aesthetics must surrender to practicality?
Charming Enclave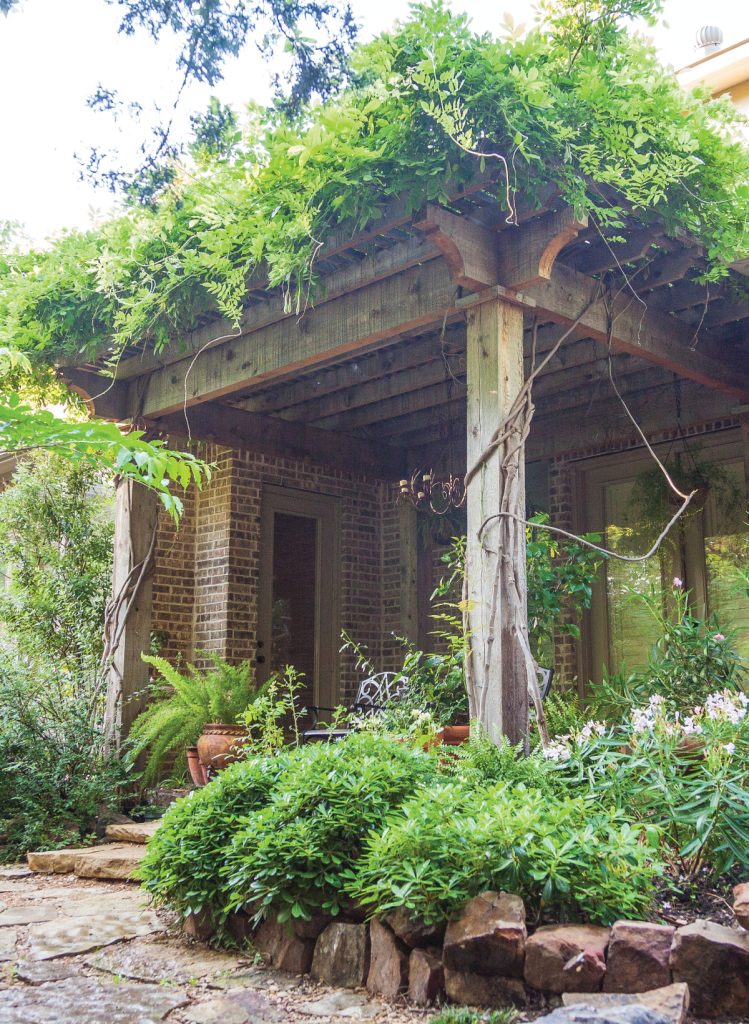 Chinese wisteria softens the hard lines of the pergola and drips with purple blossoms in early spring. Dry set flagstones create a path between natural rocks and boulders while an oleander thrives in a sunny spot. Pots of ferns and hostas create a perfect oasis for morning coffee.
Green Glory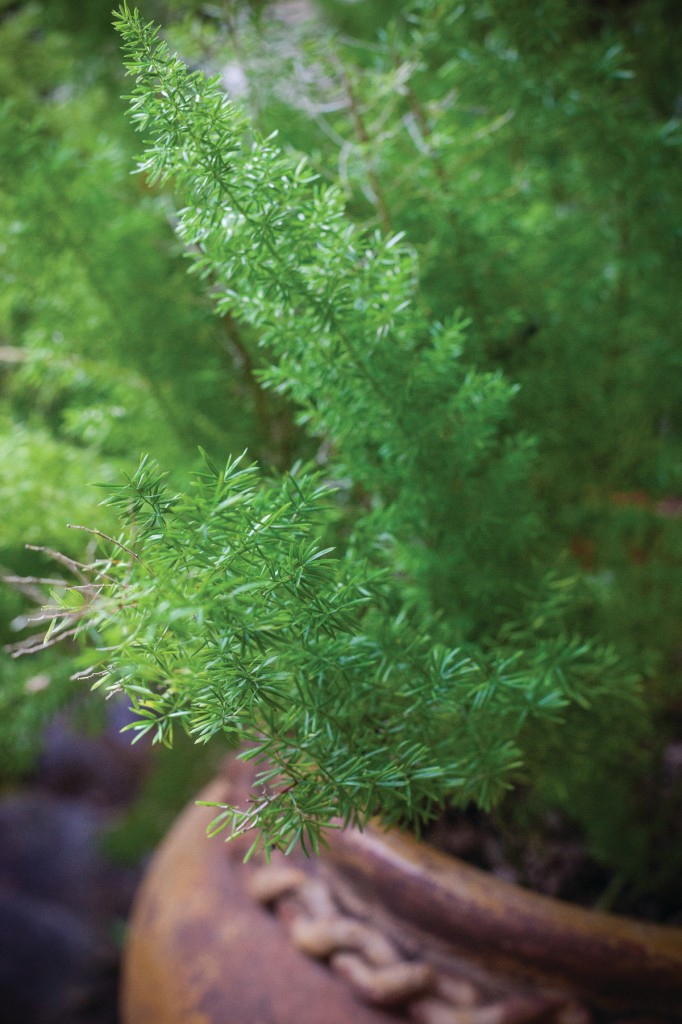 Foxtail fern grows in a terra cotta pot under the pergola.
Paradise Found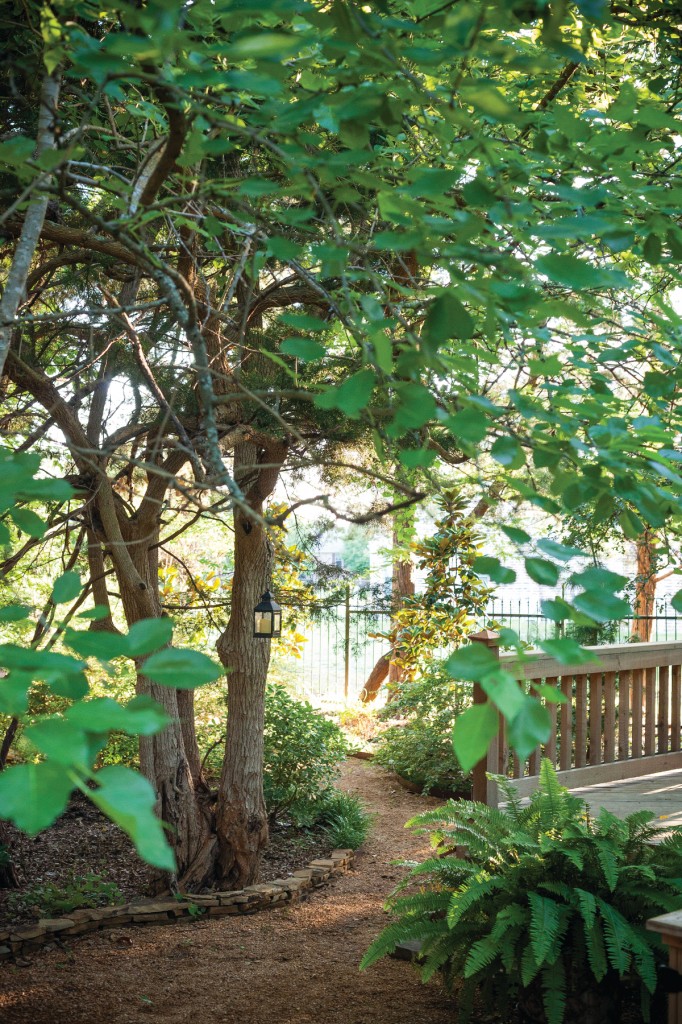 A stately bois d'arc lends an expanse of shade to the deck and surrounding plants. What better place to escape from the sun than your own natural sanctuary?
Flagstone Passages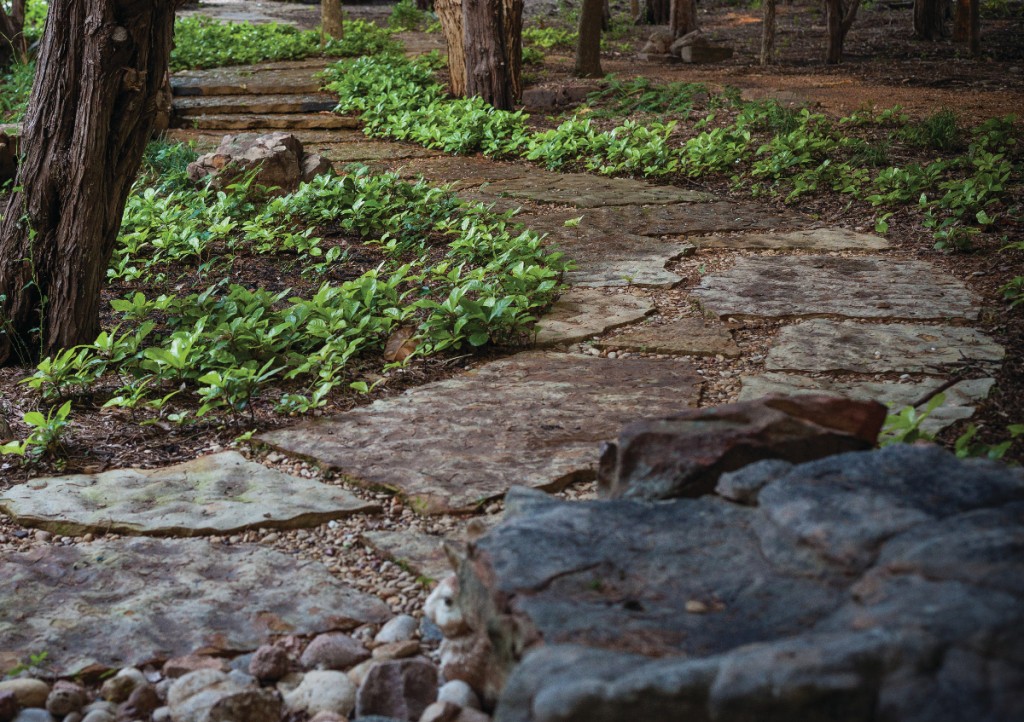 While a good groundcover might be hard to find, discovering a shade-loving variety can pose an even bigger challenge. Here Japanese Ardisia not only rises to the occasion but produces a delightful red berry in the winter and can handle some sun as well.