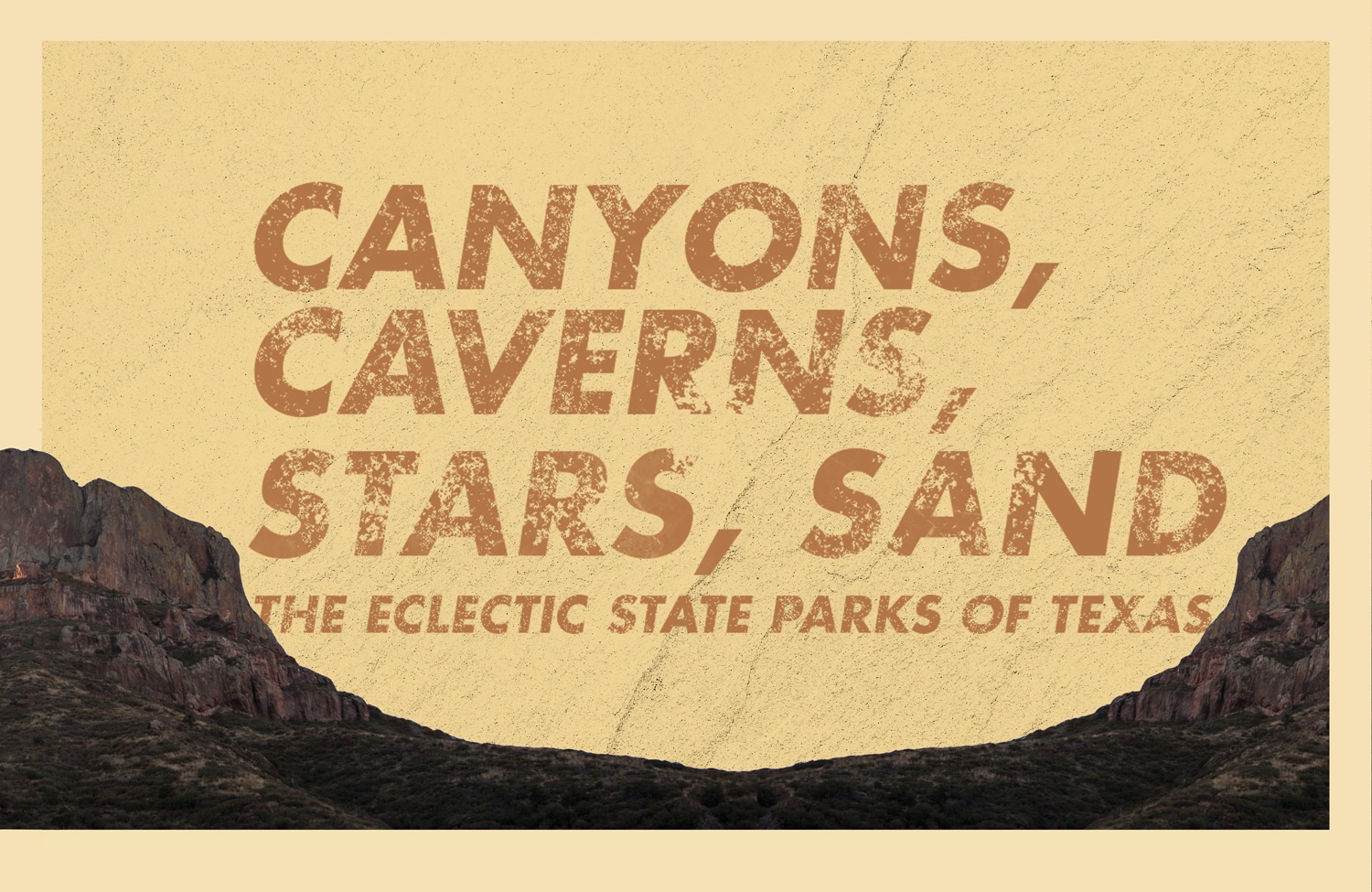 With so many state parks in Texas to choose from, it's easy to find a fun and affordable outdoor adventure the whole family will love. Cooler weather is just around the corner, and now is a great time to start planning which parks to visit. Here are a few samples to spark your interest.



Palo Duro Canyon

State Park
Did you know the Lone Star state is home to the second largest canyon in the U.S.? Tucked away in the Panhandle about 30 miles from Amarillo, you might say it's one of Texas' best kept secrets. At 120 miles long, 20 miles wide, and up to 800 feet deep, Palo Duro Canyon offers a breathtaking landscape complete with colorful rock layers, hoodoos, caves, mesas, wildlife, and plants. The namesake state park comprises only around 10 percent of the canyon.
Stop by the visitor center on the canyon rim to learn more about the canyon, its fossils and artifacts, and the Native American history. A drive through the park loop takes roughly 45 minutes without stops. Hiking along one of the 11 moderate trails through million-year-old caprock formations is a popular park activity, but if you're less inclined to hoof it yourself, check out nearby riding stables located in and around the canyon.
Longhorn Cavern State Park
This is one cool state park! Literally. A steady 68 degrees Fahrenheit inside the cave makes Longhorn Cavern a great destination even when the hot sun is doing its best to keep you indoors. The flow cave, formed by an ancient river, is filled with minerals, including smooth dolomite and glittering calcite crystals. Kids and adults alike enjoy the 90 minute guided cave walking tour. The engaging, knowledgeable guides share insights into the cave's formation, geology, and history. In some places the cave ceiling gets low, so be prepared to stoop on occasion and wear shoes with good traction.
If paranormal activity is your thing, apparently it occurs quite regularly in the cave. Plenty of people have used it over the centuries, including Native Americans, confederate soldiers, and outlaws. It was even a speakeasy with a dance floor and band during prohibition. Guests on the regular tour often report seeing sudden moving shadows or sounds of children laughing.
Davis Mountains State Park
Located about a half hour from Marfa you'll find Davis Mountains State Park, one of Texas' off-the-beaten-path "hidden gems." Visitors find tranquility among the mountains, where they can backpack, ride mountain bikes, stargaze, hike, camp, view native bird species through a large bird blind, or take a scenic drive. If you have a horse, you can even ride your own horse on the park's equestrian trails.
Sitting at roughly 5,000 to 6,000 feet above sea level, this 2,709-acre park is known for its stunning vistas and surreal sunsets followed by dark night skies which make it a star gazer's dream. If you don't have a telescope to bring, no worries. There's something magical about relaxing under the heavens trying to find constellations and simply ruminating on the vast expanse of the universe. Head to the University of Texas McDonald Observatory and Frank N. Bash Visitors Center located about 10 miles from the park, where you can take night sky constellation tours and view celestial objects through a number of telescopes on certain evenings. Check the observatory for schedules and tickets.
Pedernales Falls State Park
This fascinating oasis where the Pedernales River cascades over huge, tilted, layered steps of limestone is just 30 minutes from Austin. Listen to the refreshing, peaceful sound of running water on a summer day and enjoy the pools filled with blue-green water. Take in the view of the Pedernales Falls from the scenic overlook at the north end of the park. The river drops about 50 feet in elevation over a distance of 3,000 feet.
Swimming in the river as well as tubing, canoeing, and kayaking are some of the park's main attractions, along with hiking and mountain biking. If you plan to swim, read about swimming safety tips online at TPWD.texas.gov/state-parks/park-information/swimming-safety before you arrive.
Monahan Sandhills State Park
Many of our nation's states boast impressive sand dunes. Not to be left out, Texas has its own sandy geological wonder located. Monahans Sandhills State Park is filled with beautiful rolling dunes with little pockets of life interspersed through them that shift with the prevailing winds throughout the year.
Aside from its desolate and strange beauty, Monahans is a go-to spot for sand surfing thanks to its refined surface. The best conditions for sand surfing are after a rain. Rainwater dampens then compacts the sand, allowing you to go faster on the way down a sandhill. You can rent a disk or bring your own. Some park visitors improvise with a large piece of cardboard.
It's best to visit the 2,709-acre park—located in the middle of West Texas—on a calm day with little to no wind, so you can avoid the blowing sand.
For a complete list with links to each park, visit TPWD.texas.gov/state-parks and get inspired.