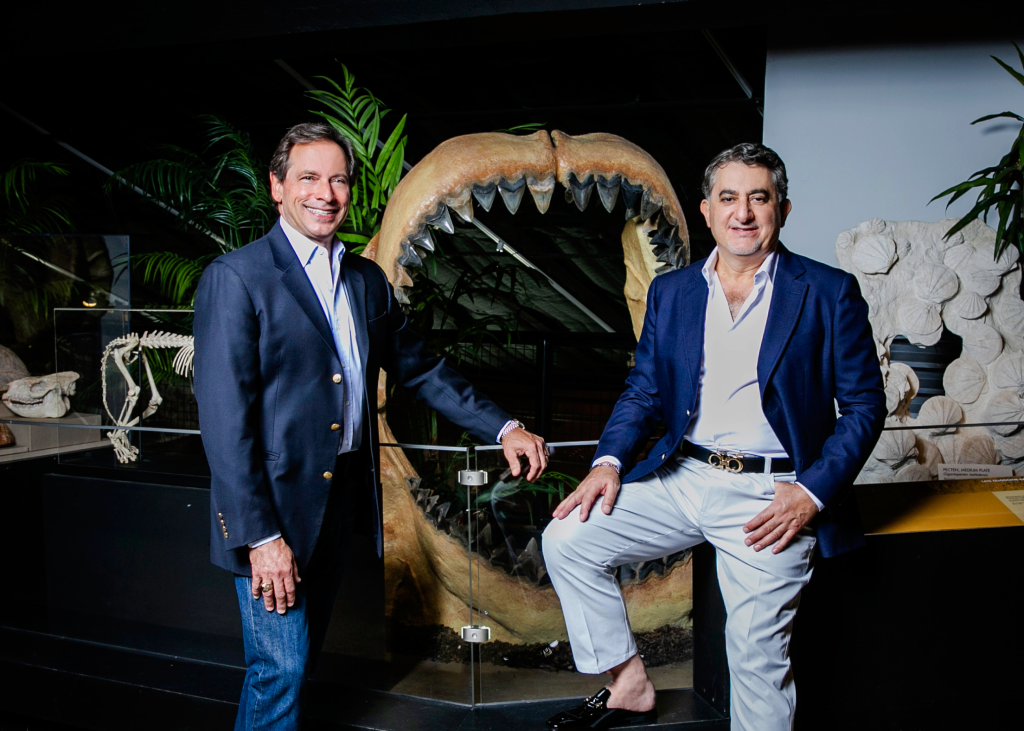 By Annette Brooks | Photos by Kelley Sweet Photography
Special Thanks to HMNS Sugar Land for Hosting Photo Shoot
---
"Two heads are better than one," as the saying goes. So, it's not surprising that when Drs. Mohamad Kheir and Matthew Gemp combined their talents last year, they elevated their practice to a new level. The dentists even rebranded, naming it Evolution Dentistry, to reflect their innovative approach to advanced, comprehensive, patient-first dental care.
At the same time, Dr. Kheir (pronounced "Care"), who had moved his family to Houston from Pennsylvania to join forces with Dr. Gemp, fell in love with the area he now calls home. He and his family chose to live in Sugar Land and enjoy Fort Bend County's vibrant community of friendly people, eclectic culture, and warm climate.
Developing a New Approach to TMJ and Myofacial Pain
With the foundation of their collaborative practice in place, the dentists brainstormed new ways to combine their talents. One complex problem they decided to tackle together is myofascial pain, headaches, and temporomandibular joint (TMJ) disorders (TMD). This leverages Dr. Kheir's experience treating myofascial pain and headaches with therapeutic Botox injections and orthodontic treatments and Dr. Gemp's skills as an acclaimed prosthodontist and a pioneer in dental implants and reconstructive dentistry.
"Our complementary skillsets enable us to provide cutting-edge solutions for patients who come to us seeking answers and relief," says Dr. Kheir.
"We keep pace with the latest technology, techniques, materials, and methodologies. It's exciting to collaborate and develop leading-edge treatment plans and protocols," Dr. Gemp shares.
Evolutionary Treatment Solutions
Your TMJs — the hard-working jaw joints located on each side of your head just under the ear, act like sliding and rotating hinges. Teeth clenching and grinding, a misaligned bite, uneven teeth, and medical problems
like arthritis are typical culprits that can cause pain and inflammation in the TMJs and surrounding tissues, as well as in the face, shoulders, neck, and behind the eyes.
TMD is often misdiagnosed because its symptoms — which can be debilitating — mimic other conditions. They include myofascial pain — discomfort in the fascia (connective tissue covering the muscles) and muscles that control jaw, neck, and shoulder function — chronic headaches, earaches, ringing in the ears, and more.
Drs. Kheir and Gemp strive to treat the source rather than merely masking symptoms or addressing the problem part-way. They start by understanding your health history and performing a complete evaluation of your mouth, head, neck, and shoulders.
"TMD can involve a complicated, interconnected cause-and-effect cycle among issues such as a misaligned bite, worn-down teeth that create an imbalance, an out-of-place jaw joint, muscle inflammation, and chronic pain," Dr. Kheir explains. "We look at each potential component then devise a customized treatment plan."
Dr. Kheir strategically places therapeutic Botox injections and recommends specialized massage and exercises to help relax affected muscles, reducing pain and discomfort. But if a misaligned bite is an underlying culprit, these treatments alone don't provide a complete solution.
"Addressing the underlying cause, such as a misaligned bite, while addressing muscle tension with therapeutic-grade Botox and tissue inflammation with a nonsteroidal anti-inflammatory can deliver phenomenal results," he explains.
Depending on your case, the dentists may use a custom-made, self-designed MORA (Mandibular Orthopedic Repositioning Appliance) to reset the jaw and create neuromuscular balance. While these appliances can work miracles with many patients, Dr. Kheir says that unaddressed worn-down teeth can cause the jaw to move out of position again.
Dr. Gemp explains, "Most people are dominant on one side of their mouth. Over time, teeth can wear down unevenly on that side, and the TMJ hinges slide or pop out of position due to this imbalance. Correcting jaw misalignment alone doesn't address unevenly worn teeth."
The dentists repair and strengthen worn teeth with high-strength dental filling material and crowns. When missing teeth are involved, Drs. Gemp and Kheir place dental implants. "Still, building the teeth back up doesn't resolve the issue if the jaw isn't repositioned, too," he cautions. "It's like hitting potholes and getting new tires, but if your car isn't aligned, those new tires will wear unevenly again."
What's the Bottom Line?
If it seems like the cause-and-effect nature of TMJ problems is a circular explanation, rest assured it merely reflects how complicated TMD truly is. Dr. Kheir and Gemp's combined knowledge and close, collaborative relationship enable them to develop and synchronize highly customized treatment plans that effectively address multiple causes of TMD, myofascial pain, and headaches to deliver lasting relief.
Join the Evolution Dental Family
Schedule an appointment today and prepare to enjoy all the benefits, comforts, and amenities Evolution Dentistry offers, including ultra-friendly, patient-centered care.
You'll come in as a new patient and leave knowing you've found your new dental home. Learn more at EvolutionDentistryHouston.com.
Comprehensive Services
TMJ/TMD and myofascial pain treatments

Cosmetic dentistry

Dental implants/implant retained dentures

Custom smile makeovers

Restorative dentistry

Full-mouth rehabilitation

Prosthodontics

Laser dentistry

Platelet-rich plasma/fibrin (PRP/PRF)

Therapeutic Botox
Payment options and 3rd party financing available
---
CONTACT
Houston Office:
50 Briar Hollow Lane, Suite 125W
Houston, Texas 77027
Sugar Land Office:
3501 Town Center Boulevard South
Sugar Land, Texas 77479
(713) 647-8000
EvolutionDentistryHouston.com
---