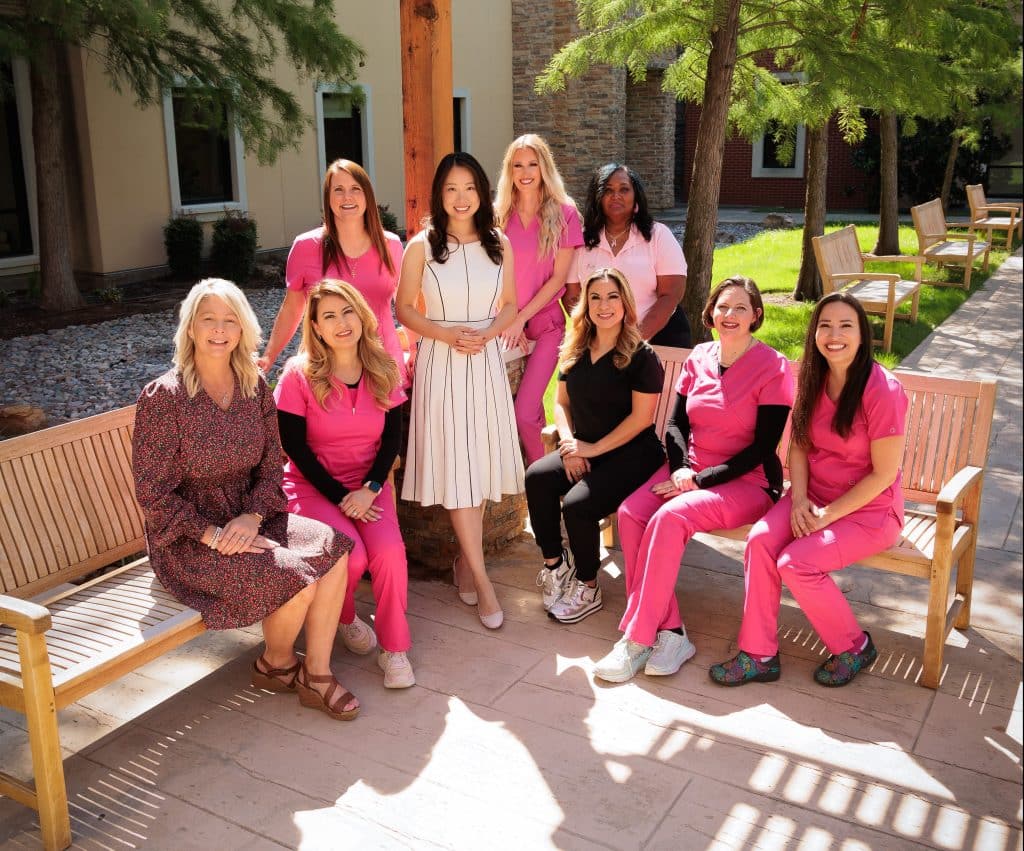 By Meredith Knight | Photos by What's That Guy's Name?
---
March 2020 was a crazy time for everyone but doubly so for Toni. It was then, as she and her husband were getting caught up on yard work that she noticed a lump in her breast the size of a golf ball. Toni consulted with her doctor who referred her to The Women's Imaging Center at Texas Health Presbyterian Hospital Flower Mound. "They fit me in quickly and performed a mammogram," Toni remembered. "The technologist was so kind and comforting, assuring me that chances were it was nothing."
Toni
It wasn't nothing though. A follow-up ultrasound — only moments later — returned with a diagnosis of breast cancer. "We'd just lived through the death of a mom on my son's baseball team the year before," Toni said. That's where her thoughts were when the director of the imaging center offered to call her husband for her.
"It took him an hour to get there, and the director stayed with me comforting me until he arrived," Toni said. "Then she sat with us, answered all our questions, then gave us a list of local doctors. We were able to schedule an appointment with Breast Surgeon Melissa Kinney, MD, Oncologist Michael Park, MD, and Plastic Surgeon Bradley Hubbard, MD, all physicians on the medical staff at Texas Health Presbyterian Hospital Flower Mound. It meant so much that we didn't have to deal with this alone."
Toni and her husband opted for a double mastectomy followed by chemotherapy. Toni is cancer-free today, although she's following up with medication. She's so grateful for the care, knowledge, and compassion she found at The Women's Imaging Center.
Charlotte
Because she has two sisters who are breast cancer survivors, Charlotte has always been diligent about routine mammograms at The Women's Imaging Center. It was during one of those routine mammograms a lump was found. A follow-up ultrasound and biopsy diagnosed it as breast cancer.
"Because of my family history, I decided to have a double mastectomy, even though the lump was only in one breast," Charlotte said. "Because we caught it so early, I didn't have to undergo chemotherapy." That was three years ago. Charlotte is following up with medication to discourage the cancer from returning and living a full, happy, cancer-free life thanks to the advanced diagnostics at The Women's Imaging Center at Texas Health Presbyterian Hospital Flower Mound.
Comprehensive Women's Imaging
Dr. Lucy Lu is a fellowship-trained radiologist who serves as medical director of The Women's Imaging Center, as well as a physician on the medical staff. Under her direction, the center offers the latest imaging technology including:
3D digital-screening mammograms

Diagnostic mammograms

Computer-aided detection (CAD)

Breast ultrasound

Breast biopsies under mammogram and ultrasound guidance

Needle aspirations

Ductograms

Breast needle localizations

Bone density scans
Everything about The Women's Imaging Center was designed with women in mind. The décor is comforting, warm, and feminine, like visiting with a dear friend. It's a girls-only zone with no men allowed past the lobby doors. And the staff has been hand-selected for their gentle, caring nature. It's like being surrounded by a village of women who are there to care for you and help you care for yourself.
Why Schedule an Annual Mammogram?
A mammogram is a noninvasive X-ray used to check breasts for breast cancer and other abnormalities. It is the only test shown to reduce breast cancer deaths. Mammograms can detect cancer early, long before it can be felt. This early detection improves the odds of survival and can help avoid more extensive treatment. Call (469) 322-7700 to schedule your mammogram at the imaging center nearest you.
Meet The Women's Imaging Center Medical Director Dr. Lucy Lu
Born in Hunan, China, Dr. Lu grew up in DFW and has lived in Texas most of her life. She obtained a bachelor's in biology from the University of Texas at Austin and her medical degree from UT Health San Antonio. She completed an internal medicine internship, a radiology residency, and a women's imaging and interventions fellowship all at UT Health San Antonio. After completing her fellowship, she moved back to DFW to be around her family. Dr. Lu joined Texas Radiology Associates in 2020 and became the medical director at the Women's Imaging Center in March 2022. When not on the job, she enjoys traveling, photography, gardening, and spending time with her husband and their two dogs.
"The Women's Imaging Center made all the difference for me and my family," Toni said. "They offered me an opportunity to receive an early diagnosis with advanced technology and a community of care and compassion, from the day of my diagnosis to today." Call (469) 322-7700 to schedule your mammogram at the imaging center nearest you.
Texas Health Presbyterian Hospital Flower Mound is a joint venture involving Texas Health Resources and physicians dedicated to the community and meets the definition under federal law of a physician-owned hospital. Doctors on the medical staff practice independently and are not employees or agents of the hospital. Most health insurance plans cover preventative care for women without cost, including mammograms, when delivered by an in network provider.
Consider This
In the United States, one in eight women will develop breast cancer during their lifetime. That's approximately a 13% average lifetime risk. More than 75% of women who develop breast cancer have no family history of breast cancer. Medical, hereditary, and lifestyle factors can increase your risk of developing breast cancer including:
Older age

Family history of breast or ovarian cancer

Older age at menopause

Younger age at menarche (onset of menstruation)

Nulliparity (never having been pregnant or borne offspring)

Obesity

Personal or family history of certain mutations

History of chest radiation therapy under age 30

Dense breast tissue on mammography

History of certain high-risk lesions on breast biopsy
© 2022 Texas Health Resources
---
CONTACT
Women's Imaging Center
2560 Central Park Ave. Suite 240
Flower Mound, Texas 75028
(469) 322-7700
TexasHealth.org/ScheduleMammogram
---