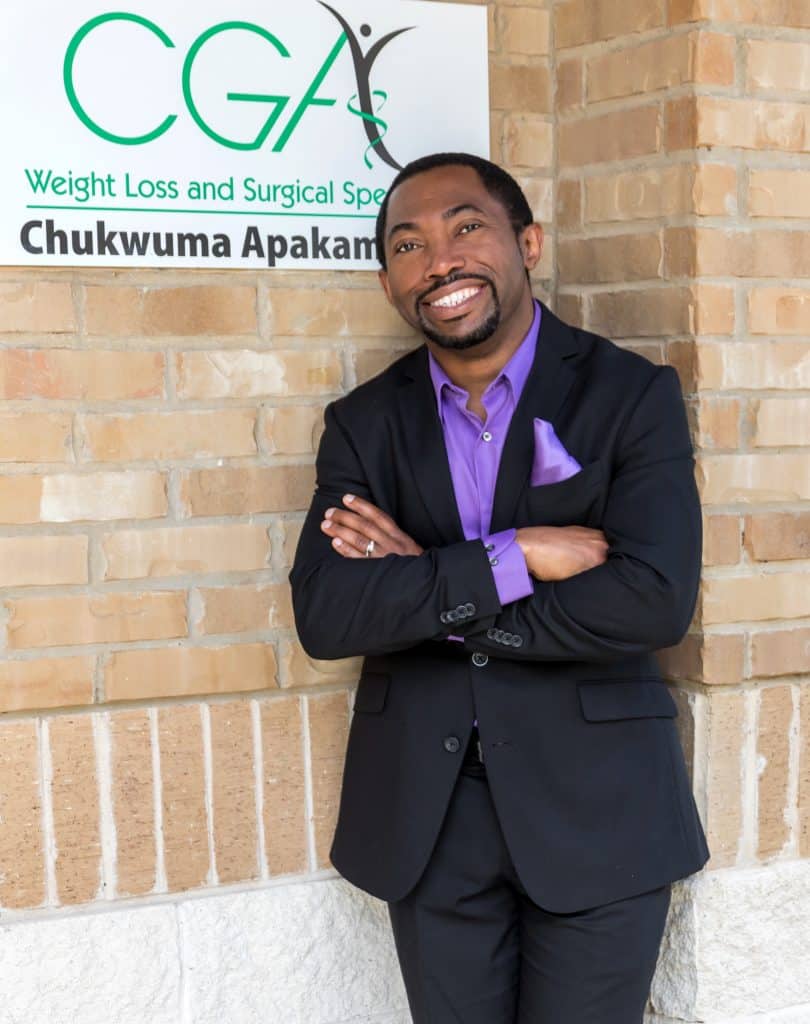 By Meredith Knight | Photo by Lee Ann Baker/LABphotography
---
Dr. Chukwuma Apakama spends his days celebrating little victories. One patient tells him how she was able to sit on the porch swing alongside her son. Another shares how he's no longer hesitant to fly since he doesn't have to ask for a seatbelt extension and worry about crowding his fellow passengers. Still another was able to not only buy a pair of stylist high-heel shoes but cross her legs under a restaurant table. And yet another is happy to really play with his grandkids, for the first time. These may seem like small matters to some. But to "Dr. Chuk" and his patients, they are rewards at the end of a weight-loss journey they embarked upon together.
"Obesity is a disease, and I look upon it as any other disease," Dr. Chuk said. "If you have a cough, you go to the pharmacy and buy cough medicine. You don't wait around. You take action. Obesity is a problem that has a solution."
For many, that solution is not dieting or exercise. It's simply not enough. As a board-certified surgeon with fellowship training in bariatric surgery, advanced laparoscopic and robotic surgery, and surgical critical care, Dr. Chuk can provide safe, effective weight-loss surgery to help patients lose excess weight, keep it off, and greatly improve their quality of life.
"Obesity is a disease that leads to many other conditions such as diabetes, hypertension, sleep apnea, and joint pain in the back, hips, and knees," Dr. Chuk said. "Allowing my patients to finally lose the weight they've been struggling to lose can quickly reverse many of these conditions." And there it is — another victory to celebrate.
Dr. Apakama began his career as a trauma surgeon working with gunshot and car accident victims. But when he experienced the difference weight-loss surgery can have in someone's life, in their self-confidence, in their relationships, in their earning potential, in their overall life quality, he realized he had found his calling, and his patients would agree. "I think the most rewarding thing for me is to watch a patient's confidence grow as the pounds come off," Dr. Chuk said. "Obesity comes with a stigma and judgement. Overweight people are looked upon as lazy when that often couldn't be farther from the truth."
He also offers compassionate and exquisite care for hernias and gall bladder and colon disease. Dr. Chuk finds that diseases like diabetes, sleep apnea, and joint pain can be reversed when he partners with his patients to lose excess weight through weight-loss surgery. "Obesity isn't just something you have to live with," he said. "I want to help you live a healthier, happier life through weight-loss surgery."
Find out more at CGAWeightLoss.com.
---
CONTACT
7711 San Jacinto Place, Suite 200
Plano, Texas 75024
6161 North Highway 161, Suite 320
Irving, Texas 75038
Texas Health Hospital Mansfield
Professional Building
2302 Lone Star Road, Suite 160
Mansfield, Texas, 76063
(214) 440-1245
CGAWeightloss.com
---