Recipes and photos by Meghan Yager
Embrace classic flavors while changing a few ingredients to transform them into something new and improved! From surprising flavors like Sriracha to making your favorite brunch cocktail work as a drink and dessert, you're about to enjoy a new twist on your favorite flavor combinations.


Philly Cheesesteak Stuffed Shells
Makes: 4 servings | Time: 70 minutes
for the casserole:
1 pound box of jumbo shell pasta
2 tablespoons olive oil
1 red bell pepper, seeded and cut into 2-inch strips
1 green bell pepper, seeded and cut into 2-inch strips
1 large yellow onion, sliced
3 cloves garlic, minced
2 teaspoons salt
1 teaspoons dried oregano
1 pound shaved beef
1½ cups ricotta cheese
1 egg
for the sauce:
½ cup butter
1 pint heavy cream
4 ounces cream cheese
1 teaspoons garlic powder
½ teaspoons dried oregano
¼ teaspoons salt
¼ teaspoons black pepper
1 cup grated Parmesan cheese
instructions:
Preheat oven to 400˚F. Spray a 9" x 13" baking dish with cooking spray. Set aside. Bring a large pot of water to a boil. Cook the jumbo shells according to the package directions. Drain shells and rinse with cold water. Set aside.
Add oil to a large skillet over medium-high heat. Once hot, add peppers and onions. Cook for 5 minutes, then stir in garlic, salt, and oregano. Stir and cook for 15 minutes until peppers are soft. Move onions and peppers to one side of the pan. Add beef to the open side, cooking until browned and breaking up with a spoon as needed. Stir together beef, peppers, and onions. Remove from heat.
When the mixture is cooled, stir in cheese and egg. Fill each shell with the mixture and place in the baking dish. Repeat until all shells are stuffed. Set aside. Melt butter for the sauce in a small saucepan over medium-high heat, then whisk in cream, cream cheese, garlic powder, oregano, salt, and pepper.
Bring to a simmer and cook for 5 minutes over medium heat. Stir in Parmesan cheese, stirring until the cheese is melted. Pour the sauce over the shells evenly. Cover the baking dish with foil and bake for 25 minutes. Remove foil and bake for another 15 minutes until the top is brown. Serve immediately.
Spread ricotta in an even layer over the center of the puff pastry. Top with cooked leeks and garlic. Add roasted parsnips. Bake for an additional 7 to 10 minutes. Sprinkle with bacon, then slice and serve.
---

Mimosa Sorbet
Makes: 4 sorbets | Time: 5 minutes + 4 hour cool
ingredients:
2 cups fresh orange juice
½ cup water
2/3 cup honey
Champagne or Prosecco
instructions:
Combine orange juice, water, and honey in a blender. Blend together on high until completely combined. Freeze mixture in an ice cream maker according to instructions. Add sorbet to an airtight container and freeze for at least 4 hours. Scoop into champagne flutes. For a boozy option, top sorbet with Champagne or Prosecco.
TIPS & TRICKS

If you want a non-alcoholic option, top with lemon soda for a summery refresher that works for brunch, lunch, and even dessert!
---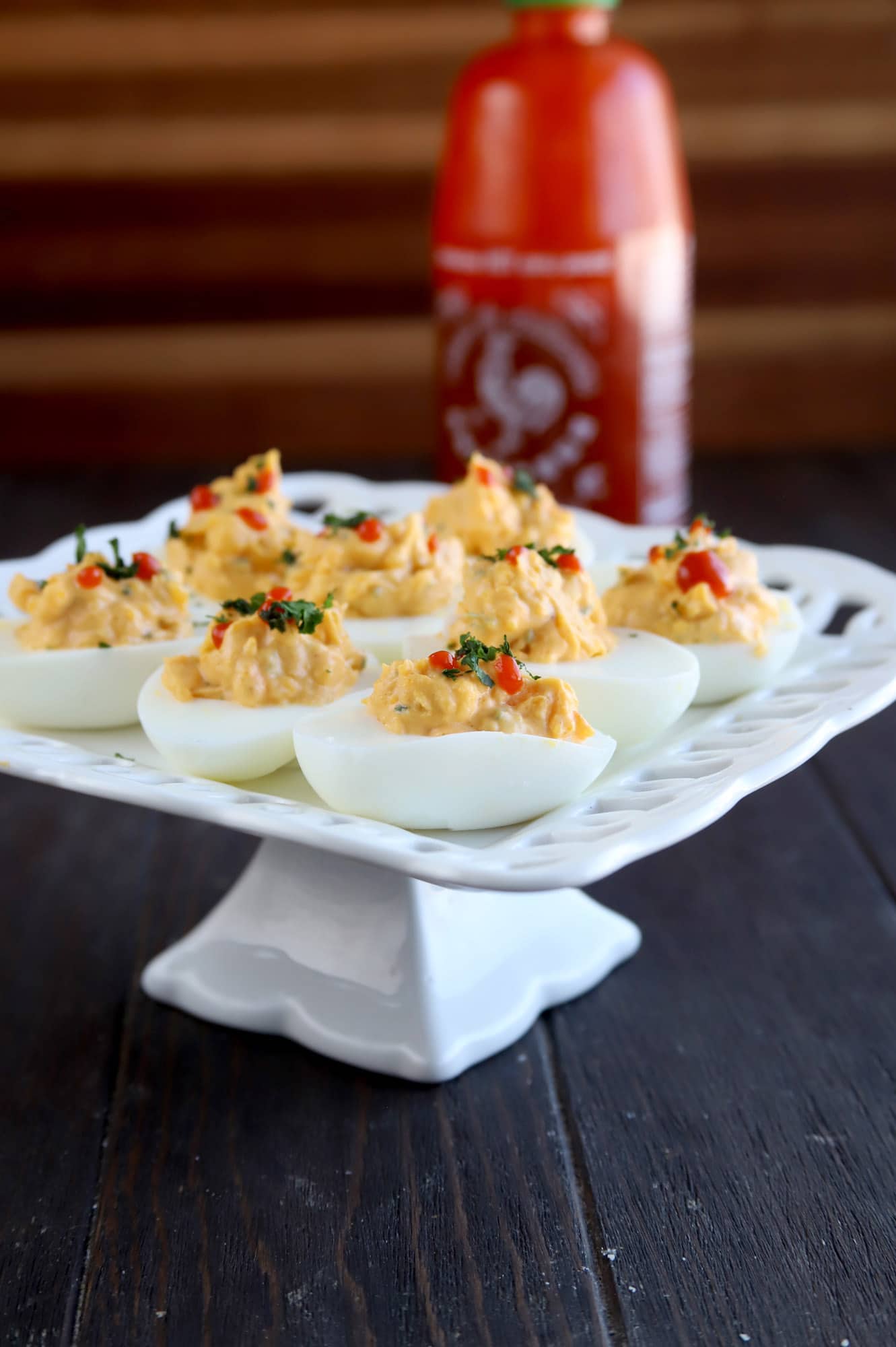 Sriracha Deviled Eggs
Makes: 12 halves | Time: 10 minutes
ingredients:
6 eggs, hard boiled and cut in half
¼ cup mayonnaise
1½ teaspoon Dijon mustard
2½ tsp Sriracha sauce, plus a bit for garnish
1 teaspoon lime juice
1 teaspoon freshly chopped cilantro, plus a bit for garnish
¼ teaspoon salt
¼ teaspoon black pepper
instructions:
Gently remove the hard boiled yolks and place them in a medium bowl. Smash the yolks with the back of a fork until smooth. Stir in mayonnaise, Dijon mustard, Sriracha, lime juice, cilantro, salt, and pepper. Taste and season with additional salt and pepper to taste.
Place the hard-boiled egg white halves on a serving platter (rinse first, if messy). Scoop approximately 1 to 1½ tablespoons of the yolk filling into each of the egg halves. For a nicer presentation, pipe the filling into the halves with a piping bag. Garnish with Sriracha and chopped cilantro as desired. Serve immediately or refrigerate until ready to serve.
TIPS & TRICKS

It's easiest to get the shells off your eggs if you shock them in an ice water bath once they're done boiling, and peel under running water.
---