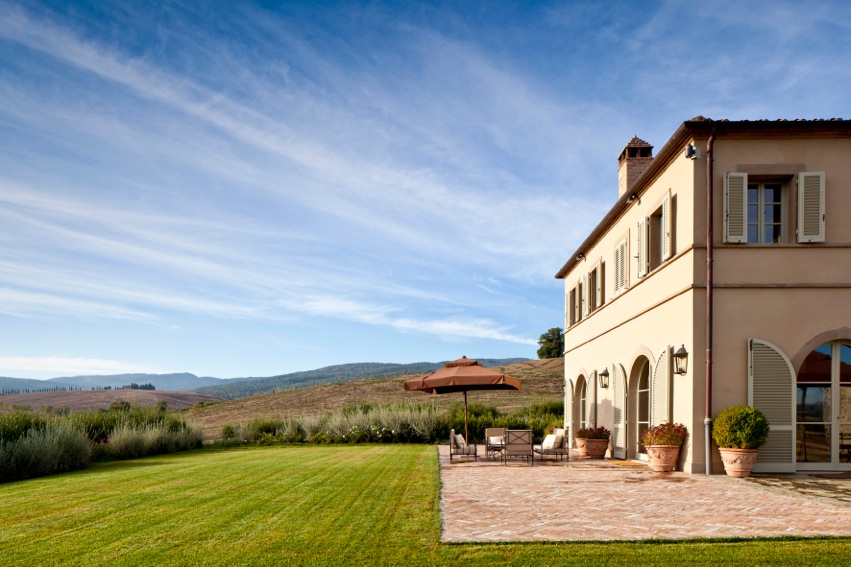 On a quiet hill in the heart of Tuscany sits the Villa Casa del Fiume—part of the luxury 5,000-acre estate that is Castiglion del Bosco. Inspired by the authentic, comfortable atmosphere of the property, we sat down with interior designer Teresa Bürgisser Sancristoforo, who, with the assistance of the property owner's wife, returned the late 19th century villa back to its former glory, along with many modern improvements. Today, Castiglion del Bosco is one of the oldest and best-preserved estates in Tuscany and they open their doors to visitors from across the globe seeking respite in the verdant Italian countryside.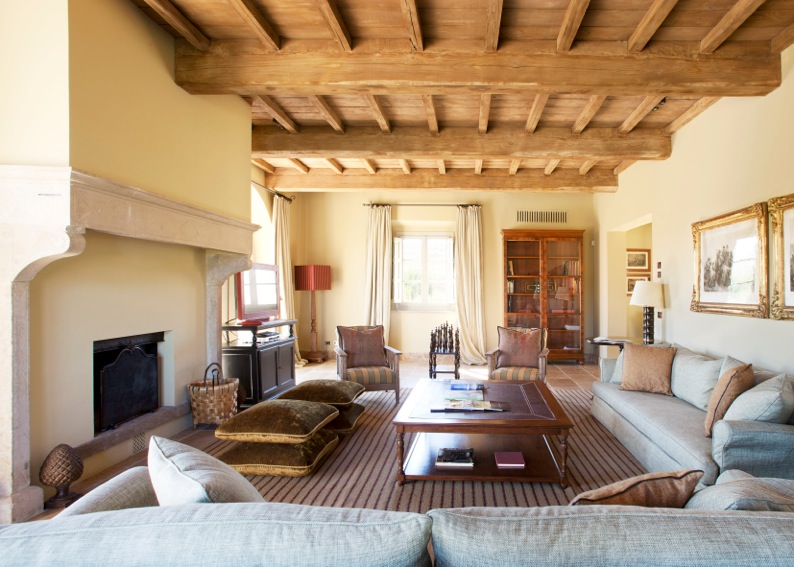 "For all restorations done at Castiglion del Bosco, we have tried to preserve the original structure and we've used already existing materials. Even inside the villa, aside from the state-of-the-art technology, which we've tried to hide as much as possible, we have respected the initial spaces and proportions of all rooms and common areas, maintaining when possible the original floors, vaulted ceilings, and, on the first floor, the typical Tuscan ceilings finished with wood and terracotta," said Teresa.
The color palate was inspired by the ever-changing farmland that surrounds the villa. With each new season a constant display of beauty is just outside the door. From the red and yellow terrain, to the deep brown planted earth, to the subdued green vegetation near the river and even the muted blue tones of the river itself—the hues inside always reflect those outside.
Textiles play an important role in the interior design of the villa. Many of them were designed by Teresa and the property owners, and were then woven by Tessitura di Rovezzano, a company of traditional weavers who have been practicing their craft in Florence since 1946. Texture was added by layering diverse linens and silks.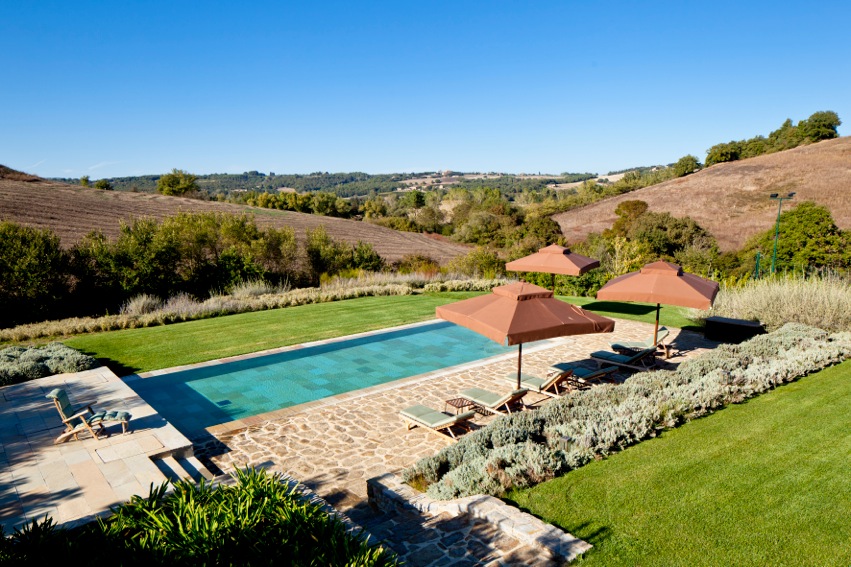 On the exterior they kept with the Tuscan tradition of using locally sourced stone as a primary building material. For example, at Casa del Fiume, the stone for the annex came from the nearby river. And, for the main building, they finished it with plaster since it had originally been constructed with the stones of a local brickyard.
The restoration wasn't completed without a few surprises, however. During the project, the craftsmen discovered a well that had been completely hidden by vegetation. They also unearthed an old wood-burning stove, which had been hidden for years in a pile of stone in the old farmyard.
When attempting to blend a combination of new, traditional and rustic in your own home, borrow a page from Castiglion del Bosco's design playbook and let nature be your muse. By layering texture, tones and materials that suggest the surrounding landscape, you'll be at home in your own Tuscan inspired escape.
By Abby Hoeffner