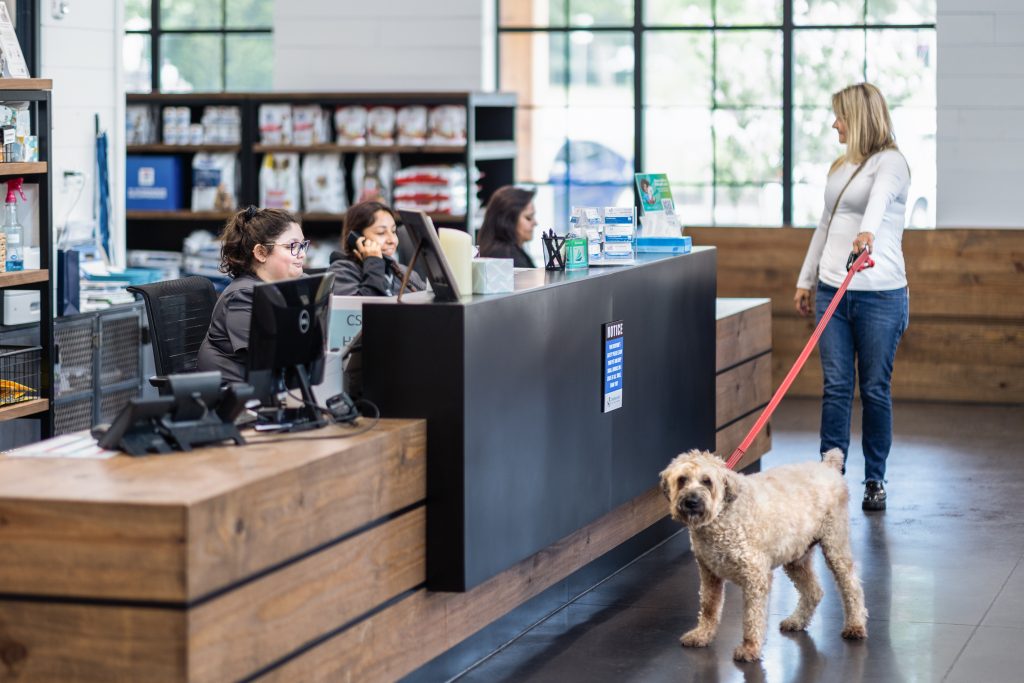 By
Meredith Knight |
Photos by
Kenny Richard Photography
---
James and Lee were visiting friends in Colleyville and just turned their backs for a second when their dog, Leia, ate a toxic plant. They were panicked! Fortunately, their friends knew about Creekside Pet Care Center, which is open 24/7 for veterinary emergency. They rushed Leia to Creekside and were seen immediately. "They were quick, professional, and comforting," Lee said. "Since then, we've told all our friends who have pets and live in this area to keep the Creekside phone number and address saved for any pet-related emergencies."
Katy has been lucky not to have any emergencies with her two cats and one dog (Knock on wood!), but Creekside Pet Care Center has become a medical home to her precious fur babies. "Everyone there is so caring and attentive," Katy said. "They listen to me and take lots of notes. They even work with me financially. They seem like they truly care, and my three babies love going there."
When her cat, Fezco, became ill, Jes was a basket case. She rushed him to Creekside Pet Care Center. "Everyone was helpful and kind the whole time," she said. "There was never a point in the process when I felt unheard, misled, or disrespected by any member of the Creekside team. Only the absolute best will suffice here. The facility itself is beautiful in design and immaculate in presentation, bestowing an immediate sense of comfort. I have no idea where else we could have gone on a Saturday evening to receive emergency veterinary care. Thank goodness we found them."
All the Pet Care You Need
Those are just a few of the robust online reviews singing the praises of this veterinary practice that has some pet owners driving from Dallas to Keller for everything from routine wellness care, emergency medicine, surgery, grooming, boarding, and doggie daycare — all in one location. And Creekside has recently added a board certified orthopedist and a radiologist with no need for outside referrals. With 11 veterinarians on the Creekside team and 24/7 care, it's truly a one-stop-shop for pet lovers.
Urgent Care and So Much More
When you experience an emergency with your dog or cat, the same dynamic team who keeps them healthy year-round already has their records on hand, so they're ready to spring into action. When your fur baby needs boarding or your dog needs daycare, they can go to their home-away-from-home where the Creekside team also offers:
Pet vaccinations

Spay/neuter

Dental care

Parasite prevention

Surgery

End-of-life services
Boarding and Daycare
You can't always have your pet with you. If only there was someone who'd love them like you do when you can't be there. Kaylee H. found just that for her beloved rottweiler, Spike. "Spike has been attending daycare at Creekside for over a year, and the staff go the extra mile to remember his name as they always say 'hi' to him, which gets his nub jiggling. They also take pictures and videos of the dogs to share with their owners which is so exciting to see."
Carrie P. added, "Our pup, Eddie, loves it here. He perks up in the backseat, once I hit the stop sign, and can't get inside fast enough. The staff is awesome, and you can tell they really love all the pups under their care and enjoy being there almost as much as the dogs do. And I love that they have some many great outside spaces to run."
Whether you need to board your pet while you're away or you want them to be active and loved while you're at work, Creekside has everything your pet needs to know they're loved when you can't be there to do the loving.
Proactive Wellness Care
As the U.S. medical system is moving away from reactive care and encouraging patients to become proactive about wellness care, Creekside Pet Care Center is doing the same for your pets, inviting pet owners to take an active role in optimizing the health of their fur babies, for a long and vibrant life. It all begins with client education. Each Creekside appointment is scheduled for 30 minutes or longer and is looked upon as a "team meeting" where veterinarian and pet owner partner for the health and happiness of each pet.
Find out more or schedule an appointment at CreeksidePetCare.com.
Heat Stroke — Know the Signs
When a dog gets too hot and is unable to reduce their body temperature by panting, they can develop heatstroke, which can be fatal.
Warning signs of heatstroke include:
Heavy panting and difficulty breathing

Excessive drooling

Lethargy, drowsiness, or lack of coordination

Collapse or vomiting
If your dog is exhibiting these symptoms, you need to reduce their body temperature gradually.
Move them to a cool, shaded area.

Pour cool (not cold) water over them, avoiding their head.

Allow them to drink small amounts of cool water.

Continue to pour cool water over them until their breathing starts to settle.

Once they're cool, take them to the nearest emergency vet.
Some dogs are more susceptible to heatstroke, including very old or very young dogs, dogs with thick, heavy coats, dogs with short flat faces such as pugs and bulldogs, and dogs with certain diseases or on certain medications. If your dog falls into any of these categories, be extra careful that they don't get overheated.
---
8830 Davis Boulevard
Keller, Texas 76248
(817) 421-5850 | (800) MY-PET-CARE
CreeksidePetCare.com