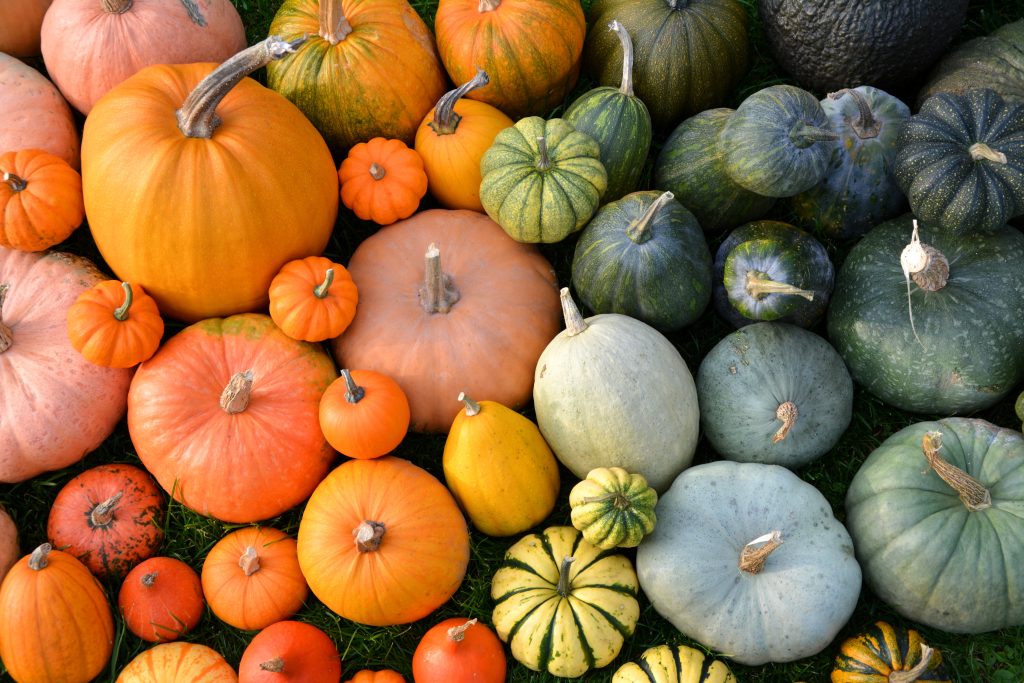 BY SYDNI ELLIS
Gold-dusted leaves cling to tree branches and dot the sidewalks. The crisp air whips through your hair and makes you shiver down to your boot-clad toes. October is here, a month of sweaters and football games and family time. But the most important thing? Pumpkins! Carving pumpkins is fun — and I am the first to put up faux pumpkins all around my house — but don't forget pumpkins make for delicious treats as well. Keep reading for a few tips on finding the right pumpkin to eat, how to harvest seeds, and pumpkin recipes to make.
Pumpkin Varieties
Although round and bright orange might be the first thing you think of when
imagining pumpkins, there are actually a variety of unique shapes, colors, sizes, and textures of pumpkins. According to Better Homes & Garden, some of the most popular include, Cinderella, porcelain doll, New England cheddar, and blue doll.
Cinderella – A flat, wide pumpkin reminiscent of a princess's carriage, which goes well inside savory dishes for sweetness.
Porcelain Doll – A light pink pumpkin that is creamy and perfect in soups.
New England Cheddar – A medium, cheese-wheel-looking pumpkin with a high sugar content for pumpkin pie.
Blue Doll – A 20-pound pumpkin with a green exterior and bright orange inside, just right for salads and pasta dishes.
Additionally, the University of Illinois reported autumn gold as the best type of pumpkin, according to horticultural experts in North America. This medium-sized pumpkin is early to harvest, easy to grow from seed, and rich in vitamin A. This type of pumpkin also has amazing seeds perfect for roasting.
Tips on Harvesting Seeds
Craving a crunchy, savory, and healthy snack? Save those pumpkin seeds! To harvest the seeds, follow these tips from HGTV. Start by scooping out all the pumpkin seeds and using a strainer to rinse off the pumpkin pulp. From there, lay them on a screen to dry. Once they have dried on all sides, store them in an envelope in a cool area with air but no sunlight, or in a jar with an anti-desiccant. When stored properly, the seeds will last for several years! When you are ready to eat, follow this simple recipe from Food Network:
Preheat oven to 300°.
Put seeds on an oiled baking sheet and roast for 30 minutes.
Toss the seeds with olive oil, salt, and your choice of spices.
Spice options include cinnamon and sugar, smoked paprika, grated Parmesan and dried oregano, garam masala, or brown sugar, chipotle chile powder, and ground cumin.
Return to oven and bake 20 more minutes, or until crisp and golden.
Delicious Pumpkin Recipes
There are so many inventive ways to enjoy pumpkin this season. Find two yummy recipes below.
Betty Crocker's Pumpkin Pie
Mix 11/3 cups flour, 1/2 tsp. salt and 1/3 cup vegetable oil with a fork until flour is moistened.
Sprinkle with 2 tsp. cold water, tossing with fork.
Shape pastry into a ball, then press into a 9-inch glass pie plate.
Beat 2 eggs, then add 1/2 cup sugar, 1 tsp. ground cinnamon, 1/3 tsp. salt, 1/2 tsp. ground ginger,
1/8 tsp. ground cloves, 1 12 oz. can evaporated milk, and 15 oz. pumpkin to a large bowl.
Beat together, then add filling to the pie plate.
Bake at 425° for 15 minutes.
Reduce oven temperature to 350° and bake for another 45 minutes. Cool for about two hours.
In a chilled bowl, beat 3/4 cup whipping cream and 2 Tbsp. of sugar on high speed until stiff peaks form. Serve on top of pie.
Taste of Home's Contest-Winning Chocolate Chip Pumpkin Bread
Combine 3 cups all-purpose flour, 2 tsp. cinnamon, 1 tsp. salt, and 1 tsp. baking soda in a large bowl.
In another bowl, beat 4 large eggs, 2 cups sugar, 2 cups pumpkin, and 11/2 cups canola oil.
Stir the liquid mixture into the bowl of dry ingredients until combined.
Fold in 11/2 cups semisweet chocolate chips.
Pour into two greased 8×4 loaf pans.
Bake at 350° for 60 to 70 minutes, or until a toothpick comes out clean. Cool for 10 minutes before
removing from pans to wire racks.
Enjoy!