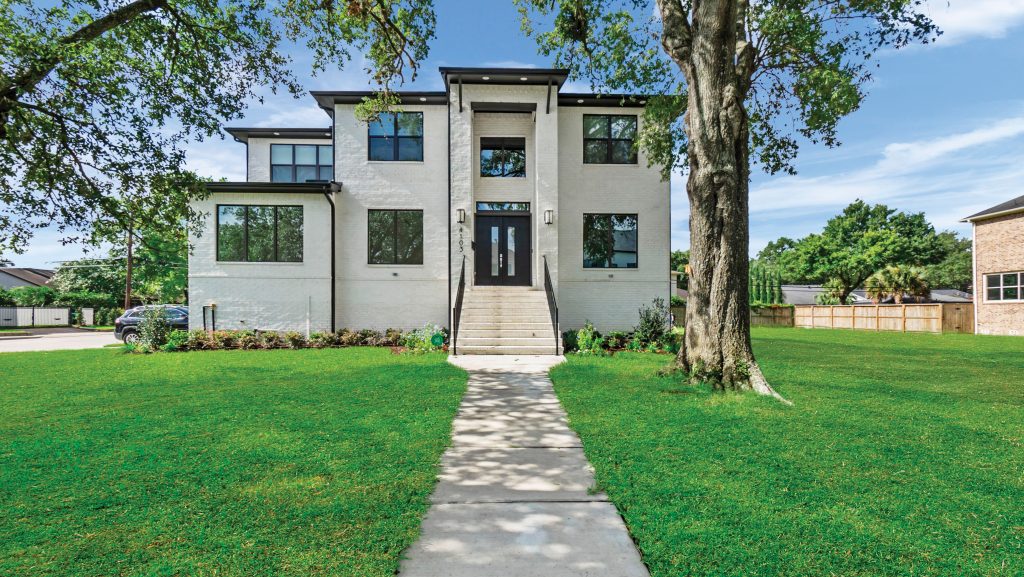 By
Cheryl Ricer
---
The Builder synonymous with quality, innovation, and professionalism has been helping Houston area families create their dream home on their lot for decades. "With more than 25 years in the custom home building industry," said Danielle Marriott, senior consultant, "David Weekley's Build on Your Lot program is one of the longest standing in the city. Our dedicated team members are the most experienced and tenured around, with the majority devoting 15-20 years to building custom homes at Weekley. As a company, we aim to make a positive impact on the lives of everyone we touch .
Our commitment to focusing on what's important sets us apart, both as an employer and as a neighbor."
Part of the David Weekley difference is the Build on Your Lot program truly brings the customer's dream home vision to life. Buyers can choose from an award-winning David Weekley floor plan, customize an existing plan, or create their own custom, plan to fit their family's needs. They are a builder concierge offering a process that is turnkey and easy by handling everything for their customers and offering a wide variety of options to fit every need.
"Our Build on Your Lot program has built over 1,000 custom homes in the Houston area," said Marriott., "All of our customers enjoy a variety of options as well as the ability to customize their home from the start."
Weekley's Build on Your Lot program is comprised of seven easy steps, which make the process less stressful than other builders. These steps include finding a homesite, selecting the perfect plan, determining site costs, arranging financing, personalizing the home, commencing with construction, and ending with move-in and warranty.
David Weekley Homes began in 1976 in Houston with a purpose of "building dreams and enhancing lives." Since then, they have become the largest privately held home builders in America, spanning 12 states and 19 cities. The success of David Weekley Homes is attributed to their passion for their customers, the exceptional homes they build, and their commitment to team members and the communities where they live and work.
As the largest privately held builder in the nation—a distinction that comes with unmatched buying power—David Weekley's Build on Your Lot remains a small niche custom home building team with a streamlined process that ensures a timely and efficient home build. "Most customers are amazed at how quickly they are able to move into their new home. Customers also love the fact that David Weekley contracts don't include "escalation clauses," so there is peace of mind knowing the final price is locked in prior to construction.", said Marriott.
Energy efficiency is another David Weekley difference. David Weekley Homes as has earned a "Diamond Level Builder" status with Environments For Living, and builds energy-efficient EnergySaverTM Homes with an average HERS – or Home Energy Rating System – rating of 57.
Weekley is one of the few builders who keep their warranty service in house. Each customer has their own warranty representative whose sole job is to ensure buyers are taken care of long after closing. Warranty calls are addressed in a timely manner, giving a convenient and seamless avenue to address any warranty concerns. "Our warranties include 10 years structural, two years major mechanical systems and one year builder defects," explained Marriott, "which is different than other builders who sell their warranties to a third party. Ours is kept in-house to continue our commitment to our customers after the sale."
More than 94 percent of Weekley customers say that they would "definitely recommend" David Weekley Homes to their friends and family, and more than 40 percent of new homeowners are referred by other customers, leading to many second and third time David Weekley Home Buyers. "These are the relationships that make the process fun and make our customers feel like a part of the family," said Marriott.
The David Weekley difference not only includes great customer relationships, but they work wonderfully with realtors. Much of their business comes from realtor partners, who are paid a commission when they refer clients to a David Weekley Homes. The realtor can be as involved as their schedule will allow. Some agents simply call their David Weekley consultant and send the client over, while others are involved throughout the process.
"We can advise buyers before they purchase a lot by helping to identify flood plain requirements, permitting concerns, deed restrictions, and determine lot fit for the plan the buyer chooses. We have 20 years of knowledge permitting in every part of Houston, so we can prepare a buyer for any special foundation, drainage, or muni code requirements before they purchase a homesite,
said Marriott."
David Weekley Homes takes immense pride in giving back to the communities in which they work and live through their CARE program. The program allows not only team members to participate in philanthropy projects, but their customers and trade partners as well. CARE, as they define it, is: C – Committed to Building Community Character; A – Active in our Community; R – Responsible to our Community; E – Enhancing our Community. With these ideals as cornerstones, team members have made a difference in the cities where they live and work by volunteering thousands of hours each year with various local nonprofit organizations. Whether it's hosting a blood drive, volunteering at a soup kitchen, or collecting school supplies for children in need, David Weekley team members are working hard to bring back a sense of community to neighborhoods all over the Houston area.
---
Contact
To build on your lot in and around the Houston area, or to learn more, visit the David Weekley office at 10100 Katy Freeway, Suite 190, in Houston, visit their website at davidweekleyhomes.com or call (713) 574-5048.