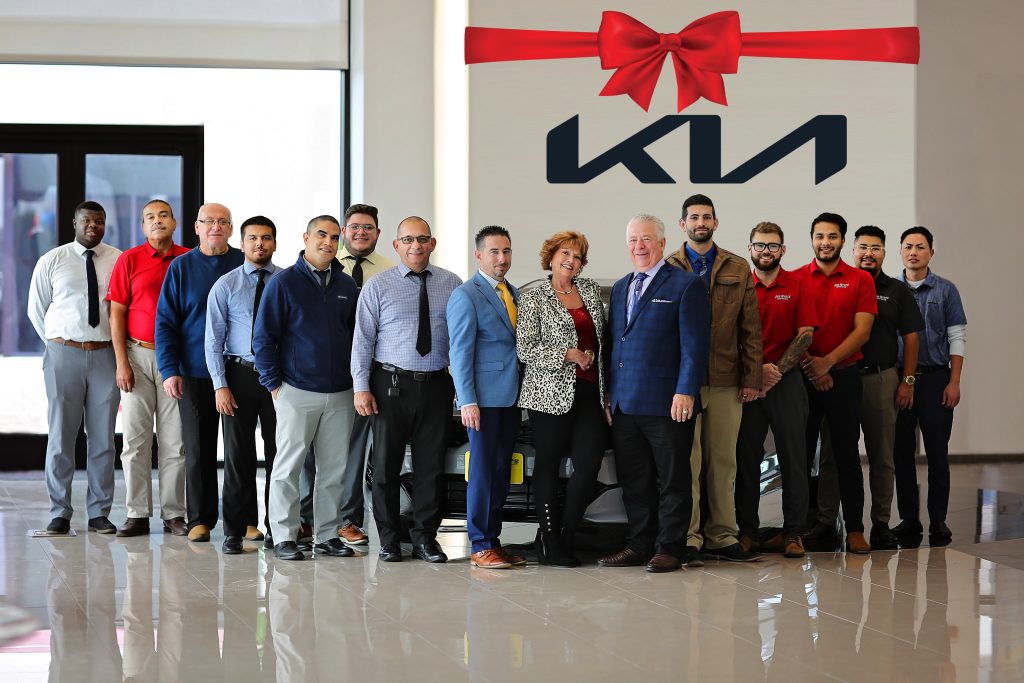 By Annette Brooks | Photos by Karen McConaughey
---
The holiday season is a special time when it comes to friends and family being involved in a local business, and no one does it quite like Joe Myers Kia. One of the longest-tenured Kia dealerships in the country with multiple awards in customer satisfaction and sales volume, it has a long and proud history of community outreach and involvement, spear-headed by Elizabeth Samuel. Elizabeth is Ralph Samuel's wife of 34 years. Ralph is the General Manager and Managing Partner of Joe Myers Kia and Joe Myers Mazda. The Samuels have been involved with the dealership from the beginning, and have supported the community for more than 30 years.
The charities supported by the dealership during this Christmas season help women's shelters, the homeless, and children. And along with help from the Greg Samuel Everyday Hero Foundation, Joe Myers Kia will be conducting its 18th annual jacket and blanket collection drive for the homeless from Thanksgiving to Christmas.
"With the challenges we've all had to face the last few years, this holiday season will be more special than ever," Elizabeth says. "In addition to our charity work, we want to say thank you to our wonderful staff here at Joe Myers Imports at this time of year. They're more than employees; they're family."
Along with making her presence and that of the dealership felt in the community throughout the year, Elizabeth conducts and coordinates all employee and customer events. The dealership is renowned for rewarding, valuing, and promoting its employees, making it a great place to work.
New Kia Showroom, Exciting 2023 Kias
Come celebrate the re-grand opening of the dealership's brand-new state-of-the-art showroom and facility with the team.
The new facility is as customer friendly as it is beautiful. There's free WiFi and an inviting customer lounge, but it's Joe Myers Kia's friendly service and Texas hospitality that lifts the customer experience to such an exceptional level.
Then there's the brand-new 2023 Kia lineup. "The award-winning Kia lines are amazing, with so many super-hot models right now like the Sportage, Sorento, and Telluride," Ralph says. "Kia's all-electric EV6 vehicles are popular, too."
Sean Samuel the General Sales Manager says that a big advantage for the Kia Buyer is Kia's five-year, 60,000-mile standard warranty and the 100,000-mile powertrain warranty. Not to be outdone, the Pre-owned Sales Director, Nick Samuel, reminds us of Joe Myers' large selection of late model, low mileage Certified Pre-Owned vehicles available on the lot.
"Unlike the past year or two when auto showrooms and lots were virtually empty, we now have a good assortment of vehicles available for our customers, and more are arriving regularly," Ralph explains.
Ralph adds that he, Elizabeth, and the team are grateful for all the dealership's loyal customers. "A large part of the Joe Myers Imports' 'customer family' is on their third, fourth, fifth, or more vehicle purchase from us," Ralph says. "Despite the recent challenges in the automobile industry, Joe Myers Kia set its all-time sales volume record in 2021 and will exceed that number in 2022."
A Family Affair
"Car dealerships are a demanding business, but having the family involved, along with so many long-term associates, makes it so much more rewarding," says Ralph.
Every Joe Myers Imports manager started with the company at an entry-level position and was promoted, and many of the Joe Myers Imports associates have been a part of the team for many years. Jason Proios, the service director, has worked with Ralph since the 80s. The Kia dealership's most tenured salespeople, Hung, Alejandra, and Eric, have been with the company for more than 40 combined years. All three of Ralph and Elizabeth's sons, Sean (the general sales manager), Nick (the pre-owned sales director), and Greg (TV/advertising spokesman) started working for their Dad long before they graduated from high school.
"Our spin on advertising is certainly different and entertaining, and we've involved many of our employees throughout the years. It's really a great form of team building,"
Elizabeth shares.
Joe Myers Imports has won multiple awards over the years, including Automotive Marketer of the Year awards for their innovative and entertaining TV commercials, billboards, and ads. The advertising features the iconic "Deal Buster" character created and acted out with Greg starting while he was still a freshman in high school.
Now is a great time to buy a new or pre-owned vehicle from Joe Myers Kia. The entire Joe Myers Kia team invites you to stop in today. Enjoy the new showroom and find out what the excitement for Kia's 2023 lineup is all about.
Kia Financing Deals
Kia is offering attractive financing rates to qualified customers. Find out more. Stop into the dealership today.
---
Contact
16484 Northwest Freeway
Houston, Texas 77040
JoeMyersKia.com