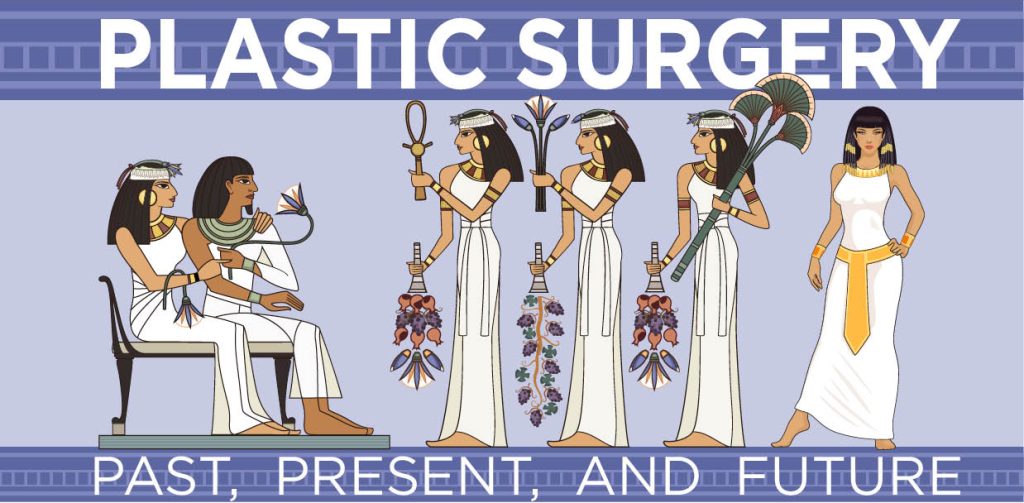 Getting a nip/tuck may seem like a modern phenomenon, but we've been perfecting the art and science of plastic surgery for thousands of years. Here, we take a high-level look at the amazing evolution of plastic surgery, focusing primarily on cosmetic services in the 20th and 21st centuries.
Early Beginnings
The ancient Egyptians weren't the only ones to experiment with nose reshaping. As early as the sixth century B.C., a medical text from ancient India covers nose reconstruction in detail. Around the first century B.C., Roman physicians practiced rudimentary reconstructive surgical methods on gladiators whose bodies and faces had become severely damaged. Later, a Sicilian surgeon became the inventor of the "Italian method" of rhinoplasty (nose surgery), and in the late 1500s, another Italian authored what is considered by many to be the first true textbook on plastic surgery.
Fast Forward—World War Brings Plastic Surgery to the Forefront
While various plastic surgeries were chronicled up to the 20th century, progress was slow and the results were mixed—to put it nicely. It took the outbreak of World War I in 1914 to push plastic surgery toward the limelight. Breakthroughs in oral and maxillofacial surgery were made as surgeons became focused on reconstructing "broken faces" and disfigured servicemen. During World War II, facial plastic surgery gained more prominence and several military plastic surgery centers were created within the U.S. to help treat facial trauma and burns. Also around this time, Hollywood stars turned to facial cosmetic surgery to help maintain a youthful appearance and address imperfections. For instance, medical records reveal that Marilyn Monroe underwent chin augmentation before becoming a silver screen bombshell.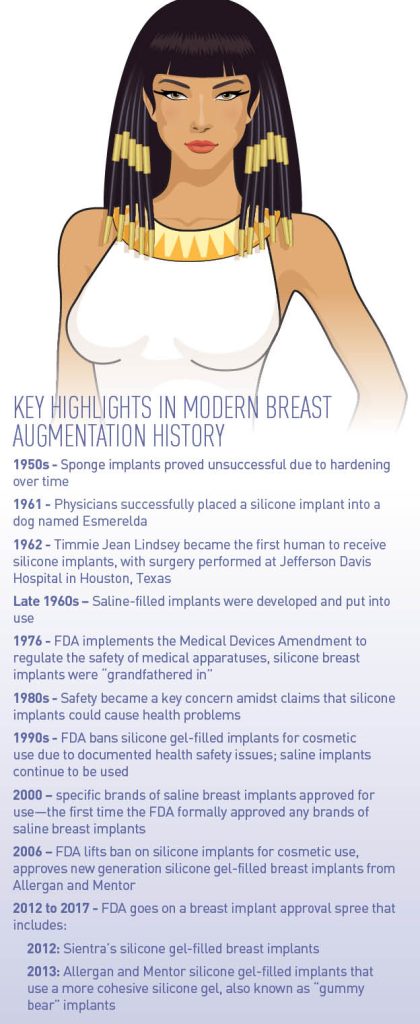 The 70s, 80s, and 90s
Along with waterbeds, mood rings, and women's liberation, plastic surgery carved out a presence in the 1970s. Instead of merely pulling the facial skin tighter, plastic surgeons began manipulating the SMAS (superficial musculoaponeurotic system—in other words, the supporting framework of the face) to provide better and longer lasting facelift results. The decade also ushered in FDA oversight. Once the FDA's General and Plastic Surgery Devices Panel recommended that breast implants be classified as class II medical devices, general controls and performance standards could be required. A positive move toward improved patient safety.
In the 1980s, when excess was sought after and celebrated, the general public became increasingly interested in plastic surgery and the profession of plastic surgery itself was brought into the public eye. Brochures on individual surgery procedures were produced as cosmetic surgery took steps to enter the mainstream.
Perhaps one of the most significant contributions made in the 80s was liposuction, especially the introduction of the tumescent technique which involved fat reduction using a local anesthetic. Meanwhile, back on the breast enhancement scene, breast implants were re-classified as class III devices which meant the agency could require manufacturers to submit studies on implant safety and effectiveness, and require pre-market approval.
The 1990s delivered continued cooperation and innovations in the field of plastic surgery along with the introduction of the world wide web. As plastic surgery made its contribution to the information super-highway, public interest in the field began to take off. We also saw the FDA ban silicone gel-filled implants for cosmetic use in 1992 due to safety concerns. And finally, toward the end of the century, ultrasonic liposuction was introduced. This method liquefies fat, enabling it to be removed more easily.
The 21st Century—Plastic Surgery for Everyone, Innovation Explodes
Our continued acceptance of aesthetic enhancements, coupled with a strong appreciation for youth and beauty, has made modern plastic surgery into a multi-billion industry. Popular TV shows such as Extreme Makeover, Dr. 90210, and Nip/Tuck helped fuel our desire to look our best by giving the industry a new and familiar look to the public.
We've also seen innovations introduced at a rapid pace, particularly advancements in noninvasive services that can be used either separately, or along with surgery. These aesthetic technologies use lasers, radio frequency, ultrasound, and intense pulsed light—to name a few—to tighten lax skin, reduce wrinkles, boost skin clarity, and more. Fat reduction also entered the noninvasive realm this century, with the introduction of FDA-cleared technologies that melt, freeze, and dissolve unwanted fat to create a slimmer, sleeker body. Plus, a flurry of new and improved silicone gel-filled breast implants—resulting from the FDA's approval of new generation silicone gel-filled implants for general patient use in 2006—give women more options in breast enhancement than ever before.
How Will the Future of Plastic Surgery Shape Up?
Obviously, advanced tools and techniques will continue to develop and expand the horizons of plastic surgery. Keep an eye on methods that reduce surgical scarring and recovery time. With a growing ability to operate on fetuses inside the womb, doctors have noticed something curious—the operations leave no scars. Armed with this knowledge, researchers are working to unlock the secrets of the growth-factor environment inside the womb, where scarless healing takes place. What a difference this knowledge could make if we could apply it to surgery outside the womb.
We're also watching the evolution of 3D printing. Currently, 3D imaging on computer screens enables us to visualize what we might look like before surgery. In the future, you might find 3D printers in a plastic surgeon's office that print physical models to illustrate post-surgical results. Possibly farther out, when 3D bioprinting is ready for prime time, 3D-printed tissue implants could be used to enhance the face and body. Imagine the possibilities with customized fat and tissue implants manufactured right in your plastic surgeon's office!
Lastly, is it saying too much that we should hold out for Star Trek-inspired medical tools that perform complex surgery, including tummy tucks, with just a wave over the body? Surely Dr. "Bones" McCoy would approve of this vision!
By Annette Brooks