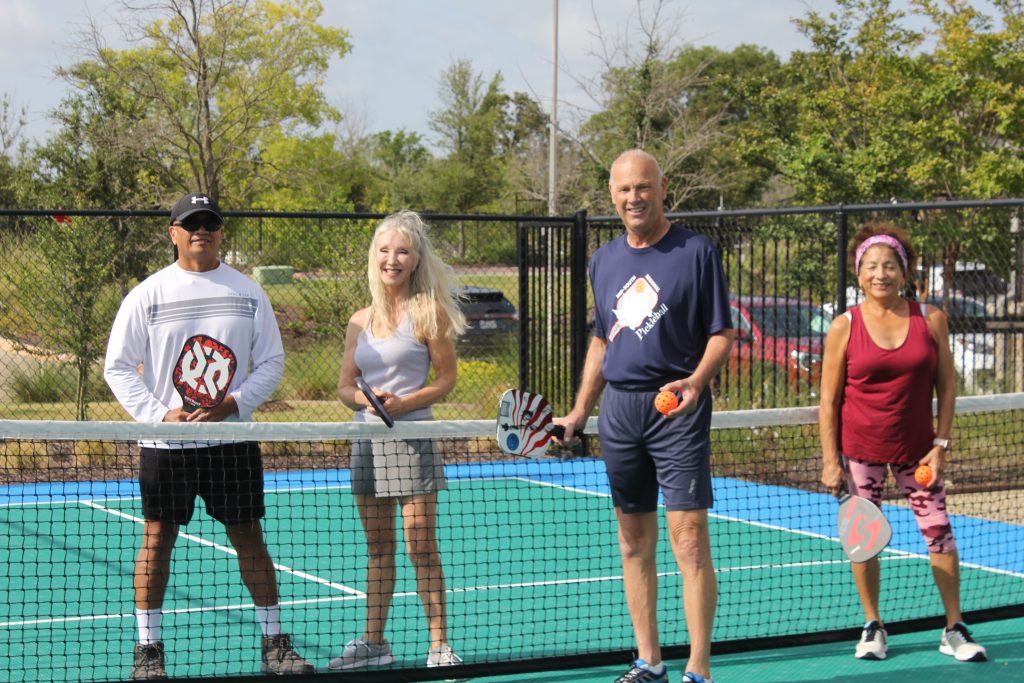 BY BOB WEIR
If you're one of those active types, especially if you love racket sports, you probably already know about pickleball, which is growing exponentially from coast to coast. The sport was invented in 1965 by three men whose kids were bored with their usual summertime activities on Bainbridge Island, a short ferry ride from Seattle, Washington. After playing golf one Saturday morning, Congressman Joel Pritchard and his buddies Bill Bell and Barney McCallum returned to the Pritchard home and noticed their families sitting around with nothing to do.
The property had an old badminton court, so Pritchard and his friends looked for some badminton equipment, but they couldn't find a complete set of rackets. They improvised and started playing with ping-pong paddles and a perforated plastic ball. At first, they placed the net at a badminton height of 60 inches and volleyed the ball over the net. However, as the weekend progressed, the players found that the ball bounced so well on the asphalt surface that it became clear they could lower the net to 36 inches. Soon, the three men created rules, relying heavily on badminton. They kept in mind the original purpose of providing a game that the whole family could play together.
Played indoors or outdoors on a badminton-sized court, with a net about the same size as a tennis net, it's a combination of ping-pong and badminton. Pickleball is played with a paddle a bit larger than a ping-pong paddle and a more durable whiffle ball. Singles or doubles can play it, but some of the rules are different from other racket sports. For one thing, unlike tennis, a serve is delivered underhand. In addition, there's an area 7 feet from the net, marked with a painted line, known as the "no volley zone" or "the kitchen."
Stepping into the zone is only allowed under certain circumstances, such as when the ball bounces within the zone, enabling the opponent to make a return shot. Eleven points win a game, but the winner must be ahead by 2 points at the finish. For example, if a player or team is tied at 10-10, the winner(s) must continue playing until there's a
2-point advantage.
There has been some disagreement about the origins of the name. Some say it was named after the Pritchards' dog Pickles, who would chase the ball and run off with it. But according to Pritchard's wife Joan, she related it to the "Pickle Boat" in rowing where oarsmen were selected from leftovers of other boats. The sport gained recognition during the next several years, and in 1984 the United States Amateur Pickleball Association (U.S.A.P.A.) was organized to perpetuate the growth and advancement of pickleball on a national level. Last year, Americans playing pickleball increased by 21.3%. Stu Upson, Chief Executive of USA Pickleball, said, "There are 37 countries that are part of the International Federation of Pickleball. That's more than double where it was 18 months ago."
In Flower Mound and its surrounding areas, pickleball is played at the Community Activity Center, 1200 Gerault Road, Trietsch Memorial United Methodist Church, 6101 Morriss Road, Cross Timbers YMCA, 2021 Cross Timbers Road. Highland Village has courts in Unity Park, 2200 Briarhill Blvd., The Robert & Lee DuVall Center, 948B Highland Village Road, and other locations. Lewisville has locations at Lewisville High School, 1098 West Main St., Herring Recreation Center, 191 Civic Circle, Thrive, at 1950 S. Valley Pkwy, among others. Robson Ranch, a thriving master-planned community for active adults at 9501 Ed Robson Blvd. in Denton, has several courts to accommodate those interested in keeping fit while having fun.
While researching this article, my wife and I met so many happy, enthusiastic and friendly people who have discovered a way to engage in a sport that, while providing a strong aerobic workout, is less taxing on the joints than some other similar athletic activities. Angela Luhman, an Ambassador and Certified Referee, and trainer for USA Pickleball, certainly lived up to her title when we met during our research. Ms. Luhman couldn't have been more helpful, even taking a break from a game with her buddy, Katrina Tiner, to explain some of the rules and pose for a photo.