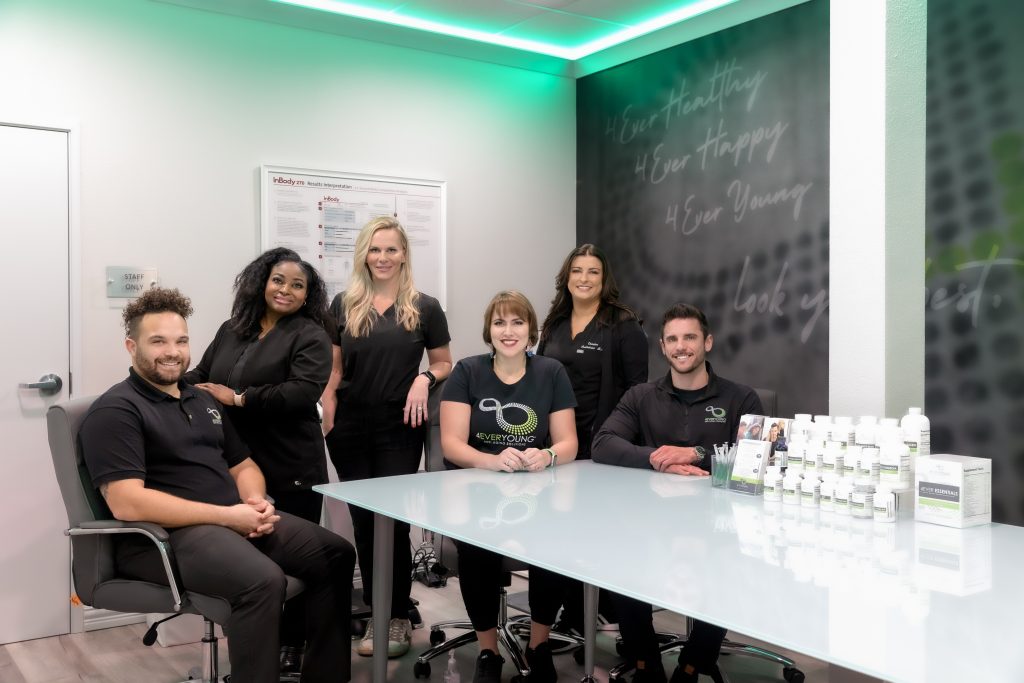 By
Annette Brooks
| Photos by
Kenny Richard Photography
---
The team at 4Ever Young Flower Mound is on a mission to help you feel and look your best, and it's a personal passion for the anti-aging clinic and medspa's hands-on owner, Andrea Martin.
"Hormonal depletion and vitamin deficiency were impacting my quality of life and health to the point I was even losing my hair," Andrea confides. Her husband didn't feel his personal best either and discovered he was suffering from low testosterone. "Hormone replacement therapy, nutrition, vitamins, and supplements helped bring my health back, and my husband's, too."
Andrea began looking for ways to help others feel and look healthy and vital again. "The 4Ever Young brand caught my interest. I met with the founders and was impressed with their unique, comprehensive approach and customized anti-aging solutions." Andrea was so impressed she walked away from her high-level corporate career to become a 4Ever Young franchise owner.
Comprehensive, 360-degree Approach
4Ever Young Flower Mound isn't your typical health and wellness clinic. Catering to men and women alike, they offer a wide assortment of treatment options. Services range from top-of-the-line aesthetic therapies for the face and body to IV drips, vitamin injections, medically supervised bioidentical hormone replacement therapy (BHRT) for both genders, and nutrition and weight loss.
"We truly care about every person who walks through our door. We want you to know we're on this journey with you and will create a plan to help you feel and look your best, optimize your results, and give you a roadmap for the future," Andrea says.
4Ever Young's in-depth blood panel reflects their commitment to your health and well-being. "We perform the most detailed and extensive blood work available that measures a full range of biomarkers. This enables us to create a complete health profile and fully assess your condition, and offer individualized recommendations to maximize your wellness," Andrea explains. She adds that you'll also get a complete medical physical, and everything is reviewed by their medical director, Dr. Katherine Thornton.
"Based on your blood panel and physical, we'll develop a customized plan and monitor you to help." She adds, "If we believe you should see a medical specialist to evaluate a possible underlying condition, we'll provide a referral. For example, a thyroid disorder can lower the testosterone level in your blood. If there's an underlying medical condition like this, we want you to get the appropriate medical treatment and then help you with the next step."
Improving how you feel is just part of the solution at 4Ever Young. Their advanced aesthetic services include Botox and dermal fillers, results-oriented signature facials and HydraFacial, microneedling, and more. Every service and package is tailored to meet the individual client's needs, optimizing results.
"We have a wonderful team which includes Kimly Vault, our on-site, double-board-certified nurse practitioner with more than 30 years of experience, and Taryn Ford, an aesthetic injector with over eight years of experience," Andrea says.
What Clients Are Saying
Clients rave about 4Ever Young Flower Mound.
"I was so impressed with the time and care they give to each patient. The blood panel was very comprehensive, and everyone who treated me was friendly and informative, explaining the what and why of the treatment. I received my prescriptions quickly and can't wait to begin feeling like my old self again!" – Delana
"Honestly, I can say this is the best I've felt in a long time. I didn't realize how bad I was feeling until I no longer felt that way. Wow! Not to mention the experience with the staff was phenomenal. They really make you feel taken care of! I already have an appointment booked for my Botox and my next IV therapy sessions." – Joey
Another client, Kristen, says, "The membership perks are awesome! Definitely worth the investment."
Live Your Best Life
Start on your path to improved health and wellness today. Call to schedule your complimentary in-depth consultation with a 4Ever Young Flower Mound wellness specialist. There's never any pressure to move forward with a service.
"We truly care about every person who walks through our door. We want you to know we're on this journey with you and will create a plan to help you feel and look your best, optimize your results, and give you a roadmap for the future."
– Andrea Martin
Advanced Wellness and Cosmetic Services
Free, in-depth consultation

Comprehensive blood panel

Injectables – Botox, Dysport, dermal fillers

Shaping and body care

Women's and men's hormone replacement therapy

Signature facials, HydraFacial, microneedling

Professional-grade skincare products

Vitamin injections
Save with the 4Ever Young VIP Membership
Enjoy the perks of membership, and there's no contract. 4Ever Young offers two
membership options.
Feel Your Best Membership
Monthly:
Wellness IV Drip of Your Choice

B12 shot

Free InBody analysis
Plus:
30% Off Additional IVs

15% of all vitamin supplements

Free annual health profile*
Look Your Best Membership
Choose one each month:
Chemical peel

SkinPen (two per year limit)

Hydrafacial (10 per year limit)

Wellness IV drip
Plus:
Discounted Botox and Dysport

15% off most additional aesthetic services

Free InBody analysis

Free annual health profile*

10% off skincare
*with qualifying insurance