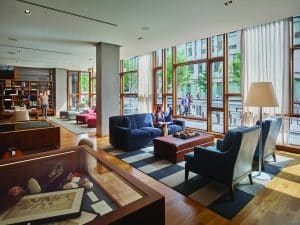 For students entering their senior year of high school or current college students considering a transfer, there's no better way to determine whether a college or university is the right fit than a college visit. Summer is a great time to make those journeys, when campuses are less chaotic and the demands of the school year are on hold.
Take an Official Tour
Most schools offer scheduled tours to prospective students, and this is typically a great starting point to begin getting a feel for an unfamiliar campus. Tours are often in groups, but may be private depending on the school and your timing. A tour is an efficient way to gather a lot of general information and gain access to buildings such as dorms and classrooms that you might not be able to reach on your own.
Satisfy Your Curiosity
Scheduled tours are designed to answer the needs of the general student population, but they don't necessarily give all the information you need for your chosen field of study or any special considerations or interests. Make plans to meet with an academic advisor in your chosen field, schedule time with a student life representative or simply grab a campus map and seek out the areas that most interest you.
Explore the City
While academics are the obvious heart of a college tour, not every waking moment will be spent on campus. It's a good idea to get a feel for the community you could soon be calling home. Check out the attractions, sample the local culinary scene and figure out whether the lifestyle that city can offer fits with your vision for your college experience.
If you're considering several campuses, a centrally-located hotel like The Study at University City in Philadelphia could be a great temporary home basis while you explore. It's located at the crossroads of the University of Pennsylvania and Drexel University, and it's in close proximity to Temple University, St Joseph's University and La Salle University. The hotel's College Package Tour includes a dedicated travel agent, or there are other special packages to make the most of your stay in Philly. Learn more at thestudyatuniversitycity.com/packages.
Take Time to Talk
Although the student population is lighter in the summer months, you're still likely to find plenty of students milling around, especially in common areas like the student union. Strike up a conversation. Ask what they wished they had known before coming to school and any other questions you might have.
Make Your Interest Official
Unless there's something that absolutely convinces you it's not the right school for you, you should always wrap up a college visit with a stop at the admissions office to get your application underway. You can narrow your final selection later, but an early and enthusiastic application is a good way to up your odds for acceptance.
Remember that while getting accepted is an essential step toward the college experience you desire, first you get to decide which schools make the cut in your book. Make your college visits count so you can choose confidently.