Selena McDaniell, DDS
Carrie Muzny & Associates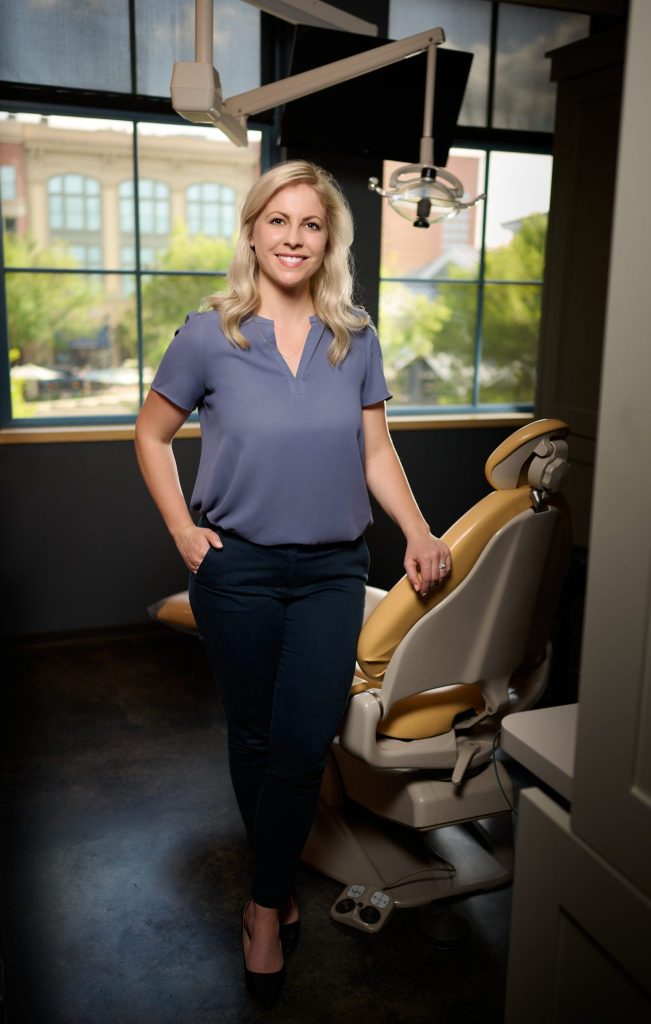 Photo by
Karina Eremina of Joy of the Moment Photography
---
Dr. McDaniell said she was only in high school when she imagined working in a dental lab. Sculpting, painting, and tailoring crowns and veneers appealed to her artistic side. When she learned she could do the same thing as a dentist, she made up her mind to pursue the career.
Dr. McDaniell graduated with honors from Roanoke College with a bachelor's degree in Chemistry and a concentration in Health Care Delivery. She went on to obtain her Doctor of Dental Surgery degree from Virginia Commonwealth University in Richmond, Virginia. From there, she continued into an Advanced Education in General Dentistry residency program at UT Health in Houston where she focused on caring for patients with complex dental needs including full mouth reconstruction, cosmetics, and restorative dentistry. She joined Dr. Muzny's practice in 2017. "It was a dream of mine to join such an established practice," said Dr. McDaneill.
Dr. Muzny said that like herself, Dr. McDaneill nurtures patient relationships, and patients sing her praises as she helps to guide a team of associates. Together, they provide patient care for anything from cleanings to implants.
"We have similar personalities. Dr. McDaniell's demeanor is peaceful," said Dr. Muzny. That rapport helps build trust. "And not only is she an excellent clinician but she's an overall great person. She's my dentist, and I'm fairly picky," she said.
As a professional, it's no surprise that Dr. McDaniell's robust training made her an expert in exactly the areas she dreamed about as a teenager.
"A lot of my strength goes towards doing veneers, crowns, bonded restorations where I'm trying subtly to enhance a person's smile," she said. The confidence she sees patients walk away with is priceless, she added.
Patients might be pleased to learn that the texture, glaze, and perfect color Dr. McDaniell applies for her restorations with an artist's eye can be accomplished quickly as well as beautifully. A crown is often created and placed inside of two hours, said the doctor. Especially for apprehensive patients nervous about the dentist, that can make a world of difference.
Sedation is also available as a safe treatment option for those who would prefer to be under anesthesia during a root canal, extraction, or oral surgery, for example. At Carrie Muzny & Associates, patients are offered the sedation with full assurances for comfort and safety to help quell patient anxiety during complex procedures.
The technology in the office truly sets them apart, said Dr. Muzny. She said the office is constantly investing in new equipment to enable them to deliver the highest possible care with the utmost comfort.
"I love that everyday is a new day," she said. "I see a wide variety of patients that I love interacting with." She went one step further, adding that the entire dental team at CM&A genuinely looks forward to working together. Dr. Muzny agreed.
---
CONTACT
MARKET STREET
9595 Six Pines Drive, Suite 6260
The Woodlands, Texas 77380
(281) 298-2205
CarrieMuznyDDS.com