Nancy L. Rommelmann
Nancy L. Rommelmann, PLLC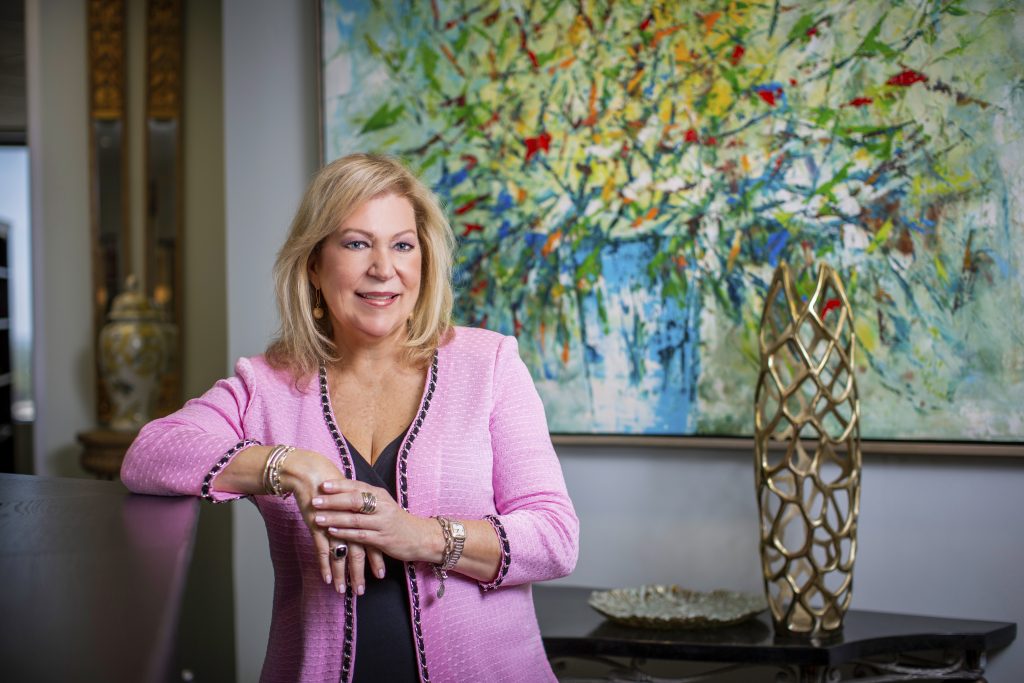 Photo by
Kelley Sweet Photography
---
Nancy Rommelmann won the Living Magazine's Reader's Choice Award for Houston's Award-Winning Family Lawyer in 2020, 2021 and 2022. She has had a boutique family law practice for more than 35 years, and in that time has established a tradition of excellence. Nancy is recognized for her professionalism, integrity, compassion, and experience, having represented clients in a wide variety of family law matters, including high net worth complex divorce cases, highly contested child custody proceedings, and cases involving fraud, hidden assets, and waste.
Leadership includes guiding, directing, teaching and mentoring for Nancy. This can take the form of working with less experienced attorneys and mentoring law students, the latter of which she has had an opportunity to do in part due to the fact that her son, Matt, has followed in her footsteps and has recently obtained his law degree as well. Making the time to guide and direct is an integral part of her practice at this stage of her career.
Upon receiving her J.D., Nancy broke into a sprint and hasn't stopped since. She worked as General Counsel for both Phibro Oil and Gas in Houston, and later Daewoo Shipbuilding and Marine Engineering Co. at their South Korean offices, all before the age of 29.
In discussing her law practice, she observed that when a person is in the midst of family law proceedings, it can be a very trying time marked with uncertainty for a family, children, and finances. Nancy encourages making an appointment with her for a consultation even when contemplating litigation in a family law matter, whether that is a divorce, modification of a prior order, adjudication of paternity, or other family law related matters.
"During the consultation, I will explain the applicable family laws in Texas, focus on the client's particular set of circumstances, and determine how best for them to proceed. I will explore the possibility of reconciliation in a divorce case, explain possible outcomes, and help develop a plan that is crafted with care, considering a client's needs now and, in the future, and that of children, if children are involved in the case. Care is also taken to insure that pets in a family are given proper consideration. I offer straight answers to tough questions." Nancy explains.
"Divorce can be one of the most trying times in a person's life that can be marked by many changes in a short period of time," Nancy says. "My goal is to focus on the specific needs and desires of the client and to customize a plan tailored to attain those goals. I try to help mitigate the harmful emotional and financial effects of divorce for my clients and to provide the best outcome for them and any children involved."
Skilled in the Courtroom, Strategic Negotiator
Nancy is an experienced litigator and negotiator. Most courts require mediation of a case before it goes to trial, so it is important to hire an attorney with the skillset and strength in both of these areas. Nancy's years of experience have honed these skillsets that benefit her clients.
Certified in mediation and trained in collaborative law, Nancy not only provides legal advice as a family law attorney but works to posture a case, so settlement is a likely outcome when possible.
"If parties can reach an agreement through negotiations, we can settle a family law case without going to court. Successful mediation often results in lower legal fees as well as less emotional trauma compared to a courtroom battle," Nancy explains.
Nancy Rommelmann moved her boutique family law firm to the Memorial area over ten years ago and was previously located in the heart of the Galleria area for many years. She is a highly-skilled, award-winning attorney who focuses on family law matters, including complex family law cases involving high net worth estates and contested custody cases.
She has been consulted by and appeared on local media, has been a monthly contributing columnist in several magazines for over nine years covering the topic of family law. She was voted Best Attorney in Memorial in 2020, 2021, and 2022, garnering a Living Magazine Readers' Choice award. She is blessed with three adult children, two grandchildren, is active in the community, and believes in a life involving faith in God and service to her family, community, and practice.
If you are considering divorce or have questions about divorce or other family law matters, schedule a consultation with Nancy Rommelmann. She will help you navigate through the uncharted waters in your family law matter, educate you about the legal process, mediation, and other options available to you to protect yourself and your children, and discuss the next steps moving forward with your divorce process.
Divorce Planning

Divorce

Child Custody

Child Support

Complex Property Division

High Net Worth Divorce

Parental Relocations

Post-divorce Modifications

Paternity and Parental Rights

Visitation Rights

Grandparent's Rights

Pre/Post-marital Agreements

Adoptions

Collaborative Law

Mediation and Arbitration

Custody of Pets

Wills and Probate Matters
---
CONTACT
Memorial City Plaza – Tower Two
820 Gessner, Suite 1630
Houston, Texas 77024
(713) 622-3000
AttorneyNancyRommelmann.com