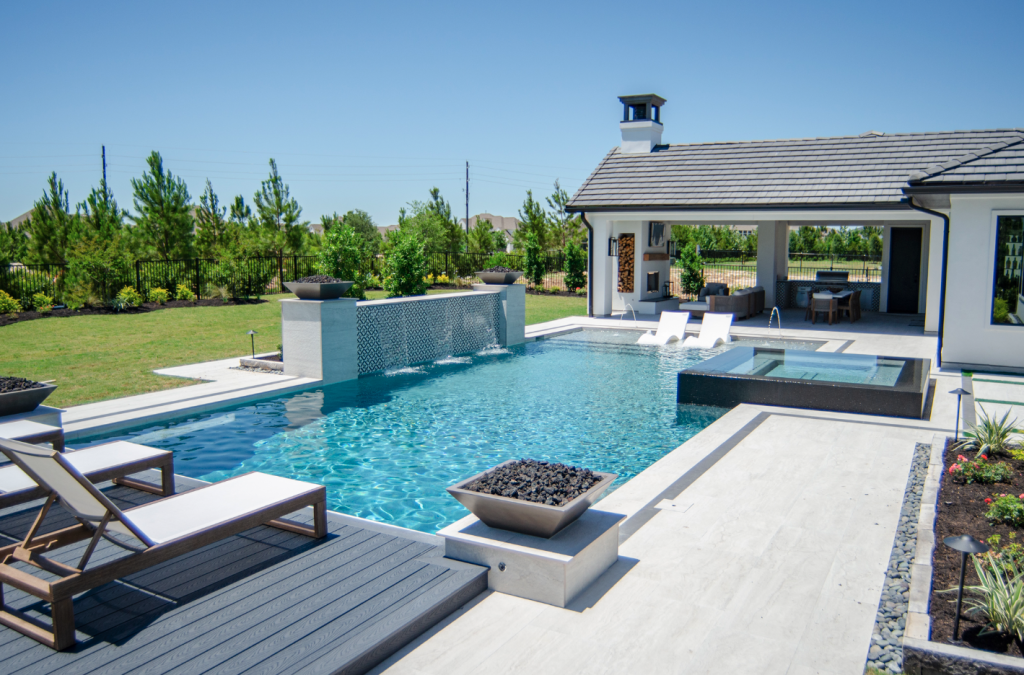 By Annette Brooks
---
What's the best and easiest way to survive Houston's hot, humid weather? It's having a pool right in your own backyard. And when you're enjoying those 60-degree days in January, nothing beats soaking in your heated outdoor spa.
No company is better equipped to design and build your custom pool than family-owned and operated Cypress Custom Pools. Owner and President Brian Whitlock has specialized in luxury custom pools and outdoor living areas that reflect his client's personal lifestyle for more than 25 years. He and his team have the experience and skills to realize your vision for your perfect pool and backyard retreat.
Equally important, clients can trust and count on Cypress Custom Pools. "Pool builders come and go in this area. We're not just a pool builder, but a pool company with an in-house sales and support team and well-trained, professional project supervisors," Brian says.
"We want you to feel comfortable hiring our team to design your swimming pool. Our 25 years of experience in the industry enables us to provide the level of expertise and service our customers know us for. Our work speaks for itself. If you value professionalism, honesty, friendliness, and creativity, there is no better place to trust," says Brian.
Reflecting Your Style and Current Trends
Brian and his team design pools with your style in mind. They're experts at assessing your property's dimensions and creating a pool that both meets your needs and complements your home. The consultation is collaborative and engaging, and they keep you informed every step of the way during construction.
"We listen to our clients, brainstorm with them, then go through options and plans that include a 3D rendering of your backyard with the complete project," Brian explains. He notes that some of the current pool trends he's seeing are clean, simpler, contemporary designs with geometric shapes but emphasizes that as a custom pool builder, he will bring your dreams and goals for a pool to life. Nothing is cookie-cutter.
Rave Reviews
Clients like Mollie are thrilled with their experience with Cypress Custom Pools (CCP), including their customer-friendly process. Here's an excerpt from her glowing online review.
"We could not be happier with our pool and experience with Cypress Custom Pools. This is the second time we have built a pool. Our first experience was with another company. Comparing that experience to our experience with CCP is night and day. We will always recommend CCP to anyone looking for a pool construction company. You cannot beat the service and quality of work you get with CCP. Thank you, Lauren, A.J., and the team at CCP for building our dream pool!"
Worried About Costs and Interest Rates Increasing? Don't Be!
Brian puts your concerns to rest. "The interest for a home improvement loan for a pool can be written off in your tax return," he explains. "Our construction prices are currently holding steady, and supply chain problems have eased up. Now is an ideal time to get started on your custom pool."
Start Planning Your Custom Pool Today
Build a lifetime of memories right in your backyard. Start planning your swimming pool with the experienced team at Cypress Custom Pools as your personal guide.
Brian and his team invite you to call today to get started with their services. Visit CypressCustomPools.com for more information and check out their project gallery.
---
Contact:
12111 Spring Cypress Road, Suite D
Tomball, Texas 77377
(281) 249-9983
CypressCustomPools.com