Ashley Griggers, Kayla Bataineh, and Shell Clark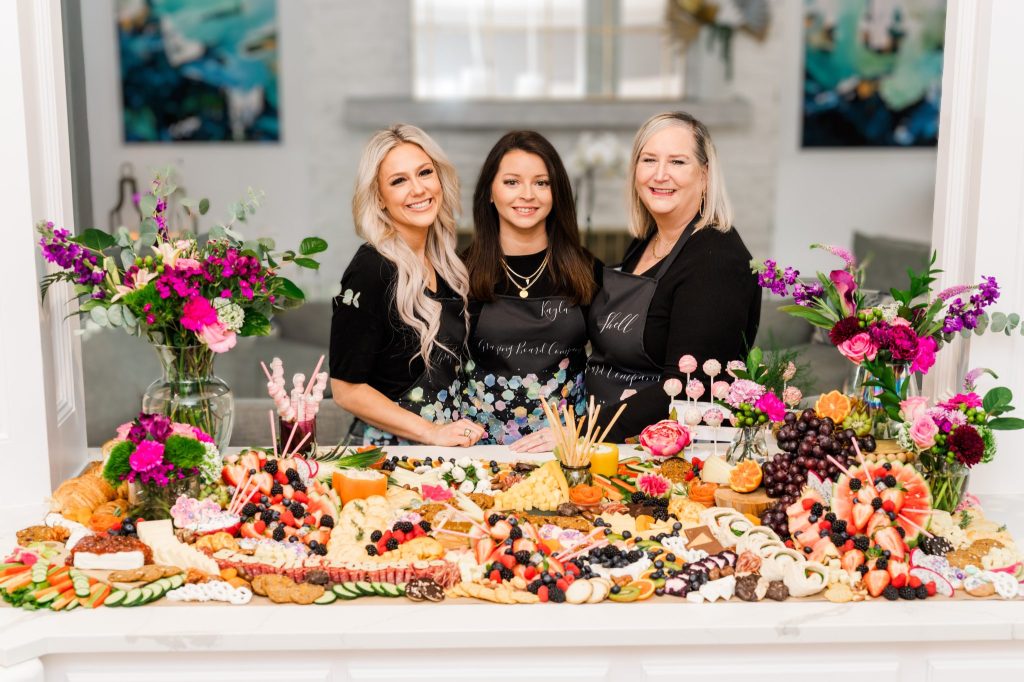 Photo by
The Teal Album
---
Since 2021, Grazing Board Company has brought joy to the community one grazing table and charcuterie board at a time. Founded by Ashley Griggers, Kayla Bataineh, and Shell Clark (Ashley's mom), the Rockwall-based company offers a variety of food options for any personal occasion or social or corporate event.
"Grazing tables are the perfect centerpieces to any and every event since they include a little bit of something for everyone," Kayla says.
All grazing tables from Grazing Board Company include an assortment of gourmet cheeses, cured meats, seasonal fresh fruits and vegetables, nuts, hand-dipped chocolate candy, and a variety of other charcuterie-paired items that add a special individual touch to each table. Tables also include an assortment of crackers, bread loaves, and baguettes. Each grazing table offers fresh flower arrangements, foliage, and garnishes added to complement your event or theme.
If you need to accommodate allergies or dietary restrictions, Grazing Board Company can create beautiful grazing tables and charcuterie boards for your specific needs. For example, the company has done turkey pepperoni roses instead of traditional salami for pork-free requests. The company has also created keto boards and can place little signs on a table or board designating gluten-free items.
"Each board is 100% customized," Ashley says. "Our goal is to make your guests feel special and loved at your party or event. We want to take something ordinary and transform it into a work of art."
These ladies started the business initially out of a hobby. Ashley often made grazing tables at her home for every party she hosted when her friend and co-worker, Kayla, encouraged her to turn it into a business after seeing photos of Ashley's grazing tables. Shell would almost always help Ashley prepare the grazing tables that were Ashley's visions for her parties.
"It just so happens that Grazing Board Company's initials are GBC (Griggers, Bataineh, and Clark). We feel like the company was meant to be," Shell says.
When GBC first began, it was all word of mouth. They were lucky to catch the attention of Rowlett local Jen Cascavilla, who propelled their business by allowing them to set up several of their first large-scale tables for her parties and continued by spreading their name around the area. "Her home is such a beautiful backdrop for our tables, which is why we chose it for this photo," says Kayla.
The owners do what they do for the pure joy of it. "We pour our heart and soul into it every weekend," Ashley says. "We want to put a smile on people's faces."
From intimate gatherings like baby showers and birthday parties to larger events like corporate meetings and weddings, Grazing Board Company will bring the full spread directly to you. The company provides free delivery within the Rockwall area and can deliver throughout the Metroplex for a reasonable delivery fee.
GBC recommends placing your order at least two weeks before your event. Check out Grazing Board Company at Instagram.com/GrazingBoardCoTX and message to place an order.
---
CONTACT