Fatemah Mohandes, DDS, DMD
FM Dentistry & Orthodontics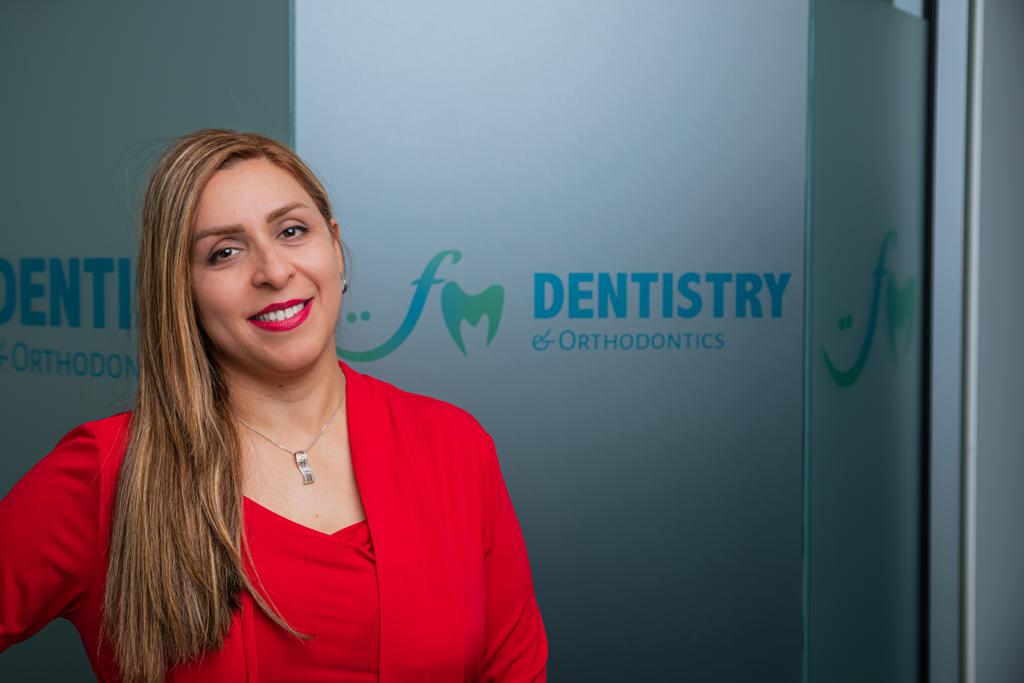 By
Meredith Knight
---
Fatemah Mohandes has a message for her patients at FM Dentistry & Orthodontics, "Smile! You're in good hands." Just walking through the doors of her elegant Katy office, you can feel the difference she and her staff have cultivated. It begins with a friendly greeting and continues throughout your dental visit as Dr. Mohandes and her team really listen to you and your concerns, answer your questions, and offer dental care that's gentle and highly personal.
Patient-Centered Care
"It's important to me that my patients feel comfortable," Dr. Mohandes said. "I have hand-selected a staff that's caring and compassionate. We treat every patient as if they're family. One of the most important things a dentist can be is a good communicator." Dr. Mohandes realizes that some patients come to her with dental phobia. The best thing she can do for them is take time to really listen to their concerns, explain in detail the procedures she's recommending, and make sure all their questions are answered.
"Removing the fear of the unknown often alleviates anxiety," she said. "I never want to proceed with any treatment until the patient knows what to expect and is ready to proceed. The patient and I are a team with their optimum oral health as our goal." An extensive menu of dental procedures allows Dr. Mohandes to tailor care to each unique patient and their needs and preferences. TVs in every operatory room help patients relax. Or they're welcome to bring headphones and listen to music. "Sometimes patients even fall asleep during their treatment," Dr. Mohandes laughed.
All Under One Roof
Dr. Mohandes has worked hard to make FM Dentistry & Orthodontics a one-stop shop where her patients can receive all the care they need in a "dental home" where they already feel comfortable. That includes oral surgery and tooth extractions when necessary, orthodontics, root canals, crowns, bridges, and dentures, as well as a wide range of restorative and cosmetic dentistry. Because of her gentle, soft-spoken nature, Dr. Mohandes has a special rapport with children and offers a carefree — even fun — dental experience for kids and special-needs patients. On the rare occasion a patient does need to be referred out, it is to a dental professional who has been carefully vetted by Dr. Modandes herself, one who shares her patient-first philosophy.
Latest Dental Technology
Advancing dental technology holds a fascination for Dr. Mohandes, and she spends many hours each year engaged in continuing education then invests in the most promising technologies she discovers. That includes the very latest intraoral scanners and most advanced X-rays so she can detect and address decay when it's still a small problem, before it has a chance to grow. Advanced intraoral cameras allow Dr. Mohandes to project onto a screen the images the camera captures inside your mouth, so you see everything she sees. The latest root canal instrumentation allows Mr. Modandes to be successful in 90% of root canal procedures. All this technology means dental care at FM Dentistry & Orthodontics is not only quicker and safer but much more gentle, successful, and precise. And for her anxious patients, Dr. Modandes offers sedation options including nitrous oxide.
Payment Options
Dr. Mohandes understands that the cost of dental care can sometimes be confusing. In addition to offering several in-office payment options to fit your budget, her staff also offers you up-front pricing information on your treatment before any treatment begins. FM Dentistry & Orthodontics is in-network with a variety of insurance plans and also offers a variety of dental financing with credit available in timeframes that fit your needs. And a friendly staff member is available to help you navigate your dental insurance and alternative payment options.
The FM Dentistry & Orthodontics team understands your time is valuable to you. That's why they offer extended office hours on select days, dental appointment reminders, and a quick turnaround time on calls and appointment requests. If you have questions or concerns about your treatment, they're always happy to respond and answer your questions over the phone or via email.
Meet Dr. Mohandes
With her love for art, science, and the medical field, Fatemeh Mohandes knew a career in dentistry would be the best way for her to combine her interests and spend her work life helping people and relieving their pain. After earning her dental degree and practicing dentistry in Australia for two years, Dr. Mohandes returned to school for an additional four years earning her Master of Science degree. She earned her Doctor of Dental Medicine (DMD) degree from University of Pennsylvania and has been a practicing dentist since 2011.
Dr. Mohandes loves spending time with family, friends, and her community. Her favorite hobbies are swimming, exercising, traveling, listening to music, and watching movies. A firm believer in giving back whenever she can, she also volunteers her time educating students in local schools about dental health and at local health fair events. Her son, Ali, enjoys swimming, basketball, taekwondo, and reading chapter books. Her daughter, Laya, likes painting, dancing, and playing the piano. Together they keep their mama happily busy.
Meet Your New Family Dentist
Dr. Fatemeh Mohandes puts her heart and soul into comprehensive family dentistry, promoting the importance of good oral health with patients while providing quality care in a comfortable and inviting setting. She emphasizes the pivotal role a smile plays in a person's quality of life, self-confidence, and happiness. Since Dr. Mohandes is a great communicator, she takes time to explain the procedure and answer all questions. Therefore, she can alleviate patients' fears and increase their knowledge about dentistry. Her gentle touch is also much appreciated.
"When it comes to choosing a dentist for yourself and your family, I know you have options," Dr. Modandes said. "Personalized, gentle, comprehensive patient care is our number one priority. We'd love to partner with your family for a lifetime of optimum oral health."
Family dentistry

Exams and cleanings

Restorations

Root canal therapy

Esthetic dentistry including veneers

Teeth whitening

Dental emergencies

Nitrous oxide and sedation dentistry

Orthodontics

Invisalign official provider

Dentures and partials

Extractions and surgeries

Dental implants
---
CONTACT
6420 FM 1463, Suite 200
Katy, Texas 77494
(281) 454-3152
FMDentistry.com