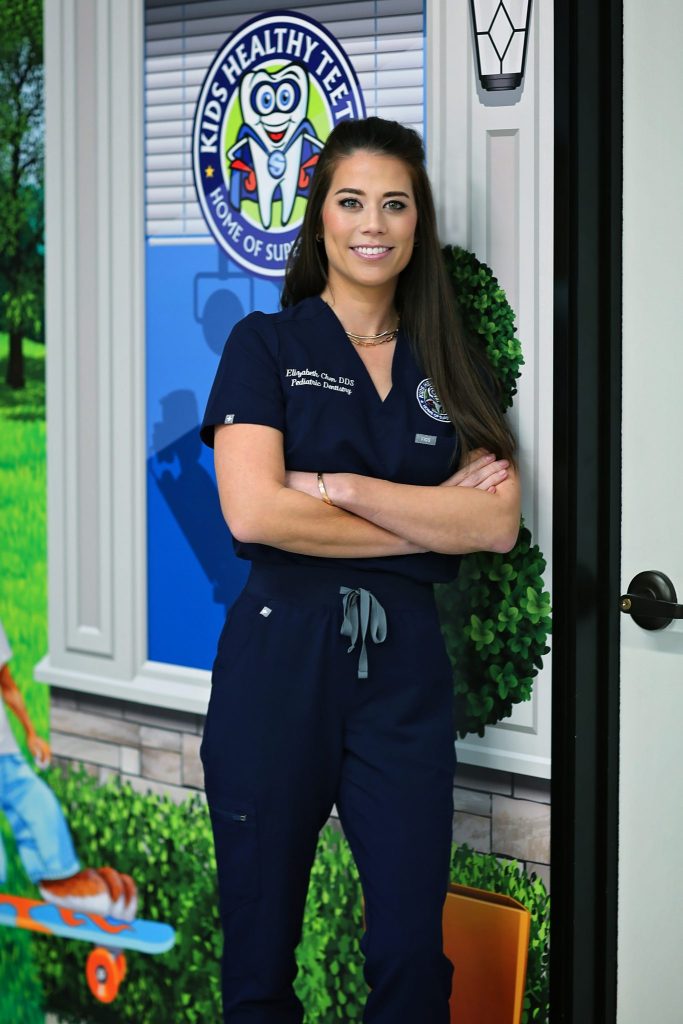 By
Melissa Gautier
| Photos By
Karen McConaughey
---
Dr. Elizabeth Chen is a board certified pediatric dentist and the proud owner of Kids Healthy Teeth in Katy, Texas. Since 2013, Dr. Chen has devoted her dental career to children and young adults, providing continued excellence and quality care to her patients using the most innovative treatments and technology available.
Aspiring to a career in dentistry came naturally for Dr. Chen. Every member of her immediate family is a practicing dental specialist. Her mother is a pediatric dentist, her father is an oral and maxillofacial surgeon, and her brother and sister are both orthodontists.
Family-Oriented Pediatric Dental Practice
Dr. Chen's certifications and meticulous dental work have facilitated her rise as a prominent pediatric dentist in the Katy community. She is involved in numerous dental organizations that promote research, education, prevention, and restoration of various dental diseases. Her friendly, professional staff of 12 women supports Dr. Chen in caring for her many patients, from newborn to 26 years of age.
The Kids Healthy Teeth team is committed to delivering strong, beautiful smiles to patients through preventative care and dental education. "My practice is like a family," Dr. Chen says. "The focus is always on the patient, giving both parent and child all the attention they need and building a rapport that lasts through adulthood."
Mentoring Students
High-school juniors and seniors interested in dentistry can shadow Dr. Chen or become an intern in her practice. Additionally, she mentors at least one student per year through Katy Independent School District's Miller Career and Technology Center's Dental Assisting Program. The student interviews for the dental assistant position, and if chosen, will work as a paid, part-time dental assistant. "It's a great opportunity for them with hands-on learning. They get to see how a real dental practice functions."
Education and Credentials
Born and raised in Houston, Dr. Chen attended high school at St. Agnes Academy. She went on to study at St. Edward's University in Austin, Texas, where she played collegiate soccer. She returned to Houston to attend dental school, receiving her Doctorate of Dental Surgery from the University of Texas School of Dentistry and graduating salutatorian in 2013. She immediately began her residency in pediatric dentistry at the University of Texas School of Dentistry, graduating with a postdoctoral certificate in pediatric dentistry and a Master of Science in dentistry in 2015.
Dr. Chen is a parishioner at St. Vincent de Paul. She is the mother of two boys, ages two and four. In her free time, Dr. Chen likes to play soccer, run, and work out. She enjoys traveling to places old and new, eating delicious food, watching movies, and creating super smiles for her patients.
Winner: Living's Best Of Katy Reader's Choice in Pediatric Dentistry, 2017-2022
Tooth restorations

Dental X-rays

Dental sealants

Fluoride

Nano-hydroxyapatite

Sedation dentistry

General anesthesia

Laser dentistry

Post-treatment care

Mouth guards

Space maintainers

Emergency care
---
CONTACT
20660 Westheimer Parkway
Suite A
Katy, Texas 77450
29818 FM 1093
#200
Fulshear, TX 77441
(281) 579-8700
KidsHealthyTeeth.com