Deonna Fulfer Osborn, CPA
Fulfer and Associates, Inc.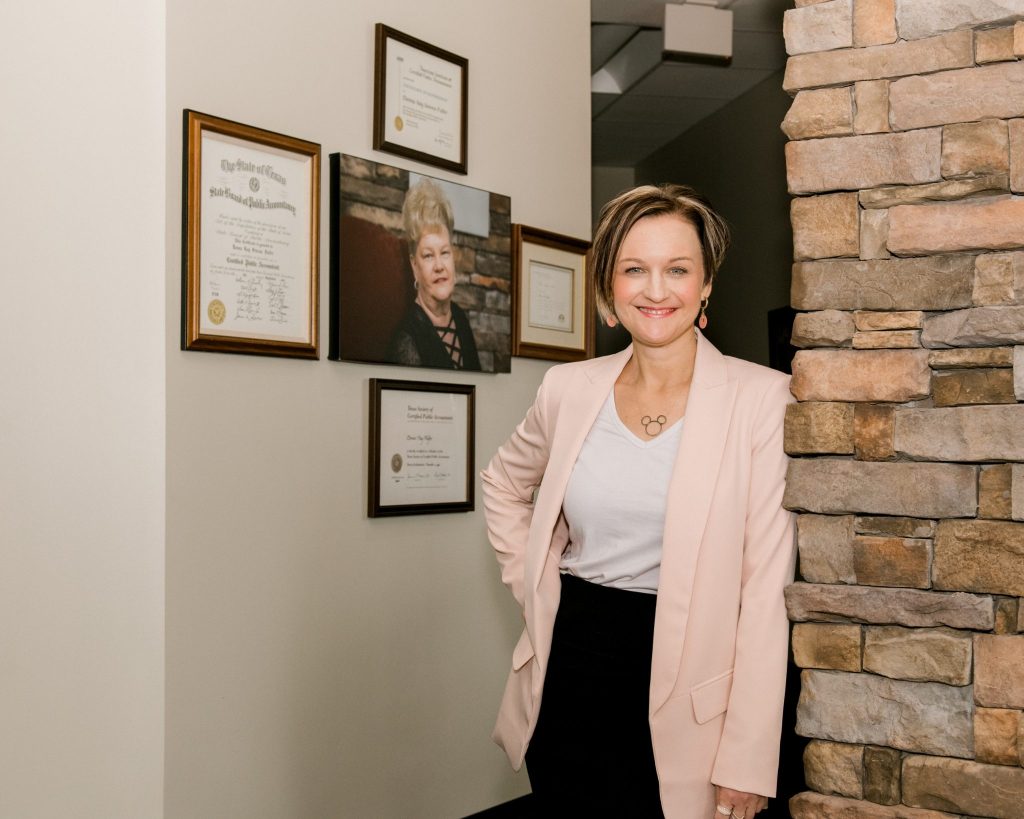 By
Meredith Knight
|
Photo by
Dallas McNeal Photography
---
Deonna Fulfer Osborn has some big shoes to fill — and she knows it. "My mom used to tell people during job interviews, 'I'll never ask you to do anything I haven't done before, but keep in mind my first job was emptying ashtrays and sweeping floors.'" Indeed, Deonna's mom, Donna, not only went to college after starting her family but she accepted a position at a CPA firm when it was still very much a boys club.
"She worked her way up from entry level to eventually buying the firm," Deonna said. "Not only were there very few women in accounting, but an all-women CPA firm like we have now was almost unheard of." Deonna grew up around the office begging for little jobs like shredding paper and answering phones. One thing she didn't want to do though was become an accountant. It was far too boring. Instead, she completed her bachelor's in biomedical science and her master's in physical therapy. She practiced as a PT for a time until life circumstances caused her to reevaluate things.
She went to work for her mom, not on the accounting side of the business but on the investment side. It fit her well. She loved working with men and women helping them make savvy investments, plan for their retirement, and plan for their children's college education. "Then Mom suggested I learn the accounting side of the business," Deonna said.
So, just like her mom before her, Deonna found herself a young mom heading back to college. Fifty-six classroom hours and one CPA exam later and not only was she positioned to take the reins from Donna, when the time came, but she realized she truly enjoyed accounting. For the next 19 years, she was blessed to work alongside her mom and begin each day over a cup of coffee talking about Deonna's daughter, Hope, the light of both of their lives and the business day ahead. Sadly, Donna passed away last year.
"This is the first tax season without Mom," Deonna said. "It's been hard, but she's definitely helping me from afar. We also have the most amazing staff — women of all ages and stages of life who genuinely enjoy working together — and the most amazing clients. We embrace a family environment and strive to treat both our staff members and each of our clients like family."
In fact, Fulfer and Associates, Inc. works with multiple generations in some families. Deonna and her team handle individual, business, trust, and estate taxes as well as bookkeeping, payroll, investment planning, and any accounting, tax planning, and financial services their clients require. "If it has to do with money, we do it," Deonna said.
When not on the job, Deonna is a proud mother of a second-generation Texas Aggie and a lifetime member of South Garland Baptist Church. She loves to read, write, volunteer at local schools and nonprofits, and do "all things Disney."
---
CONTACT
331 North Fifth Street
Suite 100
Garland, Texas 75040
(972) 272-8567
FulferandAssociates.com