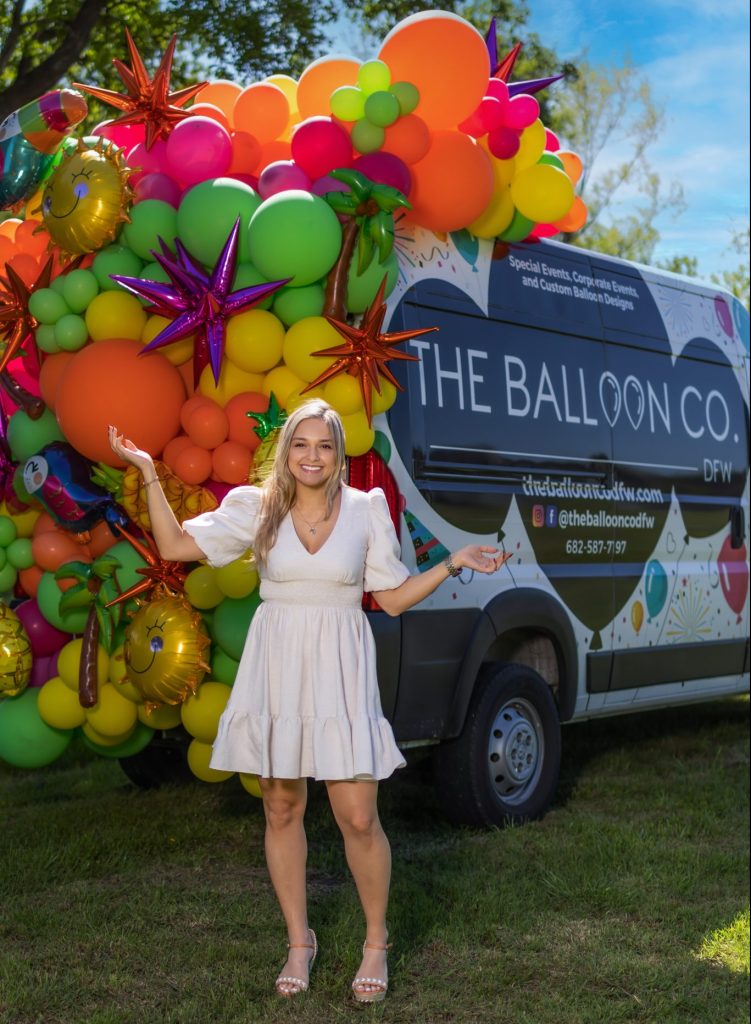 Photo by
Kenny Richard Photography
---
The gift of creativity reinforced with a spirit of exceptional work ethic has always influenced Anabella Lopez.
Lopez has always had an eye for event design. While in college, she served as the social vice president of the school and was able to add her magic touch on all essential university events. She then went on to graduate with a degree in psychology and education and became an elementary teacher. On her third year as an elementary teacher, she had an idea of a business that would create custom balloon designs for any event. In December 2020, The Balloon Co. DFW was born and was quickly gaining a steady flow of clientele. This was happening all while Lopez was working full time as a real estate agent, as well as obtaining her graduate degree at UNTD in clinical mental health counseling.
After almost three years in business, The Balloon Co. DFW proudly serves every corner of Dallas-Fort Worth and surrounding areas. They provide custom balloon designs for corporate events, personal events, grand openings, and school district events. They also offer premium balloon arrangements for photo walls, custom brand logos, and client gifts. They are the perfect addition to special occasions like grand openings, weddings, birthdays, graduations, holiday parties, and Greek-life events. Lopez is honored that her personal creations can be part of her clients' major life moments.
An immaculate attention to detail is a non-negotiable for Lopez, which is what sets The Balloon Co. DFW apart from its competitors.
This includes considering every aspect of the experience to match a client's desired theme from themed balloons to the color standpoint. Lopez and her staff even spend 5-10 minutes after completing the balloon installation to ensure everything is perfect. They do things like clean the balloons with lint rollers to make sure there's no pet hair or any other debris on the balloons. They also tape back extra foil on the balloons to ensure everything looks perfect and clean, something they do for every job.
This is how they can consistently exceed the client's expectations. She has fine-tuned her process down to a science. From creating the design to the installation to the clean-up, The Balloon Co. DFW can complete their job quickly and precisely.
Lopez credits her parents for instilling a strong can-do spirit in her and her siblings at a young age. She has carried this mentality in all her endeavors which has led to success in The Balloon Co. DFW, her real estate business with Hanna and Cook Realty LLC, and in her studies at UNTD. It's also a spirit she strives to pass on to others. She emphasizes that it is "important for people to know they're able to accomplish anything no matter the age." A piece of advice she gives to aspiring entrepreneurs is simple yet resounding, "you just have to take the chance and believe in yourself."
Contact The Balloon Co. DFW to make your life events memorably enchanting.
---
CONTACT
(682)-587-7197
TheBalloonCoDFW.com
Instagram.com/TheBalloonCoDFW
[email protected]