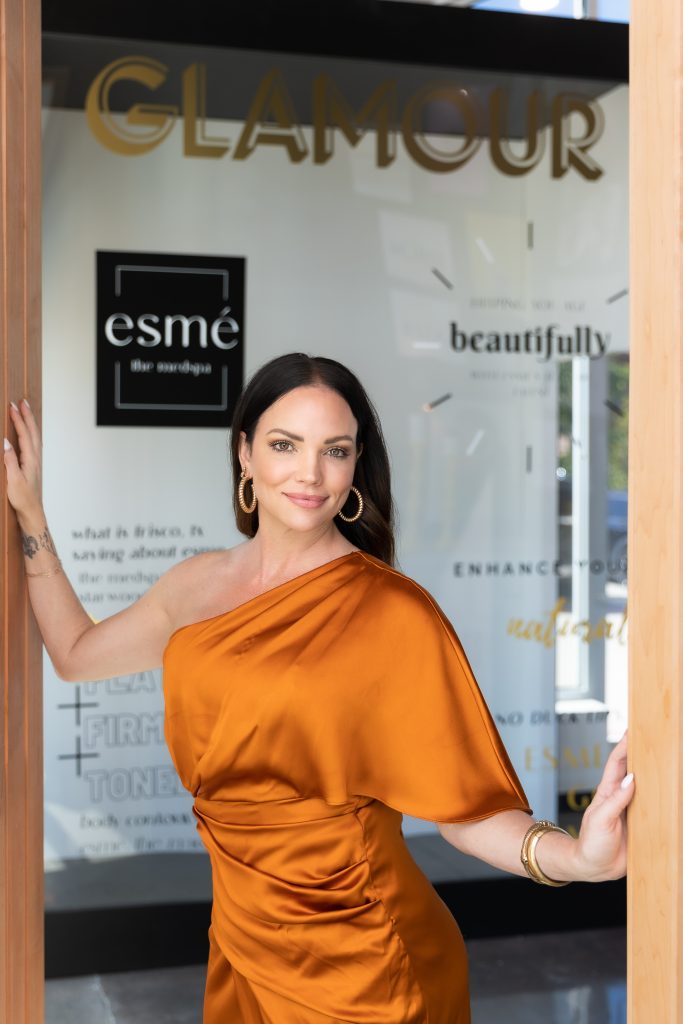 Photo by
Kenny Richard Photography
---
Amy Collins is a leading woman whose success has been achieved through personal experience and a desire to share that experience with others.
During high school, Amy worked at a spa in her hometown of Shreveport, Louisiana, where the attention and education she received from the spa owner set her on a course that would eventually lead her to her current career as owner/founder of esmé, the medspa.
Amy gained first-hand knowledge about the importance of skin care and products that promote, correct, and maintain a person's natural beauty during that initial foray into aesthetics.
"As a young girl, I really couldn't afford the medical grade skin care that we used in our spa," said Amy, "so my boss let me purchase the products over time, which allowed me to appreciate their value and be empowered by the results. Then, I could offer that personal perspective to clients."
Amy is self-taught in business through personal studies and other mentors who helped shape her drive and determination to achieve her goals.
Years later, as a medspa client, Amy received another opportunity that changed the course of her life.
"Since that first spa job, I diligently cared for my skin," she explained, "and at the medspa where I was a client, I was one of their best promoters. The owner wanted to bring me on as manager in hopes of turning the spa around. Initially I resisted, but because I love a challenge, I accepted the position. Each and every day I treated that spa as if it was my own."
After 60 days, the owner offered to bring Amy on as an equal partner. Her energy and passion had completely changed the vibe, the clientele, and the client experiences.
"The patient experience is what truly drives me daily," said Amy, "esmé clients know that first we listen to them, hear their concerns, and care about them. They know they can trust us."
As a medspa owner, Amy's commitment to natural beauty in an industry overwhelmed by vanity is a cornerstone. "esmé" is an acronym for "enhancing skin with medical aesthetics" and Amy's mission is enabling clients to embrace their own beauty by enhancing, rather than changing their looks.
One of the many ways the staff at esmé achieves this is by correcting damaged skin, including acne scarring, another example of Amy's personal experience.
"My father suffered his entire life with the results of the acne he had as a teen," Amy shared. "Now I want to help other teens overcome this problem."
As part of her mission to give back, Amy is launching a program called "F.A.C.E.," (facial acne correction endowment), where she and her team of talent will treat 20 high school students each year who suffer with acne at no charge.
"The impact of acne on my father was devastating," said Amy, "and now I want to give back in his honor. If I can help just one teenager feel stronger and more confident that makes it all worth it."
Along with acne treatment and traditional skincare, esmé offers Morpheus8, facials, Laser treatments, body contouring, Microneedling, Botox, fillers, and more.
---
CONTACT
6363 Dallas Parkway
Suite 101
Frisco, Texas 75034
(469) 457-4855
esmemedspa.com