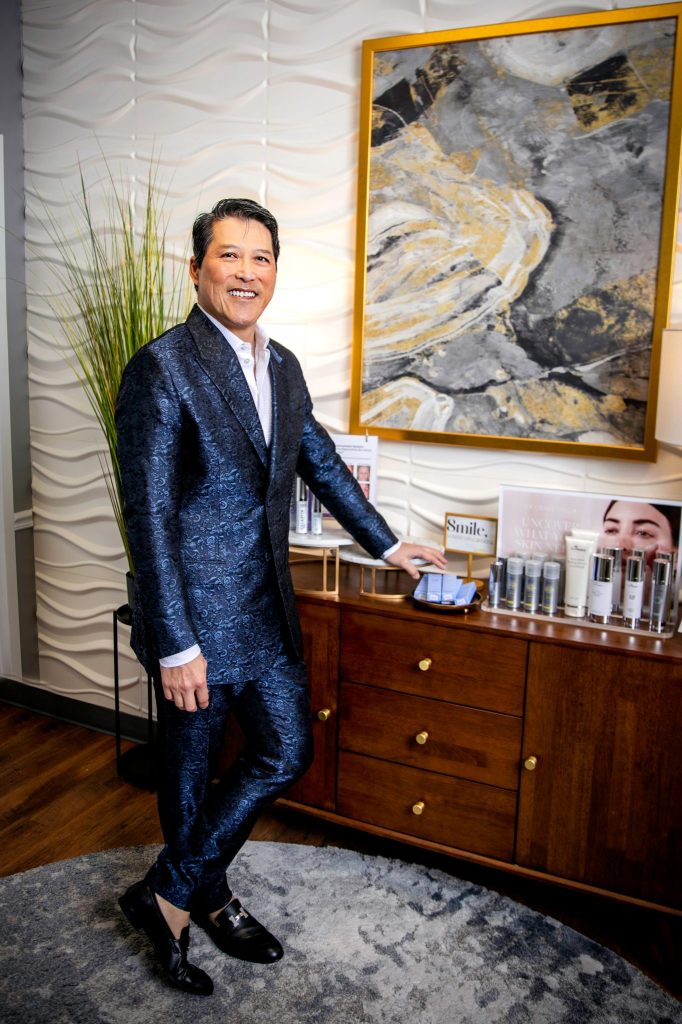 By
Meredith Knight
| Photos by
Kelley Sweet Photography
---
Quyen Trinh had his life all mapped out. He'd study engineering, get his degree, and seize the American dream. After all, he and his family had already overcome formidable odds just getting to this country. Fleeing Vietnam during the fall of Saigon with little more than the clothes on their backs, they ended up in Guam and eventually made their way to California. For the rest of his childhood, Quyen watched his parents work grueling factory jobs just to keep food on the table and a roof over the heads of their four kids. Thanks to their unwavering dedication and unrelenting work, three of their children became physicians and one a successful Wall Street executive.
It took a major-life event to get Quyen off his engineering track though. That event came in the form of a cancer diagnosis for his mother, a disease that sadly took her life and later the life of his sister, Dr. Trang Trinh. Throughout his mother's cancer treatment, Quyen was up close and personal with the ravages of the disease and the effect it had on his mother. After experiencing firsthand the state of healthcare as well as learning more about the importance and benefits of preventative care he made up his mind. He'd abandon engineering and pursue a career in medicine so that he could make a difference in other's lives educating others to get regular checkups and putting their health first.
That decision has served the Kingwood, Katy, and Houston communities well for almost 30 years by improving the lives of countless patients. Choosing between becoming a traditional Doctor of Medicine (MD) or a Doctor of Osteopathic Medicine (DO), Dr. Trinh was drawn toward the DO philosophy of holistic care. Just like MDs, DOs complete rigorous medical training and residencies, pass examinations and boards, and are qualified to practice medicine, prescribe medication, and perform surgery in all 50 states. But DOs must complete an additional 200 hours of medical training focusing on the musculoskeletal system, the body's interconnected system of nerves, muscles, and bones.
Now as a board-certified family practitioner and managing physician of Mason Park Medical Clinic, Dr. Trinh treats patients of all ages always placing an emphasis on the self-regulating, self-healing, and self-repairing ability of the body, viewing a patient not just as physical symptoms but as a whole person, with a unique lifestyle, diet, fitness, mental health, and environment, considering all the systems of their body, how they operate in unison, and how a disturbance in one system can alter the functions of the rest of the body. This holistic focus works best when he and his team slow down, really listen to their patients, and get to know them individually. For him, it's the best part of the job.
In 2019 after 25 years in practice at Mason Park Medical Clinic, Dr. Trang Trinh lost her long battle with cancer. Dr. Quyen Trinh stepped into his sister's shoes as managing physician, continuing her legacy of comprehensive, holistic care for the families of Southeast Texas. His wife, Angela, joined him leaving her executive position at a Fortune 100 company. Together they have expanded the practice to include a state-of-the-art med spa, medical weight-loss, and other services. After only one year, LUXE Medical Aesthetics has been voted Best Med Spa by readers of Living Magazine.
Every day, Dr. Trinh sees the positive impact a more holistic and comprehensive approach is having on his patients' overall well-being. Rather than immediately prescribing medication, he works hand-in-hand with his patients to identify the root cause of their illnesses and develop a customized treatment plan unique to each patient. For him, the best day is any day he hears from a patient how his care has changed their life or the life of someone they love. "I never want to wonder whether we could have caught a condition sooner," Dr. Trinh said. "Patient education is a big part of my job. With it I can empower my patients to be their own best healthcare advocate. By partnering in their wellness journey and being proactive, we can take the right steps to not just find problems sooner but prevent chronic conditions from developing in the first place."
Dr. Trinh is joined in his practice by Certified Physician Assistant Jenny Phan, Certified Physician Assistant Rumesa Majid, Certified Physician Assistant Vanessa Robalino, and Board-Certified Nurse Practitioner Alexandria Enoch. "They share my patient-first philosophy and emphasis on a patient/provider relationship that's solid and trustworthy," Dr. Trinh said. "At a time when many patients and doctors are complacent with the current quality of care, they join me in working closely with our patients to customize treatment plans that help them live longer, healthier, more active lives. I honestly couldn't ask for a better, more dedicated healthcare team from the front desk on back."
Dr. Quyen Trinh graduated from Kansas City University of Medicine and Biosciences and completed a family practice residency at the University of Texas Health Science Center. Before taking over at Mason Park Medical Clinic in Katy, he was a practicing physician and partner with Kelsey-Seybold Clinic for almost 20 years. Dr. Trinh is fluent in English and Vietnamese. When not on the job, he's a family man spending time with his wife, Angela, and their three kids, Ashley, Brandon, and Ryan, four rescue pups, and two rescue cats. Fervent "foodies", he and Angela love trying new restaurants and new cuisine and Dr. Trinh fits in a little golf and fast cars, whenever he can. Find out more at MasonParkMedical.com.
Recognized by NCQA for Diabetes Management and Care

Recognized by NCQA for Heart/Stroke Management and Care

Awarded TX Top Docs for 2020, 2021, 2022, and 2023

Voted Best Family Practice in Living Magazine's Best of Reader's Choice 2022

Voted Best Sleep Doctor in Living Magazine's Best of Reader's Choice 2021 and 2022

Awarded America's Best Doctor in 2021 and 2022

Awarded Texas Magazine's Top Doctor 2021 and 2022
---
CONTACT
21770 Kingsland Boulevard
Katy, Texas 77450
(281) 646-0740
MasonParkMedical.com
LUXE Medical Aesthetics
TheLuxeEffect.com
(833) 998.LUXE
Located inside Mason Park Medical Clinic