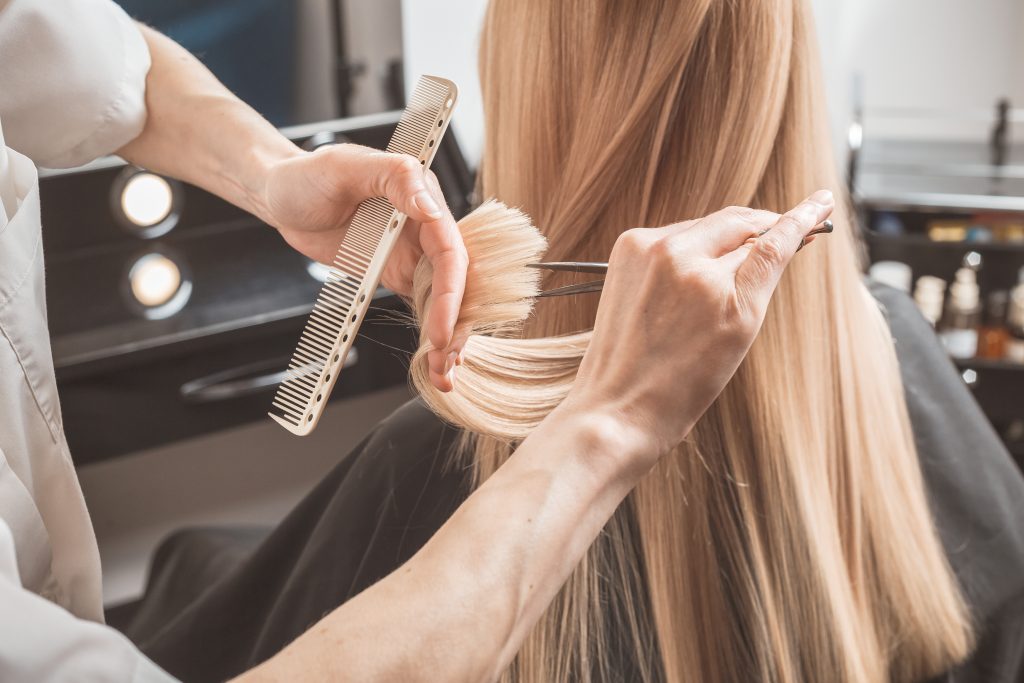 Story by Larue Gillespie
Finding the right salon and stylist for your hair can be nerve-wracking. Your last stylist knew you so well and never chopped off too much hair or dyed it fire-engine red when all you wanted was a hint of crimson (or maybe they did, and that's why they're your last stylist now). For whatever reason, you're in the market for something new. Maybe you've tried a salon near you for the sake of convenience, only to walk out with a hairstyle that leaves you in tears. But you can't cut your own hair, and applying color from a box is oh-so-tedious. The bottom line is that you've got to find a qualified professional, STAT. Here's how.
One of the best ways to find a salon and stylist is by looking at the people around you. Have a co-worker who could give Jennifer Aniston's famous tresses a run for their money? Do you have a friend whose coiffure you envy? Does the barista at your fave coffee shop boast lustrous locks you wish to emulate? Don't be shy. Ask them where they go. Chances are they're going to gush about their stylist and recommend them. Nothing beats a glowing recommendation!
Don't have anyone around you like that? Or did you move to a new area where you don't know that many people? Don't worry. The web is your new best friend.
Right at your fingertips, you can get dozens of hits within seconds. Be as specific as you need to be when searching and include your community. Whether you need someone who's great with color or who specializes in extensions, you'll be able to find a few suggestions.
Tech-savvy stylists have social media accounts like Instagram and Twitter and personal websites where they post pictures of their work. So be sure to check social media out as well.
You want to find a hairstylist who has experience working with hair like yours. Call ahead and see if you can take a few minutes to talk shop with someone who knows how to do what you're looking for. Do they seem experienced and knowledgeable? Or have they never heard of what you're asking for in their life?
As far as the salon goes, there are some things to keep in mind. Cleanliness is a big one. If the hair is piled up on the ground and dye dots the walls, don't go. Professionalism is another. Is the receptionist courteous and knowledgeable? Is the stylist attentive, and do they listen to your needs? You can find out a lot about a salon by scheduling a consultation before you get anything done.
Don't just trust anyone with your hair. Do your research, take your time, and make an educated choice. If it doesn't work out, don't beat yourself up. Just try again. Eventually, you'll find that rare stylist — the one you hope you won't be needing to replace any time soon.