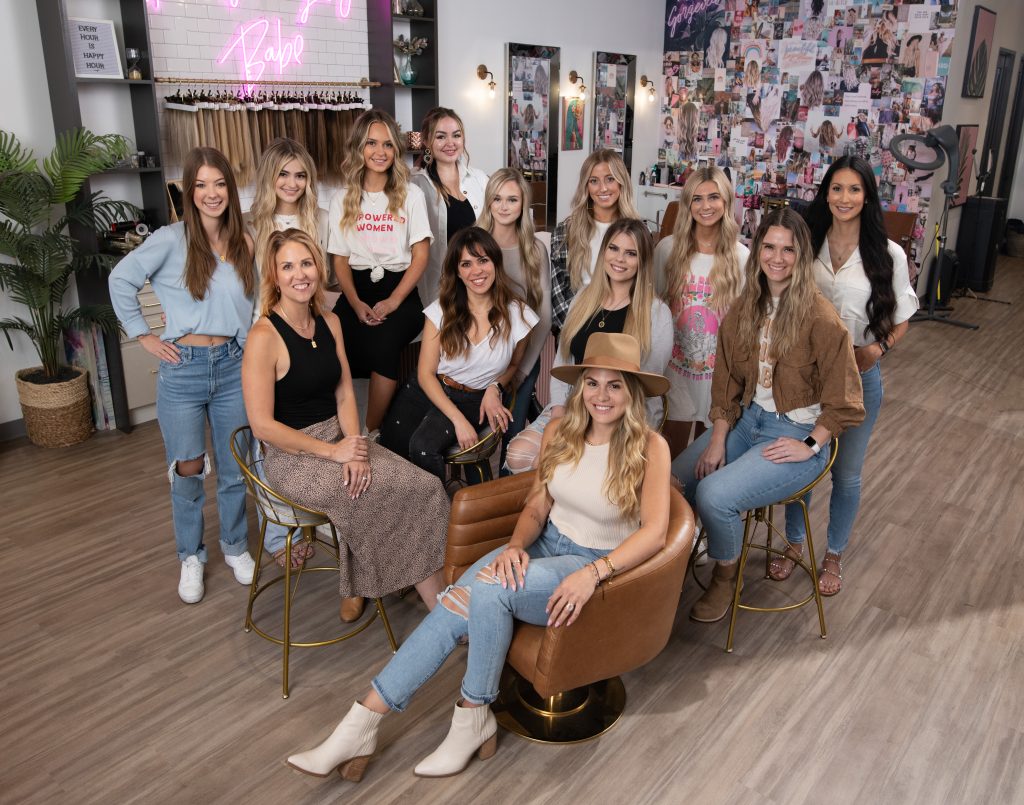 BY ANNETTE BROOKS
Being the best comes naturally to Rachel Butler, owner and founder of The Beauty Lounge, which was recently selected by Living readers as the Best Hair Salon in The Woodlands the second year in a row. But Rachel, a hair extension lead educator and certified specialist, didn't create The Beauty Lounge to win awards. She grew the business "organically" and simply followed her dreams, doing what she does best — being creative and giving her clients the uplifting feeling that comes from looking good and feeling beautiful.
Not Your Typical Salon
The Beauty Lounge has doubled its space and expanded its services since opening in 2015. Today, it's an upscale salon, spa, and boutique in one amazing, convenient location.
The menu includes on-trend hair color and styling along with all-inclusive signature looks and hand-tied hair extensions, an array of services for lashes and brows, and makeup and styling. But that's not all. Face and body services include facials, microneedling, dermaplaning, peels, body and Brazilian waxes, and organic customer tans. A wide selection of high-quality, salon-grade haircare products are available for purchase, and your stylist can recommend which products to consider based on your individual needs.
Last but not least, the boutique is a great place to pick up a fun new outfit or wardrobe piece. From hats, graphic tees, and pullovers to skirts, tops, lacy bralettes, and dresses, there's something for everyone.
"Busy clients stop in for haircare or skincare and pick up a great outfit at the same time," Rachel explains. "It's so convenient, and we have a unique selection of apparel, hats,
and jewelry."
Friendship and Camaraderie
Rachel nurtures an inclusive team culture based on honesty, integrity, and giving it your all, and offers a flexible schedule, knowing the importance of work-life balance.
"There's genuine friendship and respect among the talented staff, and our clients become like friends and family. They often stop by just to say hi, and we love seeing them," Rachel shares.
Clients Love The Beauty Lounge And You Will Too
"First time at The Beauty Lounge today. I was very impressed with the beautiful salon and professional staff. I love my hair! I will definitely be back for my next haircut." – Alexandra
"There's a reason this place has the best reviews — they deliver! They brought my highlights to life, and I love it. If you're hesitating, don't. This place is worth it!" – Lauren
Discover why everyone's raving about The Beauty Lounge. Sit back, relax with a glass of wine or champagne, charge your phone at the station, and experience the magic yourself. Call to schedule an appointment today. Follow them on Facebook and Instagram @thebeautyloungexo.
Call to schedule an appointment today!
Contact
2501 Research Forest Drive, Suite D
The Woodlands, Texas 77381
(281) 203-5034
TheBeautyLoungeXO.com