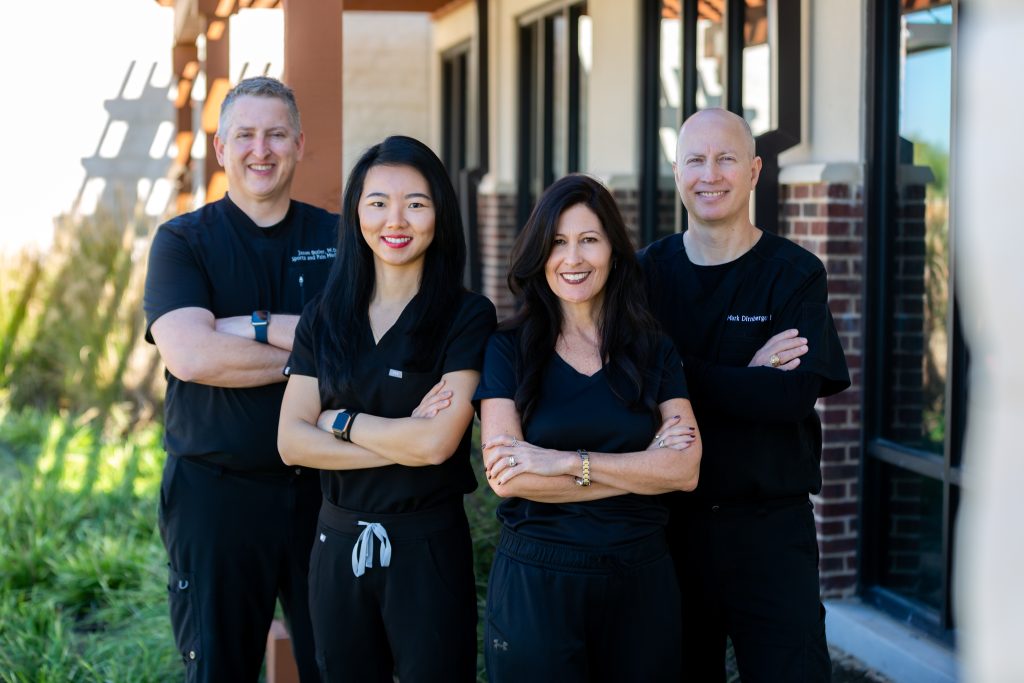 "Regency is confident that no matter your age or stage of life, physical therapy can help patients recover from injury, relieve pain, prevent future injury or deal with a chronic condition."
By Drew Anderson | Photo by Lauren Medean
---
Regency Pain & Therapy Institute is an interventional pain management practice serving the Dallas-Fort Worth area. In 2020, the practice completed construction on a beautiful 20,000 square-foot, state-of-the-art facility in Mansfield. This new facility offers patients a stunningly designed space with world class amenities, including a high-end physical therapy facility, well equipped procedure suites that accommodate less invasive procedures, a large multi-functional classroom and the nationally recognized Pritikin Intensive Cardiac Rehab (ICR) program.
Regency Institute offers innovative pain management techniques and technology with the patient at the center of everything they do. Patients will experience physicians who strive to be as conservative as possible and only progress to more interventional treatments, as needed. Their focus is on decreasing a patient's pain while increasing productivity, minimizing medication use, maximizing physical activity and improving quality of life.
Additionally, they offer on-site physical therapy, a non-invasive discipline that helps patients develop, maintain and restore maximum body movement and physical function. Regency is confident that no matter your age or stage of life, physical therapy can help patients recover from injury, relieve pain, prevent future injury or deal with a chronic condition.
Regency provides a full range of treatment options and services for patients suffering from chronic and acute pain. From conservative care treatment plans to the most advanced minimally invasive procedures, their team is committed to helping patients get back to their everyday activities as quickly as possible and without long term reliance on medications.
Regency Pain & Therapy Institute has consistently been recognized for its outstanding team of doctors and their amazing support staff. Continuing in the tradition of providing the best experience for their patients, Regency is pleased to welcome Dr. Cindy Ng to their practice. Dr. Ng is board certified in family and sports medicine and specializes in pain management. She earned her medical degree at Texas College of Osteopathic Medicine at the University of North Texas Health Science Center in Fort Worth; then completed her residency at Baylor Scott & White in Temple and her fellowship at John Peter Smith Hospital in Fort Worth.
Dr. Ng has served as a sports and pain specialist for several organizations including Texas Christian University, Texas Wesleyan University, NCAA Gymnastics, March Madness, Golden Gloves and the Fort Worth Rodeo. She has also served as team physician for several area high schools.
Dr. Ng's clinical focus will be on maximizing conservative and interventional treatment of musculoskeletal pain and injuries for patients seen at Regency Pain & Therapy Institute. She brings a warm, personal approach to patient care and shares Regency's commitment to excellence in patient care delivery. Dr. Ng is currently accepting new patients.
For the past four years, Regency Pain & Therapy Institute has been selected as 'Best Of' in Pain Management by Living Magazine. This recognition celebrates Regency's commitment to excellence in providing the best possible experience to every patient they treat.